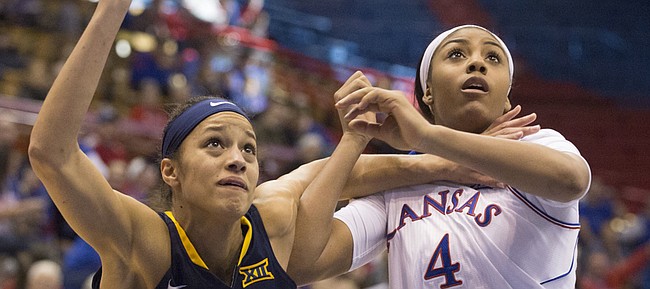 The longer the second quarter dragged on, the more coach Brandon Schneider agonized as his Kansas University women's basketball team labored to run its offense Sunday afternoon at Allen Fieldhouse.
Missed shots and turnovers mounted, and by halftime, the Jayhawks had presented visiting West Virginia with more than enough buffer to coast to a 65-45 victory.
Photo Gallery
Kansas women's basketball vs. West Virginia
Images from the Kansas women's basketball game against West Virginia on Sunday, Jan. 3, 2016 at Allen Fieldhouse.
Only three Jayhawks — sophomore guards Lauren Aldridge and Chayla Cheadle and junior forward Caelynn Manning-Allen — figured out a way to score in the first half, which ended with Kansas (5-8 overall, 0-2 Big 12) missing its final six shots and giving the ball away seven times in the final five minutes.
"I thought (we) took really quick shots that got them out in transition," Schneider said of the stretch that gave West Virginia (12-3, 1-1) a 36-17 halftime lead, "and then committed multiple turnovers in that quarter that also got them out in transition, and I felt like the second quarter was the big difference in the ball game."
The Jayhawks, losers of four straight, found themselves stuck on 17 points for the final 5:06 of the second quarter and finished the half with 15 turnovers, which directly led to 16 WVU points.
West Virginia's bench alone matched KU's first-half scoring total, with 17.
Complicating matters for the Jayhawks, who finished with 22 turnovers and only nine assists, Aldridge said they failed to pay attention to detail while trying to navigate the Mountaineers' pressure defense.
"They're very long, very big, so obviously that's gonna disrupt a little bit," Aldridge said after leading Kansas with 16 points, "but I feel like if we would just stick to what we know and pay more attention to detail, it wouldn't affect us as much."
Not until 18 seconds remained in the third quarter did a fourth scorer emerge for KU, which eventually saw four more players put up points with the game out of reach. Freshman Aisia Robertson, who had missed two free throws at the 6:58 mark, made her second of two free throws. Kansas went the final 4:42 of the third without a field goal and entered the fourth trailing 52-27.
Said Cheadle (six points, seven rebounds): "It's frustrating when you can't get the shots that you want. As a team, we have to learn to come together at those times and fight through and figure out what we need to do, run the offense deeper to get the looks that we want."
KU shot 17-for-44 (38.6 percent) and just three players — Aldridge, Cheadle and Manning-Allen (seven points, four rebounds) — accounted for all the offense for nearly three quarters.
Asked about his team's offensive woes and lack of scoring options, Schneider said the Jayhawks got the ball inside to Manning-Allen (3-for-10 shooting) for the second game in a row.
"I think if you look at it schematically, I like what we're doing. I like where we get the ball," he said. "We just have to do a better job of finishing, whether it's around the rim or at the free-throw line."
KU returns to the fieldhouse Wednesday to play host to No. 4 Baylor at 7 p.m.
More like this story on KUsports.com