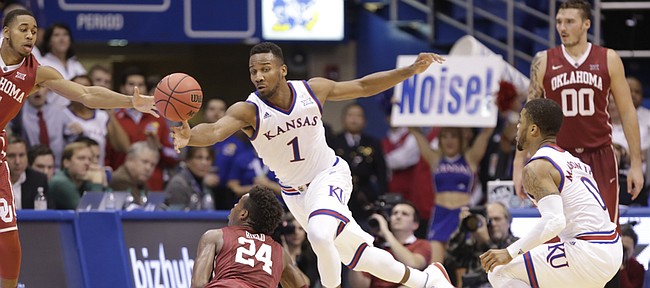 Norman, Okla. — Proud of his team for outscoring, outscrapping, outlasting Oklahoma in a three-overtime battle between the then-No. 1 team in the AP poll (Kansas) and No. 1 squad in the USA Today coaches poll (OU), Bill Self spoke from the heart Jan. 4 in the winner's locker room in Allen Fieldhouse.
"He said no matter who won the game he'd be happy with the effort we gave and things we did on the court," KU junior guard Frank Mason III said of the scene after the Jayhawks' 109-106 victory.
"Being out there we all realized how good a game it is and just to be part of it is something special. We took the win so he was definitely happy about that," Mason added.
Self, who is 15-3 all-time as KU coach versus OU entering today's 1:30 p.m., rematch between the No. 6-rated Jayhawks (20-4, 8-3) and No. 3 Sooners (20-3, 8-3) in Noble Center, acknowledged his emotion after that thriller.
"I don't know if jubilation would be the right word. It was more relief," Self said. "I meant what I said. It's one of those games you are proud to be part of. If it had gone the other way, 'Hey guys, we've got a good team. They've got a good team.' I don't think there would be anything to be disappointed with your team. You'd be disappointed because you lost a home game in the league race, but not disappointed with your team if things didn't work out the way we wanted."
KU during the first meeting survived a 46-point outing from senior guard Buddy Hield. Hield tied Kansas State's Mike Wroblewski for highest-scoring performance by an opposing player in Allen Fieldhouse in school history. Wroblewski's mark came back in 1962.
KU's Perry Ellis, Devonté Graham and Wayne Selden Jr., countered with 27, 22 and 21 points respectively.
"The only time that I remember looking down to the Sooner bench, one of their assistants, Mike Shepherd (director of basketball operations) was kind of laughing, and I started laughing, too, because it was ridiculous," Self said.
"The only other time I remember doing that, if you guys remember in the Big 12 finals when we played Texas (88-84 KU overtime win in 2007), I mean it was a joke. We couldn't guard them. They couldn't guard us. I just keep looking down at Rick (Barnes, Texas coach) and he looks down at me, and, 'Hey, this is fun to watch.'
"But I will say this," Self continued, "it's one thing to have a H-O-R-S-E contest at home. It's another thing to have a H-O-R-S-E contest on the road. And when you're playing against the best shooting team in America (OU averages 84.1 ppg off 47.3 percent shooting; KU 83.0 ppg, 49 percent) then you don't want it to be a H-O-R-S-E contest, so we've got to do something to not make them play well and not be as comfortable as what they were in our building, even though we did a decent job they were still comfortable."
The first KU-OU game has drawn acclaim nationally as the "game of the year" in the 2015-16 season.
"Maybe, maybe not," KU sophomore guard Graham said, asked if today's sequel could be as exciting as the original. "Hopefully it's going to be a great game. All the hype is still going to be there. Both teams are going to come out and put it all on the line. Hopefully it'll be as good as the first one."
Graham remembers being flooded with dozens of text messages after the Jan. 4 thriller. KU is 7-3 since that game; OU 8-2. The two teams enter today's play tied with West Virginia for first place in the league race.
"People were saying how happy they were for me, seeing me on TV, happy we won. It was good and all, but you've got to move forward," Graham said.
OU was not a one-man show during that three-OT classic in Lawrence. Junior guard Jordan Woodard scored 27 points off 9-of-20 shooting (six of nine from three), while senior guard Isaiah Cousins missed 12 of 14 shots en route to four points. Senior forward Ryan Spangler and soph Khadeem Lattin had 14 and 10 points respectively. Spangler had 18 rebounds; Lattin 14.
"They are both great rebounders. They are both great players," KU's Ellis, who had 13 boards that day, said of Spangler and Lattin. "They can get things going offensively too."
A sidebar today remains KU's performance on the road. The Jayhawks are 2-3 in league games, winning their last outing at TCU (75-56) that snapped a three-game skid.
"We showed a tremendous amount of what we can do defensive-wise against West Virginia (in Tuesday's 74-63 home win)," Ellis said. "It's a mindset of helping each other out. If we take that on the road, we'll be good."
"In order to win this league you've got to go beat top 15 teams on the road because there's so many of them. Texas won at West Virginia. Baylor won at Iowa State. OU played unbelievably well at Iowa State and won big at Baylor," Self said, noting KU's win at San Diego State is looking good right now with the Aztecs 18-7 overall and 11-1 in Mountain West play. "The other teams in our league have done it and certainly we need to do that as well," he added.
OU coach Lon Kruger to the Tulsa World on today's game: "It's been in the conversation a lot — I mean media-wise. Everyone talks about it of course, which is fine. Naturally our guys I'm sure are looking forward to it like the KU guys are. Two clubs battled the first time. They have a lot of respect for each other. It's going to be another tough match Saturday."
Forward Spangler to the Tulsa World on KU: "The (Jayhawks) post up a lot, throw it down low a lot. They've still got guards that can shoot. They're always a good team. They're hard to beat."
Spangler on the first meeting to the Norman Transcript: "We proved to ourselves we can go into any place and play. Obviously, we'd like a couple possessions here and there back. If we played one or two defensive possessions great, or maybe one or two offensive possessions, we win that game."
Guard Woodard, who played 50 minutes, on the first KU-OU meeting to the Norman Transcript: "I remember a lot of it, but it was an every-possession game. It was just a great basketball game."
The series: KU leads the all-time series, 143-66. The Jayhawks have won 14 of the last 16 meetings. ... KU is 49-42 versus OU in Norman, including an 18-15 mark in Noble Center. ... Since the inception of the Big 12 Conference, KU is 22-6 against OU; 20-4 in regular-season and 2-2 in the Big 12 tourney. ... Hield's tip-in with 0.2 seconds left a year ago gave No. 15 OU a 75-73 win over No. 9 KU in Norman. ... Self is 15-5 all-time against Oklahoma, including 15-3 while at KU. Lon Kruger is 7-17 versus KU, 2-7 while at OU.
Probable Starters
KANSAS (20-4, 8-3)
F — Perry Ellis (6-8, Sr.)
F — Landen Lucas (6-10, Jr.)
G — Frank Mason III (5-11, Jr.)
G — Wayne Selden Jr. (6-5, Jr.)
G — Devonté Graham (6-2, Soph.)
OKLAHOMA (20-3, 8-3)
F — Ryan Spangler (6-8, Sr.)
F — Khadeem Lattin (6-9, Soph.)
G — Jordan Woodard (6-0, Jr.)
G — Isaiah Cousins (6-4, Sr.)
G — Buddy Hield (6-4, Sr.)
Tipoff: 1:30 p.m. today, Noble Center, Norman, Okla.
TV: ESPN (WOW! channels 33, 233)
Rosters
KANSAS
0 — Frank Mason III, 5-11, 185, Jr., G, Petersburg, Virginia.
1 — Wayne Selden, Jr., 6-5, 230, Jr., G, Roxbury, Massachusetts.
2 — Lagerald Vick, 6-5, 175, Fr., G, Memphis.
4 — Devonté Graham, 6-2, 175, Soph., G, Raleigh, North Carolina.
5 — Evan Manning, 6-3, 170, Sr., G, Lawrence.
10 — Sviatoslav Mykhailiuk, 6-8, 195, Soph., G, Cherkasy, Ukraine.
11 — Tyler Self, 6-2, 165, Jr., G, Lawrence.
13 — Cheick Diallo, 6-9, 220, Fr., F, Kayes, Mali, Africa.
14 — Brannen Greene, 6-7, 215, Jr., G, Juliette, Georgia.
15 — Carlton Bragg, Jr., 6-9, 220, Fr., F, Cleveland.
21 — Clay Young, 6-5, 205, Soph., F, Lansing.
22 — Dwight Coleby, 6-9, 240, Jr., F, Nassau, Bahamas.
31 — Jamari Traylor, 6-8, 220, Sr., F, Chicago.
33 — Landen Lucas, 6-10, 240, Jr., F, Portland, Oregon.
34 — Perry Ellis, 6-8, 225, Sr., F, Wichita.
42 — Hunter Mickelson, 6-10, 245, Sr., F, Jonesboro, Arkansas.
Head coach: Bill Self. Assistants: Kurtis Townsend, Norm Roberts, Jerrance Howard.
OKLAHOMA
00 — Ryan Spangler, 6-8, Sr., Bridge Creek, Oklahoma.
1 — Rashard Odomes, 6-6, 200, Fr., G, Copperas Cove, Texas.
2 — Dinjiyl Walker, 6-1, 203, Sr., G, Vaughan, Ontario.
4 — Jamuni McNeace, 6-10, 215, Fr., C, Kankakee, Illinois.
10 — Jordan Woodard, 6-0, 187, Jr., G, Arcadia, Oklahoma.
11 — Isaiah Cousins, 6-4, 200, Sr., G, Mount Vernon, New York.
12 — Khadeem Lattin, 6-9, 208, Soph., F, Houston.
14 — Bola Alade, 6-4, 193, Fr., G, Plano, Texas.
21 — Dante Buford, 6-7, 221, Fr., F, Greenville, South Carolina.
22 — Daniel Harper, 6-1, 190, Jr., G, Norman, Oklahoma.
24 — Buddy Hield, 6-4, 214, Sr., G, Freeport, Bahamas.
25 — C.J. Cole, 6-7, 245, Sr., F, Sperry, Oklahoma.
30 — Akolda Manyang, 7-0, 243, Jr., C, Rochester, Minnesota.
41 — Austin Mankin, 6-7, 210 Sr., F, Coppell, Texas
Head coach: Lon Kruger. Assistants: Chris Crutchfield, Steve Henson, Lew Hill.
More like this story on KUsports.com