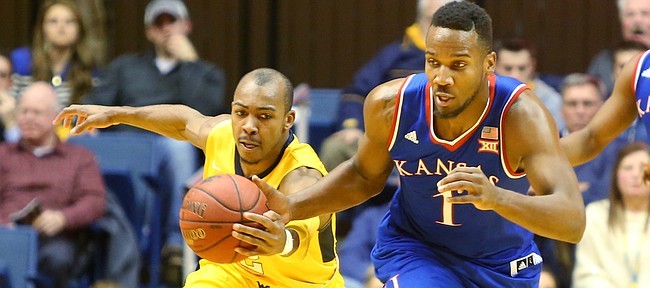 It's a top-10 kind of week for Kansas basketball, which remained among the nation's most highly regarded teams in the latest AP Top 25, released on Monday afternoon.
The Jayhawks (19-4 overall, 7-3 Big 12), now ranked No. 6 in the country, will face two other top-10 teams this week, in a critical stretch of the conference schedule.
First up is a Tuesday night rematch with No. 10 West Virginia (19-4, 8-2), which sits alone atop the Big 12 standings entering the week. The Mountaineers handled KU, 74-63, in Morgantown, W. Va., on Jan. 12.
Then, on Saturday, the Jayhawks travel to Norman, Okla., for Round 2 with No. 3 Oklahoma (19-3, 7-3). The Sooners and Kansas, of course, battled for 55 minutes in a triple-overtime thriller on Jan. 4, and KU survived, 109-106, on its home court.
Villanova took over the No. 1 slot in this week's AP poll after OU suffered an upset defeat at Kansas State on Saturday. No. 2 Maryland also leap-frogged Oklahoma.
KU moved up one spot in the top 25 this week, as did No. 4 Iowa and No. 5 Xavier, after North Carolina (previously No. 2, and now ranked No. 9), dropped road games at Louisville and Notre Dame.
No. 14 Iowa State, No. 21 Baylor and No. 24 Texas earned top-25 status this week, giving the Big 12 six ranked programs with March just a few weeks away.