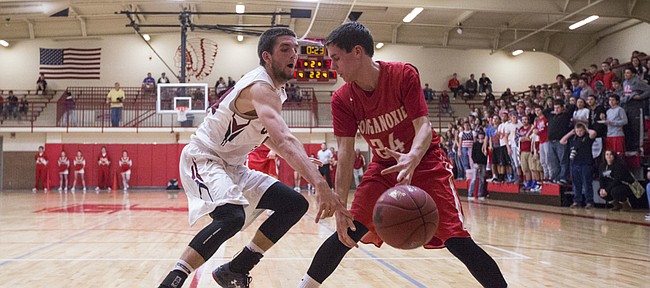 Eudora High basketball standout Mitchell Ballock announced Sunday night he has orally committed to play college basketball at Creighton University.
Ballock, a 6-foot-4 junior combo guard ranked No. 37 in the nation in the Class of 2017 by Rivals.com, hasn't played this season while recovering from a torn labrum in his left shoulder. He had surgery at the end of September and hopes to return to the court by the end of the season.
He chose the Blue Jays over offers from Kansas University, Kansas State, Oklahoma, Iowa State and Indiana, among many others.
"Excited to announce that I have decided to continue my academic/basketball career @ Creighton University!" Ballock wrote on Twitter.
Ballock averaged 20 points, six rebounds and three assists for the Cardinals last year. He helped Eudora win a Class 4A-II state title during his freshman year.
"It was very difficult to tell Kansas no because they are 10 miles up the road from me, and they have a great history and great coaching staff. I have a lot of respect for those guys," Ballock told Rivals.com on Sunday.
"I am very excited to have this process over with because it will give me the chance to just focus on playing and not worrying about where I'm going or who's watching or any of that."