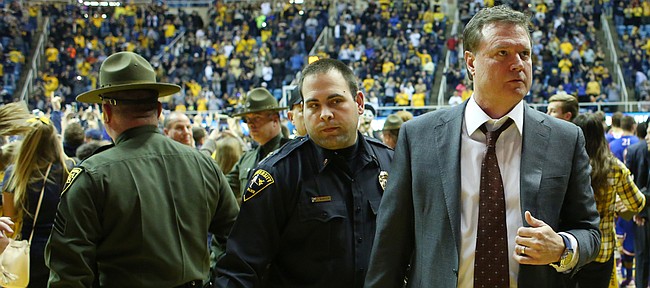 A pair of victories this week would greatly assist Kansas University's basketball team in its quest for a 12th-straight Big 12 Conference regular-season championship.
"We actually are not in a bad position. We're playing teams ahead of us. I guess our destiny is in our own hands," KU senior Jamari Traylor said after Saturday's 75-56 victory at TCU.
He was speaking before Oklahoma suffered an 80-69 loss to Kansas State on Saturday night that dropped the Sooners into a tie for second in the standings with KU and Texas at 7-3. The Jayhawks will travel to Norman, Okla., on Saturday for a 1:30 p.m. contest against the Sooners.
West Virginia, which travels to KU on Tuesday for a 6 p.m. tipoff, has sole possession of first place at 8-2. Baylor and Iowa State are still in the thick of things at 6-4. The Jayhawks have games remaining against the Bears in Waco, Texas, and Iowa State in Allen.
"We've got to be focused, make sure every game is important to us and buckle down," Traylor said after grabbing seven rebounds and scoring six points against the Horned Frogs.
The West Virginia game will be a rematch of KU's 74-63 loss to the Mountaineers on a snowy Jan. 12 evening in Morgantown, W.Va.
"We've got to take care of the ball. They go out there and force a lot of turnovers," Traylor said. The Jayhawks committed 22 turnovers against the Mountaineers' full-court press. "We also had a lot of breakdowns defensively against them. We had a terrible game defensively."
West Virginia actually managed a double-digit victory versus KU on a night the Mountaineers hit 33.3 percent of their shots and went 3-of-12 from three. Jaysean Paige torched KU for 26 points off 6-of-13 shooting. He was 14-of-17 from the line.
"That was kind of the start of our little lapse where we played tired," KU coach Bill Self said.
That was the first of three straight road losses in the league, the others at Oklahoma State and Iowa State.
"You can't play tired against those guys. They'll kick your tail," Self said. "We've got to be better, attack them better. At least we get two days to prepare this time. Last time we had one (after winning at Texas Tech). We're excited about it. It should be an unbelievable atmosphere in the fieldhouse (with first place on line). It's certainly a huge game for us with league implications."
For the first time in a long time, the Jayhawks left a road venue with smiles on their faces Saturday. KU outrebounded TCU, 46-25. Self thinks senior Traylor set the tone with his efforts on the glass.
"To me, the best player in the game was Jamari Traylor. He gave us energy, stole extra possessions for us. That gives us confidence," Self said. "We were a lot better. We were really good on the glass. We've got to tighten up some things and make some shots, but I think we can do that."
Senior Perry Ellis hit 11 of 14 shots and grabbed 10 rebounds in 34 minutes.
"Perry is so efficient. He is so solid," Self said. "I thought he went after the ball. I thought he rebounded so much better. I thought he played really well."
Traylor would agree.
"We knew we had to get him the ball. We hadn't been doing that lately," Traylor said. "He just wanted to go out and be aggressive. We were giving him the ball. He demanded it, actually. He knocked his shots down when he had his chances. That's Perry."
Traylor realizes his own role this week will be to continue to bring energy to a KU team in the midst of a fierce battle for the league crown.
"I have to be aggressive, give my team chances to score more points," said Traylor, who had five offensive rebounds Saturday. "It's what I'm here for. I've got to be energetic. Guys see me flying around there, talking, being energetic, being hungry and wanting to win ... I feel that's contagious, and guys will do the same thing."
Guys like Carlton Bragg Jr. and Cheick Diallo, who had five rebounds apiece Saturday while playing 10 minutes apiece.
"When Jamari gets offensive rebounds, that changes everything with second shots," Bragg said. "I'm following Mari's footsteps. He's teaching me along the way. We've got to buckle down and get focused. This is where it all starts. We have big games coming up. We have to focus. and we need to get the wins. We'll do whatever it takes to get 'em."