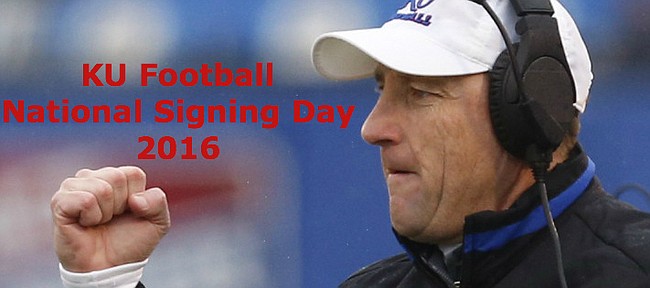 When Kansas University football coach David Beaty steps to the podium at 2 p.m. today to introduce his second recruiting class as the leader of the Jayhawks, he figures to look relaxed and refreshed.
That's not because Beaty's work on the recruiting trail this time around was a breeze. Far from it. In fact, Kansas did not secure its final commitment in the lighter-than-usual 2016 recruiting class until three days ago, when defensive end Isaiah Bean orally committed to Kansas after an official visit that featured a handful of future Jayhawks experiencing the wild atmosphere that accompanied the KU-Kentucky men's basketball game.
But even though the grind of attracting commitments was as intense as ever, signing day itself figures to be wrapped up rather quickly.
With three mid-year transfers (DT DeeIsaac Davis, DT Isi Holani and DB Stephan Robinson) already signed, sealed and delivered and a couple of 2015 holdovers becoming a part of the 2016 class (DB Shola Ayinde and OL Cam Durley), Beaty and the Jayhawks will be up bright and early waiting on the arrival of a dozen national letters of intent. And with two of them coming from the eastern time zone and the rest from the Midwest, there's a strong chance that all 12 letters will be in KU's possession as early as 7:30 a.m.
That not only would make for a smooth signing day for Beaty and his staff, but it also is an indication of just how excited this group is about becoming Jayhawks.
"We think it's gonna turn around because of the players we're getting and the coaches," said North Shore High (Houston) linebacker Maciah Long, one of four three-star prospects in KU's class, according to Rivals.com. "I feel like we're getting some nice players and the coaches are great and they're gonna get us where we need to be."
Although the class is made up of everything from big bodies in the trenches to skill players on offense and all positions in between, Long said the group already had developed a strong bond through social media, texting and bonding time on official visits.
The one theme common throughout most of their backgrounds is one that figures to serve KU very well in the coming years.
"I feel like a lot of us are underrated," said Tulsa, Okla., cornerback Kyle Mayberry, another three-star prospect in the 2016 class. "Coach Beaty is recruiting academically sound guys with great personalities and, obviously, great football ability and putting those types of players together and having chemistry isn't going to be hard when you can bond over those things."
Added Tyriek Starks, a dual-threat quarterback from New Orleans: "I like building my own legacy. I don't like piggy-backing off of what other people did already. And I feel like I can do that at KU. I feel like we all can."
Here's a quick look at the 17 members of the 2016 recruiting class (star ratings from Rivals.com):
DB Shola Ayinde — 6-0, 168, 2 stars, George Ranch High, Richmond, Texas — Originally a member of KU's 2015 class, Ayinde did not make it to campus last year and, instead, will add depth to the secondary in 2016. Known for range and speed, Ayinde once had committed to Tulsa but followed former TU assistant coach Calvin Thibodeaux to Kansas.
DE Isaiah Bean — 6-4, 210, 2 stars, Summer Creek High, Houston, Texas — Explosive prospect who has experience on both sides of the ball became KU's top choice at the position after local talent Amani Bledsoe chose Oklahoma. Picked KU over Tulsa and Fresno State.
DB Julian Chandler — 6-0, 170, 3 stars, Hightower (Texas) High — Had committed to Louisiana Tech but de-committed late in the game and picked KU over offers from Nevada, New Mexico and North Texas.
DT DeeIsaac Davis — 6-3, 290, 2 stars, Highland C.C. — A Wichita native, Davis played his first year of college football at Eastern Arizona and recorded 76 tackles before moving on to Highland C.C. and registering 76 tackles and five sacks. Signed with KU in December and is already on campus.
OL Cam Durley — 6-6, 275, 2 stars, Houston Chrisitian High, Houston, Texas — Originally a late addition to the 2015 class, the big, athletic, rangy tackle was delayed a year and is now in KU's 2016 class. Chose KU over McNeese State, San Diego State, TCU and Temple along with interest from Texas Tech.
WR Evan Fairs — 6-3, 182, 2 stars, Foster High, Richmond, Texas — A finalist for the Houston Touchdown Club offensive player of the year award in 2015, Fairs picked Kansas over Illinois after initially committing to Maryland and re-opening his recruitment when the coaching staff was fired.
OL Antione Frazier — 6-5, 250, 2 stars, Hargrave High, Huffman, Texas — A two-star offensive tackle, Frazier played both ways for Hargrave and committed to KU offensive line coach Zach Yenser in February of 2015, before his senior high school season. Picked KU over early interest from Houston, Iowa and Texas A&M.;
OL Hunter Harris — 6-2, 257, 2 stars, Aledo (Texas) High — A two-star offensive lineman from Aledo, Texas, Harris had offers from Cal, Princeton and Tulsa, as well, before committing to Kansas.
RB Khalil Herbert — 5-10, 190, 2 stars, Heritage High, Plantation, Florida — Herbert trained with former KU standout Tony Sands during his prep career. He committed to KU on his fifth and final official visit in January and picked the Jayhawks over offers Florida Atlantic, Florida International, Fordham, Georgia State and Mississippi State.
DT Isi Holani — 6-3, 300, 3 stars Riverside (California) C.C. — Kansas filled a need by adding the three-star juco defensive tackle shortly after the 2015 season ended. Holani also had offers from Kansas State, Oklahoma State, Boise State and others. Signed with KU in December and is already on campus.
OL Chris Hughes — 6-5, 260, 3 stars, Harker Heights (Texas) High — After spending a recruiting weekend in Lawrence in October of his senior year, Hughes cited the impressions David Beaty and Zach Yenser made on him as reason for committing to KU. Picked the Jayhawks over Cal, Houston, Texas Tech and Utah State, among others.
LB Maciah Long — 6-2, 240, 3 stars, North Shore High, Houston, Texas — Long is one of the top talents in the class and his size, speed and athleticism translate well on both sides of the ball. Brings great confidence and leadership to a thin position and picked KU over offers from Arizona State, Houston, Missouri, Ohio State, SMU, Texas Tech and UCLA.
CB Kyle Mayberry — 5-11, 163, 3 stars, Booker T. Washington High, Tulsa, Oklahoma — One of the top defensive backs in Oklahoma, Mayberry consulted former KU star Chris Harris before deciding to join Kansas football instead of pursuing offers from the likes of Kansas State, Houston, Washington State and others.
DB Ian Peterson — 5-11, 180, 2 stars, Cedar Ridge High, Round Rock, Texas — KU defensive backs coach Kenny Perry's reputation helped land the versatile corner. Peterson committed to Kansas without making a visit and chose the Jayhawks over offers from Colorado, Wisconsin, SMU and others.
DB Stephan Robinson — 5-11, 173, 2 stars, Northeast Oklahoma A&M; J.C. — Former wide receiver figures to have a future on KU's defense. He'll have three seasons of eligibility remaining as a Jayhawk after considering Virginia Tech, Iowa State and other programs. Signed with KU in December and is already on campus.
QB Tyriek Starks — 6-2, 188, 2 stars, Warren Easton High, New Orleans — Dual-threat QB who threw for 4,000+ yards and rushed for 1,000 more while leading his team to the state semis picked KU over Georgia Southern and Tulane.
S Bryce Torneden — 5-10, 185, 2 stars, Free State High, Lawrence, Kansas — Former North Dakota State commitment was one of the Sunflower League's most dynamic players during the past couple of seasons and a key component to the recent success enjoyed by the Firebirds. He said getting a chance to play in the Big 12 under another Lawrence native in KU defensive coordinator Clint Bowen was too appealing to pass up.