Friday, December 30, 2016
Peyton Bender hasn't even practiced with the Kansas football team yet, but from the moment he steps foot on campus in January, the junior quarterback will be required to take on a prominent role.
That directive comes straight from the man running the program, head coach David Beaty, who thinks Bender's talent and time learning the Air Raid offense at Washington State, under guru Mike Leach, makes him the type of quarterback capable of immediately challenging for the starting spot at KU.
"He could pretty much step in right now and run our offense without hesitation," Beaty said of Bender, who redshirted for Leach and the Cougars in 2014 and then played in five games in 2015, before transferring to Itawamba Community College, "because he understands it, terminology and everything."
Bender, while appearing in five games for WSU as a redshirt freshman, only started one in a fill-in capacity. The QB from Cardinal Gibbons High, in Fort Lauderdale, Florida, completed 36 of 58 passes for 288 yards and a touchdown, with two interceptions, in a 2015 loss at Washington.
Though Bender joined the Cougars as Rivals.com's No. 25 QB in the nation, in the Class of 2014, the right-handed signal-caller couldn't beat out Luke Falk for Washington State's starting spot. Arguably, though, few quarterbacks could. In each of the past two seasons, the 6-foot-4 Falk has topped 4,400 passing yards and thrown for 38 touchdowns, while combining to complete 890 of his 1,277 throws (69.7 percent).
"Just in talking to the guys at Washington State," Beaty said of his vetting of Bender, "… that competition, from what I understand, was very, very tight. Very, very tight. And they were happy to have both guys."
In his one season of Pac-12 competition, Bender, who arrives at KU as a 6-1, 180-pound junior, completed 53 of 91 passes (58.2 percent) for 498 yards, three touchdowns and four interceptions. Expectedly, his numbers improved greatly as a sophomore at Itawamba CC, where he dissected juco defenses and connected on 211 of 324 throws (65.1 percent) for 2,733 yards, with 21 touchdowns and four interceptions in his nine-game season.
By the time spring football starts, Beaty expects Bender to push KU's incumbent No. 1, Carter Stanley, for the starting job — even though the Jayhawks had their best three-game stretch of the season during Stanley's time behind center, which included an overtime victory over Texas.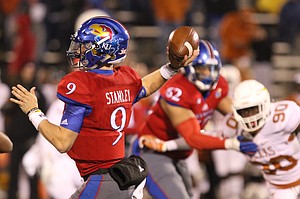 As a redshirt freshman, Stanley played sparingly as a reserve in six games before winning the starting job for the final three weeks. On the year, the 6-foot-2 QB from Vero Beach, Fla., completed 93 of 156 passes (59.6 percent) for 959 yards, with six touchdowns and six interceptions.
As far as Beaty, who also serves as KU's offensive coordinator, is concerned, the two quarterbacks should bring the best out of each other in the months ahead.
"They are not afraid to compete," he said of Stanley and Bender. "Peyton is a terrific player and he's very talented and he already knows this position. The way you get better is if you have competition, so you gotta have competition comin' in… Carter left that field as our starter goin' into the spring. But you're only as good as your next. I've been sayin' that from the very beginning and we're not going to come off of that."
This past fall, in his second season as Kansas head coach, Beaty didn't name a No. 1 quarterback before the season opener, and tried using both Montell Cozart and Ryan Willis as starters before turning to Stanley. The coach hopes the Jayhawks' QB competition won't last nearly as long in 2017, and already has his eyes on two top candidates.
"Don't know if that's gonna happen. But we hope so," Beaty said of either Bender or Stanley playing his way to the top of the depth chart prior to the season opener. "You know, the snaps for guys will be, they'll be pared down. We don't have a lot of time right now. It's not gonna be a — it's not a wide-open race, I'll tell you that. It's narrowed down to just a couple."