Wednesday, December 28, 2016
As 2017 approaches and University of Kansas football coach David Beaty continues to immerse himself in the offseason drudgery that comes with trying to restore the rundown program he took over two years ago, he understands expectations have risen.
The Jayhawks' home victories over Rhode Island and Texas this fall, coupled with one-score home losses to TCU and Iowa State, already had a deprived — and at times disgruntled — fan base clamoring for more victories in Beaty's upcoming third season as head coach.
The call for further progress and a better winning percentage grew in volume earlier this month, when the 2-22 KU coach signed a contract extension through 2021, and saw his salary doubled to $1.6 million for the coming year.
That freshly-signed extension, Beaty realized, meant a zero- or two-win season, such as those Kansas endured the past two years, would not qualify as anywhere near acceptable.
"You know, the pressure has never been higher — from myself," Beaty said recently, when asked about the need to produce more victories going forward. "I've never worried about the pressure from outside, because it doesn't match what the pressure I put on myself and we put on ourself as a staff."
After winning his first game as a head coach in the 2016 opener, against overmatched FCS foe Rhode Island, Beaty's Jayhawks dropped their next nine games before upsetting Texas in overtime in their home finale. Throughout that losing skid, Beaty, who had yet to lead his team to a win over a BCS opponent, and his staff found ways to keep their players from mentally checking out or giving up on the season. In fact, KU played better during the final three weeks of Beaty's second year than during any other chunk in his time as head coach.
The Garland, Texas native and his assistants felt pressure to win throughout the past several months, and Beaty said that should only ratchet up going forward.
"So, I mean, I know that sounds crazy, but that's the truth. I expected to win the day we stepped in this room, period," Beaty said in mid-December, while speaking inside Anderson Family Football Complex. "We expected to win every game. And we expect to win every one of 'em from this point goin' forward."
KU hasn't won more than three games in a season since 2009, Mark Mangino's last year as head coach, when the Jayhawks finished 5-7. Mangino's successor, Turner Gill, went 3-9 in 2010 and 2-10 in 2011, with a single Big 12 victory (versus Colorado in 2010) in his two seasons. Gill's replacement, Charlie Weis, went 1-11 at KU in 2012, 3-9 in 2013 and was 2-2 in 2014 before being fired. In Weis' 28 games at the helm, KU won one Big 12 game (versus West Virginia in 2013).
Openly, Beaty wants much more out of his players and staff while he is in charge, and aspires to make sure KU fans don't have to suffer through so many losses in the years to come.
"But the pressure, man, you're gonna have a hard time puttin' pressure on me harder than I put on myself," he said.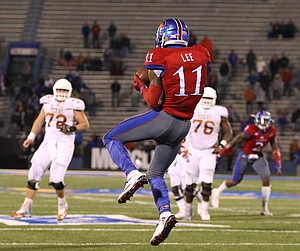 More recognition for safety Lee
Since the conclusion of his first season at KU, safety Mike Lee has been listed as one of the top freshmen performers in the Big 12, and nationally, by various publications.
Some more love for Lee came this past week, when ESPN.com ranked its top Big 12 defensive performances of 2016.
Lee, a 5-foot-11 starting safety from New Orleans, actually took the top spot, with his individual performance in the Jayhawks' marquee victory over Texas.
"The true freshman helped spearhead the 24-21 win … that snapped the Jayhawks' 19-game Big 12 losing streak," Mitch Sherman wrote for ESPN. "Lee contributed 12 tackles, all solo stops, and factored in two decisive turnovers — forcing the late D'Onta Foreman fumble in the red zone that rekindled KU's hope, then intercepting Shane Buechele's second-down pass in overtime."
Lee, who didn't become a starter until the fifth game of the year, tied senior safety Fish Smithson for the team lead in solo tackles on the season, with 70. Lee made 77 total stops, 1.5 tackles for loss and an interception, while breaking up three passes and forcing two fumbles.