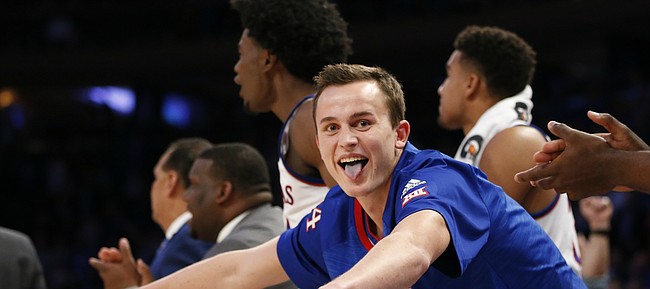 Everybody knows that the Kansas men's basketball team has the guards necessary to win the Big 12 Conference for a record-tying 13th consecutive season.
But whether the third-ranked Jayhawks actually get it done could come down to the play of their big men.
KU perimeter players Frank Mason III, Devonte' Graham and Josh Jackson all rank in the Top 15 in the Big 12 in scoring — Mason and Jackson in the Top 6 — and the KU offense ranks first in the conference in three-point percentage (.413), second in field goal percentage (.517) and third in scoring (86.6 points per game) and assists (18.1 per game).
Add to those numbers the fact that KU's elite backcourt trio has been supported by strong play from part-time starters Sviatoslav Mykhailiuk and Lagerald Vick and it's easy to see that KU coach Bill Self has plenty of depth, flexibility and flat-out talent to do whatever he chooses with his backcourt.
Up front, it's a bit of a different story.
With the recent injury to six-game starter Udoka Azubuike undercutting KU's front court depth, the Jayhawks (11-1) find themselves in the position of needing freshman forward Mitch Lightfoot to step up in his absence.
Although Lightfoot weighs in 70 pounds lighter and four inches shorter than Azubuike, a good chunk of KU's big-man minutes the rest of the way could fall on his slightly narrower shoulders.
"Definitely," said Graham when asked if it was important for the Jayhawks to get Lightfoot going in the wake of Azubuike's injury. "With all the bigs, we told them everybody's gotta step up their game even more now that Udoka's out. We've just always been trying to push that confidence in 'em, even when Udoka was here."
As an athlete, Lightfoot never has been one to lack confidence. He carries himself like a player who believes he belongs, plays, for the most part, within himself and to his strengths, and already has experienced some pretty important minutes during the first 12 games of his college career.
He has played in 11 of the Jayhawks' first 12 games — scored in six of them — and found himself on the floor during some key moments in early-season games against Indiana and Duke.
Although his final numbers did not find their way onto SportsCenter, Lightfoot's value came more in the things he did not do rather than the things he did.
"I hate to say this, because it sounds like you're taking away a guy's game, but just don't screw up," began Self when asked about the primary focus for Lightfoot 12 games into the season. "Defend and run and jump and rebound and play hard and make easy plays. Those are the things I think he can do and then when he does those things he'll get more freedom to expand his game a little bit offensively."
Even though his minutes have been limited, Graham said he thought Lightfoot had done "a good job," thus far and praised him for his defensive presence and intensity.
"He goes after every ball," Graham said. "He's starting to talk a lot better and, switching four, he can do that, switch onto a guard (in) late-game situations."
Lightfoot certainly is not the only KU big man being asked to bring a presence to this year's team. But the Jayhawks already have a pretty good idea of what they'll get from Landen Lucas and they're not exactly sure what they can count on getting from Carlton Bragg Jr. Those facts make the development of Lightfoot not only important but also an interesting mystery.
"He needs reps, he needs game time, he needs to be able to play through mistakes, which we haven't given him a lot of opportunities to do that," Self said. "(We just need him to) play to his athletic ability."
Lightfoot and the Jayhawks will open Big 12 play at 8 p.m. Friday against TCU in Fort Worth, Texas.