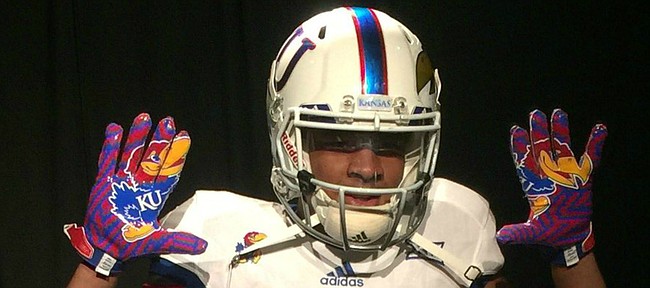 When the Tampa Bay Buccaneers selected Aqib Talib in the first round of the 2008 NFL Draft, young Hasan Defense didn't know much about the All-American cornerback or even that Talib had played at the University of Kansas.
That was prior to Defense becoming a standout corner himself, and even longer before the young Tampa fan ever thought about playing the same position for the Jayhawks.
That's where the St. Augustine, Florida, native's life took him, though, and after Defense arrives in Lawrence in January and eventually puts on a KU uniform for the first time, he plans not only to wear the same No. 3 as Talib did, but also to attempt to emulate one of the program's all-time greats.
When Kansas defensive backs coach Kenny Perry recruited Defense, a transfer from Kilgore College (Texas), the assistant coach invoked during his pitch the names of both Talib and Chris Harris Jr., Talib's Denver teammate — two Kansas corners now considered among the NFL's elite at their position. KU lists Defense at 5-foot-11 and 185 pounds, but he claimed during an interview with the Journal-World he's closer to Talib's height (6-1), and explained he hopes to adopt Talib's best on-field qualities through studying him from afar.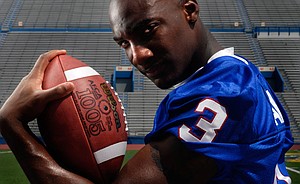 "He's a technician at what he does," Defense said of Talib. "He perfects his craft all the time. I always watch like his interviews and stuff; he seems like a well-rounded dude. I just want to get the opportunity to be as good as him, or even better."
The idea of playing in the Big 12, like Talib and Harris, appealed to Defense during his recruitment, but so did the concept of contributing sooner instead of eventually. In his one season at Kilgore, Defense, a three-star juco recruit, made 57 total tackles, five interceptions and broke up 14 passes. With starting KU cornerbacks Marnez Ogletree and Brandon Stewart leaving the program, Perry made it clear to Defense the team needed a boost in the secondary.
"He told me how he loves that I'm a long, physical corner," Defense related, "and I can tackle, and he said he just needs somebody to come in and make an impact right away."
That spiel caught Defense's attention, and, among other factors, led him to pick Kansas over his other finalists, Texas Tech and Ole Miss. His new head coach, David Beaty, is glad Defense went with the Jayhawks, who have an obvious need for depth in the secondary.
"This guy that gives us some length, a guy that can really run, and a guy that's played against really high-level competition when it comes to receivers in that league down there in Texas (Southwestern Junior College Football Conference)," Beaty said. "There's a lot of terrific players down there. We recruited a lot of 'em and just watching him, he was one of the better players in that conference, if not one of the best cover guys that we saw in the conference down there."
After spending one successful season at the junior college level, Defense hopes to be better prepared for the Division I level. Displaying the confidence of KU football icon Talib, the sophomore-to-be said his goals include earning a starting position in 2017.
"So if I just come in and do what I've gotta do," Defense said, "I'll be able to play right away and make a big impact on the team."