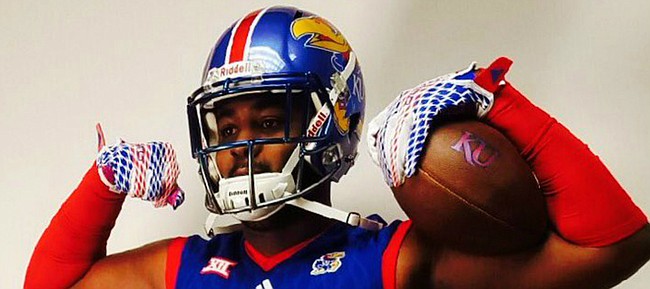 When junior college recruit KeyShaun Simmons made his official visit to the University of Kansas, head coach David Beaty didn't anticipate coming away from their interaction wowed by how the defensive lineman looked with a basketball in his hands.
But when Simmons, a 6-foot-2, 285-pound specimen from Pearl River Community College joined in on a little fun the KU coaches had planned for the recruits and started showing off his jumper, the moment left an impression on his future head coach.
"For a big dude, he's a very athletic guy and he can rain some threes," Beaty later said, after Simmons signed with KU in mid-December. "The dude can hit 'em. He can move."
Although that particular skill set obviously won't help the Jayhawks inside Memorial Stadium or other Big 12 football venues, KU's coaches expect Simmons' athleticism to translate well to the next level, once he joins the program in January.
The lineman from Jackson, Mississippi, played small forward, power forward and center in high school. In 2015 he helped Ridgeland High reach the 5A state championship game, where the Titans lost to Callaway and star guard Malik Newman — now a member of the Kansas basketball team.
"Playing basketball is a part of why I am so athletic," Simmons told the Journal-World.
Although his prep basketball coaches played Simmons at the 3, 4 and 5 spots, Beaty said Kansas defensive coordinator Clint Bowen and defensive line coach Michael Slater could utilize him anywhere from a 3-, to 6-technique — asking the former juco standout to line up against guards, tackles or even tight ends.
"I'm strong enough to stop the run," Simmons replied, when asked about his versatility, "and fast enough to get a pass-rush. I can also drop back in coverage to defend the pass."
Beaty described Simmons, who made 41 tackles, 4.5 tackles for loss and 1.5 sacks as a sophomore at PRCC, as "every bit of 285 pounds." The coach thinks the two-star juco lineman might be able to carry even more weight — though he wasn't sure yet how big KU's staff would want him to get.
Similar to KU's other mid-year signees, Beaty declared adding Simmons helped the rebuilding program address a need.
"We are seeing a lot more tight end in this league," KU's head coach said, "or at least some off-the-ball tight end stuff, and you've got to have anchor points in that C-gap (outside of either tackle spot). And, man, this guy really helps us kind of answer that issue. And he's another very, man, very mature guy at a young age."
At this point at least, Simmons said, he doesn't know for sure where he will end up playing on KU's defensive line, because his coaches haven't decided yet.
"They are just happy that I'm on their team and giving them that option to play me anywhere," the incoming junior said.
The D-line, of course, projects as KU's biggest strength in 2017, with All-Big 12 defensive end Dorance Armstrong Jr. and productive defensive tackle Daniel Wise — both juniors — returning.
Already, Simmons said, he has began studying video of his new position group and spoken with Wise via Twitter. He hopes to make an impact with the Jayhawks, too, and see to it that the unit can "dominate" against every offensive line it faces.
More like this story on KUsports.com