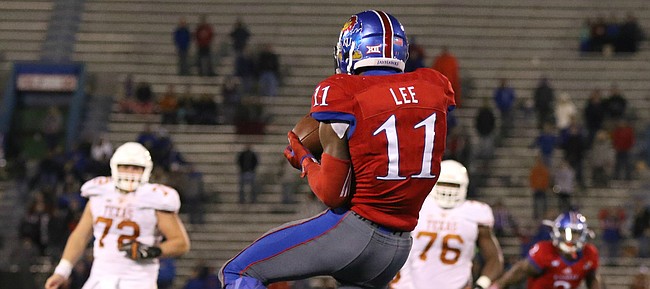 An old one-liner among those in the coaching profession goes: The best thing about freshmen is they become sophomores.
While the idea of first-year players making significant jumps in their impact and productivity is a popular one with the Kansas football program, too, head coach David Beaty and his staff enjoyed watching some freshmen perform ahead of schedule in 2016.
First-year safety Mike Lee played so well in the final weeks of the season, college football publications around the nation continue to award him for his body of work, which included a critical overtime interception in the Jayhawks' lone conference victory, against Texas.
Athlon Sports named Lee, a true freshman from New Orleans, and Hakeem Adeniji, another true freshman, from Garland, Texas, to its Big 12 All-Freshman Team. Lee, a 5-foot-11, 176-pound defensive back who finished second on KU with 77 total tackles (trailing only senior safety Fish Smithton's 93), and Adeniji, who started all 12 games on the offensive line, made Athlon's first team.
Redshirt freshman Mesa Ribordy, from Louisburg, who started all 11 games in which he played on the O-line, made Athlon's All-Big 12 Freshman second team.
Lee, who didn't become a starter until the fifth game of his freshman year, also received a second-team spot on Athlon's nationwide College Football All-Freshman Team.
Meanwhile, ESPN.com ranked the top true freshmen in the Big 12, and Lee came in at No. 4, behind Oklahoma State running back Justice Hill, Texas quarterback Shane Buechele and Longhorns linebacker Malcolm Roach.
"Lee emerged as a stalwart in the Kansas secondary," Jake Trotter wrote at ESPN.com, "tying for the team lead with 70 solo tackles. Lee also forced two fumbles."
Additional honors for Jayhawks
Athlon's recognition for KU's most impressive players carried over to the sophomore class, too. The publication named consensus All-Big 12 defensive end Dorance Armstrong Jr. the league's Breakout Player of the Year.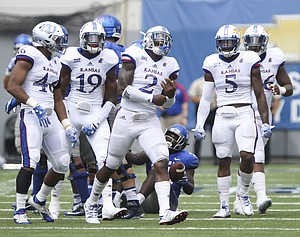 Likewise, ESPN ranked Armstrong among the Big 12's top 25 players, placing the 6-foot-4, 246-pound lineman from Houston the 20th-best performer in the conference in 2016.
"An All-Big 12 selection, Armstrong finished with 20 tackles for the loss, the fourth-most in a season in Kansas history and the most by a Jayhawk since 2005," Trotter wrote. "Armstrong was second in the Big 12 with 10 sacks, as well."
One member of KU's 2017 recruiting class recently picked up some significant recognition, too. Running back Dominic Williams, a commit expected to sign with Kansas, was named to the Texas Class 5A All-State first team by the Associated Press Sports Editors. In his senior season at Independence High, in Frisco, Texas, the 5-foot-9 Williams tallied 184 carries for 1,922 yards and 28 touchdowns.
Top games of 2016
While classifying the top Big 12 football contests of this past season, Athlon chose two matchups involving Beaty's Jayhawks. In fact, one KU game topped the entire list.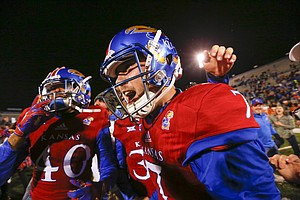 The first Kansas clash to appear on the "best of" compilation was a 24-23 home loss to TCU on Oct. 8 — No. 9 on Athlon's countdown.
"The past few years since TCU joined the Big 12, the Horned Frogs have gotten into some unexpected struggles whenever they have played lowly Kansas," Bryan Fischer wrote. "That was the case once again in 2016 as the Jayhawks led 23-14 at home in the fourth quarter and appeared to be on the doorstep of their first conference win in ages. TCU came storming back though with two late scoring drives, including one where QB Kenny Hill picked up his own fumble and ran 34 yards to set up a touchdown pass two plays later. KU unfortunately missed two field goal attempts in the final frame that could have won the game, but instead it was TCU's Brandon Hatfield doing honors on a 34-yarder with less than 90 seconds remaining."
KU's 24-21 overtime victory in its home finale, on Nov. 19, turned out far more memorable for Beaty, who picked up his first Big 12 victory as a head coach against Texas. The highlight of the Jayhawks' season made it the No. 1 Big 12 game, according to Athlon.
"[OK], maybe not the most well-played game in the Big 12 this season but it was one of the most interesting upsets in a variety of ways," Fischer wrote. "Matthew Wyman kicked a late field goal to tie it and another to win it in overtime to snap a 19-game losing streak in conference play by the Jayhawks and all but assuredly end the Charlie Strong era at Texas at the same time. It was KU's first victory over UT since 1938 (!) and came as the result of a ton of missed chances down the stretch for both teams, including a late fumble, fourth-down try and interception in overtime by the Longhorns. And to think it made D'Onta Foreman's 250 yards on 51 (!) carries just an entry in the box score."