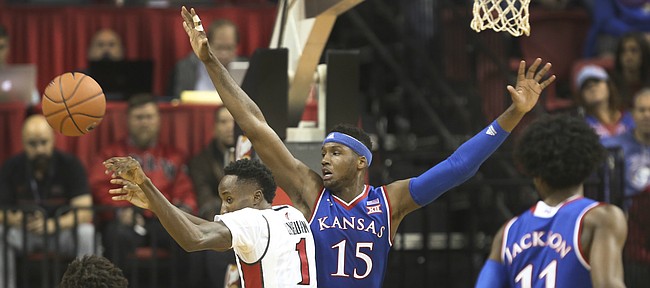 Thursday night, following the Kansas men's basketball team's 71-53 victory over UNLV at Thomas and Mack Center in Las Vegas, KU coach Bill Self issued an indirect challenge of sorts to sophomore Carlton Bragg Jr.
Asked how much the 6-foot-10, 240-pound forward's role might change with 7-foot freshman and six-game starting center Udoka Azubuike out for the season because of a wrist injury, Self flat-out said it would not.
Despite the way he has played thus far, and regardless of where he seems to look and feel most comfortable on the floor, Bragg is a big man. And, provided he performs well enough for Self to trust him the rest of the season, he's going to have to get comfortable playing the bulk of his minutes as the Jayhawks' lone forward on the floor alongside a four-guard lineup that has been wildly successful and productive during the first 12 games of the season.
"He's not gonna play the 4 much," said Self of the position where Bragg began the season, starting next to senior Landen Lucas in the Jayhawks' front court. "He can't. We don't have enough depth to do that. He might if there's no foul trouble the second half, but I don't think it's gonna change much.
"Carlton needs to settle in on being a defender and a rebounder and getting some easy baskets. When the face-up jumper's there, take it; but that's not something we can play to, face-up jumpers, when you don't have another big guy in the game."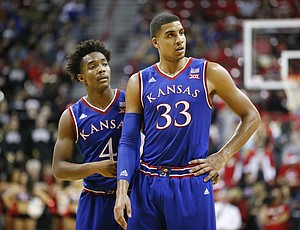 Averaging 7.2 points and 5.6 rebounds in 16.1 minutes per game, Bragg continues to be a wildcard for this Kansas team, which ran through non-conference play with an 11-1 record and enters the Big 12 Conference portion of its schedule — 8 p.m. Friday at TCU — ranked third in the nation.
Moments of growth and progress too often have been interrupted by long stretches of silly fouls and sub-par decision making which have made Bragg more difficult to count on during the biggest moments of games. Beyond that, the player who many believed was in line to make the biggest jump of any Jayhawk — from solid reserve as a freshman to big-time starter capable of stepping into Perry Ellis' shoes this season — often has looked to be pressing and frustrated by his inability to find a rhythm and deliver.
With Azubuike out and freshman Mitch Lightfoot and junior transfer Dwight Coleby the only other big men options behind Lucas, the desire now seems to be for Bragg to become more solid than sensational.
"It wasn't a problem (against UNLV) because Landen didn't pick up his second foul until the second half," said Self of dividing up the big man minutes. "But Carlton got two (fouls) early, in six minutes, which, to me, is inexcusable, and then I put Mitch and Dwight in the game. Mitch did fine. Dwight fouls twice, one 94 feet from the basket at the end of the half. So we've gotta tighten up things from an intellect standpoint and hopefully play a little smarter."
Lucas, who recently has shown signs of life after a similarly frustrating start to his own season, played big against the Runnin' Rebels and — 12 rebounds in 27 minutes — and said he believed KU's bigs were prepared to proceed without Azubuike.
"I think we did a pretty good job of staying out of foul trouble early on. So we haven't really been tested yet," he began. "But the guys gotta be ready to come in and play. They'll get their mind right and understand that even if you're in for a minute or 30 seconds at the end of the half, whatever it may be, that could be a big momentum change in the game. They'll figure it out."
Without going into detail about substitution patterns or how he planned to divvy up the minutes, Self more clearly spelled out the pecking order of the Jayhawks' four remaining front court players, with Lucas and Bragg being the first two options.
"I think that's gonna be pretty much it," he said. "I'd like to play two bigs some, but it's gonna be hard to play two bigs some if both of them get in foul trouble early in the first half. I see it being that, Mitch working in as the third big, and hopefully he'll continue to get better and get comfortable so we can play two bigs some."
More like this story on KUsports.com