Las Vegas — In a city known for hosting world-class shows, Kansas freshman Josh Jackson put on one of his own during a dominant first half that led the third-ranked Jayhawks to a 71-53, run-away victory over the UNLV Runnin' Rebels on Thursday night at Thomas and Mack Center.
Equal parts Cirque du Soleil, Blue Man Group and David Copperfield, Jackson was masterful all over the floor during the Jayhawks' 11th consecutive victory of the season.
The only thing missing was the live animals used by Siegfried and Roy and feathered costumes of the classic Vegas showgirls. Of course, the way things went for the KU freshman in just 12 first half minutes, he may still have been too much for UNLV to handle even if he played with either strapped to his back.
"It seems like he's been doing that a lot more in games, where he'll kind of spark us," KU senior Landen Lucas, who finished with a dozen rebounds in 27 minutes. "And that's big. We need him to do that and be that kind of presence for us to put us ahead, to extend our lead and he definitely did that tonight."
Photo Gallery
Kansas basketball v. UNLV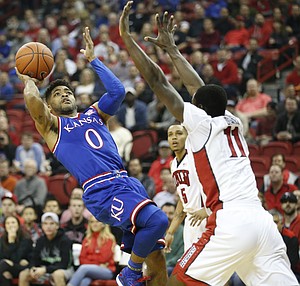 View a gallery of images from the Jayhawks' Thursday game against the Rebels in Las Vegas.
KU coach Bill Self agreed.
"He's been good early in games for us," Self said. "It's nice. I could care less who does it, but he was the best player early in the game and then after he got his second foul it kind of neutralized him, he sat too long."
After a quiet start, Jackson got going with a couple of drives to the basket. One produced a free throw and the other two points off of a nice drive from the wing and kiss off the glass. That opened up the outside and Jackson took advantage, drilling a top-of-the-key 3-pointer for six straight points and a 15-5 Kansas lead.
With just under 11 minutes to play, Jackson unleashed the full array of his vast skill set on a single play. After a missed 3-pointer by junior guard Devonte' Graham — on a would-be assist from Jackson — the KU freshman battled for the rebound, dished to Lagerald Vick in the corner for another would-be assist and scooped up Vick's miss for an easy put-back.
One possession later, Jackson kept his strong half going by providing a made-for-television highlight, pump-faking to get his man in the air and then driving baseline for a monster jam and a 25-9 Kansas lead.
"Teammates found me when I was open," said Jackson, downplaying his 21-point, nine-rebound night. "Just crashing the boards on the offensive end, trying to get some easy buckets. Missed a couple easy shots, easy free throws."
Jackson's signature moment may have come on the opening possession of the second half, when the 6-foot-8 guard took a lob pass from Frank Mason III, hung in the air, cocked his right arm and hammered the finish, complete with a little stare after the flush.
Jackson said he knew the lob was coming and laughed when a reporter suggested that it was a huge highlight only because the pass was a little off.
"It was awesome," Lucas said of Jackson's alley-oop. "He caught it with one hand. I think coach wished he would've caught the second one (a miss, later in the half) with two hands, but it looked nice."
When Jackson was bottled up or on the bench, KU junior Sviatoslav Mykhailiuk (20 points, six rebounds on 8-of-14 shooting) carried the load for Kansas (11-1).
"He was amazing tonight," Jackson said of his teammate. "We expect a lot out of Svi, not just with his shooting ability but with his ability to drive and create open shots for teammates and he did a great job of that tonight."
Perhaps doing his own Jackson impersonation, Mykhailiuk also downplayed his performance.
"Ah, I just took open shots," he said. "With nobody guarding me, I will always take the shot."
Choosing Thursday night to combine for 58 percent of KU's offense came at the perfect time for Kansas as the Jayhawks' other two starting guards, Graham and Mason, combined to shoot 6-of-20 from the floor for 17 points, including 1-of-9 from 3-point range.
"Svi was good tonight," Self said. "Josh got us off to a good start in the first half and Svi was our best player in the second half. Frank and Devonte', they both had probably the worst games they've had so far this year."
Their struggles allowed UNLV to outscore the Jayhawks 33-29 in the second half and turned a 22-point halftime laugher into a somewhat competitive game in the final 20 minutes.
UNLV staged a couple of strong charges in the second half, trimming KU's lead to as low as 13 at one point early in the half and later to 12 with just under four minutes to play. But the Jayhawks regrouped, got Jackson involved again and out-executed the Rebels (7-6) to the finish line.
"UNLV's still a good team and we didn't take them as seriously as we should've and they came back and kind of made it a game," Lucas said.
Added Self: "It was a good road win. You tell us before the game that we'd win on the road by 18, we'd definitely take that. But we had a chance to play much better tonight and didn't get it done."
The Jayhawks are now off until Dec. 30, when they will travel to TCU to open the 18-game Big 12 Conference portion of their schedule.
https://www.youtube.com/watch?v=kVDFtmlxDms
— See what people were saying about the game during KUsports.com's live coverage.
---
More news and notes from Kansas vs. UNLV
---