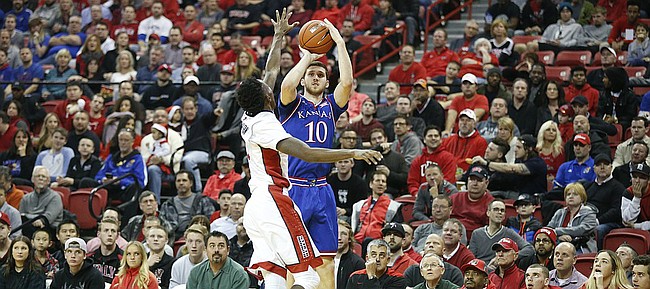 Las Vegas — Chris Beard stayed all of seven days before leaving the entertainment capital of the world for the South Plains of Texas.
Anyone who thinks trading Las Vegas for Lubbock bumps the Red Sox trading Babe Ruth to the Yankees for the $100,000 Sox owner Harry Frazee used to finance a Broadway show into second place in the worst-trade-in-sports history standings obviously didn't watch the telecast of Thursday night's basketball game in Thomas and Mack Center.
Before jumping to conclusions about Beard's sanity, understand that in order to stay in Las Vegas he would have had to coach UNLV's basketball team, no way to make yourself look good.
The Runnin' Rebels didn't quit, but they didn't stand a chance either, losing to Kansas, 71-53, in front of 14,116 inside Thomas and Mack Center.
Strangely, the fans who stayed until the end seemed extremely stressed out, as if the game were close or something. Oh, wait, never mind. In Vegas, some of the spectators pay more attention to the betting line than the numbers on the scoreboard, and in that respect, UNLV fared much better by the end of the game than at the half, by which time the Jayhawks had taken a 42-20 lead. At that point, the Rebels didn't look as if they could cover anyone or anything, least of all a spread.
Photo Gallery
Kansas basketball v. UNLV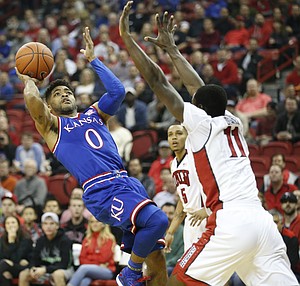 View a gallery of images from the Jayhawks' Thursday game against the Rebels in Las Vegas.
When last I ventured into Thomas and Mack, roughly 30 years ago, the final scoreboard meant everything because colorful coach Jerry Tarkanian led one of the most entertaining shows college basketball ever has known.
The arena has great history. The grand opening in 1983 starred Frank Sinatra, Diana Ross and Dean Martin. Mostly though, the stage belonged to towel-chewing, sad-eyed, raspy-voiced Tark the Shark and his players, Freddie Banks and Armen Gilliam, then Larry Johnson, Stacey Augmon and Greg Anthony.
Tarkanian demanded defensive effort and rewarded those who complied with offensive freedom.
Tark would have loved coaching the players Bill Self sent to the court Thursday night, even if most of them in the final 20 minutes had one foot on the floor, one on their flights home for Christmas. That's understandable. The game was in the bag and the bad news on the personnel front was just settling in.
Losing freshman center Udoka Azubuike for the season to a wrist surgery meant a lot to the players because they're a close bunch and he's a popular teammate.
Azubuike sat on the end of the bench, his wrist in a brace, and one of the players who will be counted on to absorb some of his minutes, Carlton Bragg, was on the bench with two fouls after playing seven minutes. Not good. He's going to have to figure out how to do better than that.
Landen Lucas can't play 40 minutes, so even when Kansas uses four guards, which will be most of the time, Bragg must be ready for extended minutes.
"The four-guard look, especially now with Udoka out, it ends up being a really good thing that we were playing it so often because we're going to need to do it a lot," Lucas said. "Carlton's going to have to adjust a little with the plays, learning the five, but he's smart and we all have confidence he'll do that."
It's no time for Bragg to feel as if he's playing out of position. Your position is where your team needs you and this team needs Bragg at center, where physical play is a must.
"I don't think Josh (Jackson) came here to play the four either, but everybody understands that while you're out there, you're just a basketball player, you have to do whatever coach asks," Lucas said. "If that's what it takes to win, I'm sure everybody will buy in."
Kansas made it through its pre-conference portion of the schedule with an 11-1 record and heads into conference play with nine scholarship players. Nobody would have guessed that when Azubuike got his hand caught in a jersey in practice Tuesday that it would spell the end to his season.
"We had no idea," Lucas said. "It didn't seem too serious at all. Then when we got the report, we were all shocked."
It makes winning a 13th-consecutive Big 12 title tougher to accomplish, but when Kansas resumes its schedule Dec. 30 in Fort Worth against an improved TCU, it will do so as nearly everybody's pick to win the league.
— See what people were saying about the game during KUsports.com's live coverage.
---
More news and notes from Kansas vs. UNLV
---