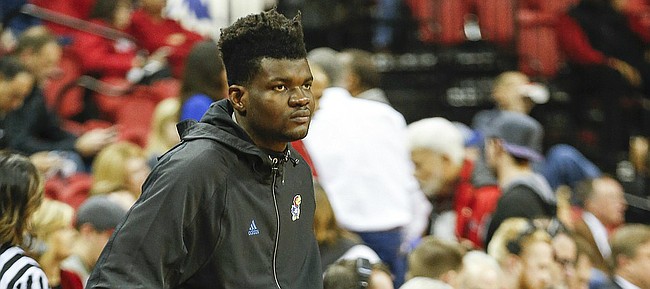 With his left wrist in a soft cast and a sad stare on his face, Kansas freshman Udoka Azubuike watched Thursday's 71-53 Kansas victory over UNLV in street clothes from the end of the KU bench.
It was a much different position than the one the KU big man had enjoyed during the six previous games, when he became a starter on the No. 3-ranked team in the nation and seemed to take one step after another in his development as a college basketball player.
Injured Tuesday during KU's final practice before leaving town, the 7-foot freshman will miss the rest of the season with damaged ligaments in his injured wrist.
"No. Not at all," said KU coach Bill Self after Thursday's game when asked if he knew that at the time of the injury that Azubuike's season could be in jeopardy. "We just knew he hurt his wrist. He finished practice. And then after practice (associate director of sports medicine) Bill (Cowgill) said we needed to get it looked at.... It's in a bad spot and the MRI confirmed it was torn."
Photo Gallery
Kansas basketball v. UNLV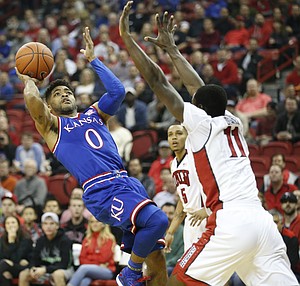 View a gallery of images from the Jayhawks' Thursday game against the Rebels in Las Vegas.
Asked how the injury happened, Self called it "kind of a freak deal."
"It wasn't a play," he said. "I think he was just banging on somebody and got his hand kind of caught in a shirt and somebody hit his hand in an awkward position."
With KU's big man rotation trimmed to starting forward Landen Lucas (four points, 12 rebounds in 27 minutes), sophomore Carlton Bragg Jr. (two points, six rebounds in 15 minutes) and freshman Mitch Lightfoot (two points, two fouls in six minutes) — No. 4 forward Dwight Coleby played just one minute against the Runnin' Rebels — the Jayhawks move forward a bit short-handed up front, but nobody in crimson and blue was feeling sorry for the team following Thursday's victory.
"We miss his presence," freshman Josh Jackson said of Azubuike. "It's sad that we don't have him, but the next guy's gotta step up and guys have to help fill that big hole."
Added junior guard Sviatoslav Mykhailiuk: "We just all have to step up and get together and be us."
Road game, really?
Although there were more UNLV fans at Thomas and Mack Center than Kansas fans, the visiting team had a pretty loud and proud backing from a number of Jayhawk fans who made the trip to KU's final non-conference game of the season.
"By now, I'm used to it," Lucas said with a smile. "It seems like the farther we go we have a bigger crowd. It was awesome to see all those KU fans. We really do appreciate it and it helps us get the wins in tough situations."
Postgame hustle
Although it likely will not fly as a good excuse with the KU coaching staff, a couple of Kansas players said Thursday's sluggish second half may have been the product of guys thinking about getting home for the holidays.
Because so many Kansas players were hustling out of the Thomas and Mack Center to catch flights home immediately after the game, that 22-point halftime lead might have been a trigger to start vacation early.
"One hundred percent," Lucas said. "We've got guys thinking about flights, thinking about being home with family, which is OK, but you want to push that off until after the game. This game could be kind of a trap game, going home for Christmas and stuff and we knew we needed to come out here and handle business and we did that in the first half."
Free throw woes continue
The Jayhawks, who entered Thursday's game shooting 60 percent from the free throw line, knocked that number back into the 50s with an 8-of-17 showing (47.1 percent) from the charity stripe in the win over UNLV.
Had the Jayhawks connected on more free throws, UNLV never would have been able to climb as close as a dozen in the second half. But it did not seem to matter who was at the line, the Jayhawks missed the second half of several trips to the free throw line throughout the game, causing Self to throw his hands up and his head back on the bench, much the way he has done throughout the season.
Josh Jackson (2-of-5) and Frank Mason (4-of-10) accounted for all of KU's misses from the free throw line on Thursday. Lucas, the only other KU player who attempted a free throw, made both of his foul shots.
This and that...
Kansas remained perfect all-time against UNLV and extended its lead in the series to 6-0... Thursday marked the Jayhawks' first win over the Runnin' Rebels in Vegas... Josh Jackson's 21-point showing was one away from tying his career-high... Sviatoslav Mykhailiuk's 20-point night put him three points shy of tying his career-high... KU's 11 consecutive victories marks the 12th time in the Self era that KU has enjoyed a winning streak of 11 wins or more... Kansas is now 5-1 in games played outside of Allen Fieldhouse this season.
— See what people were saying about the game during KUsports.com's live coverage.
---
More news and notes from Kansas vs. UNLV
---