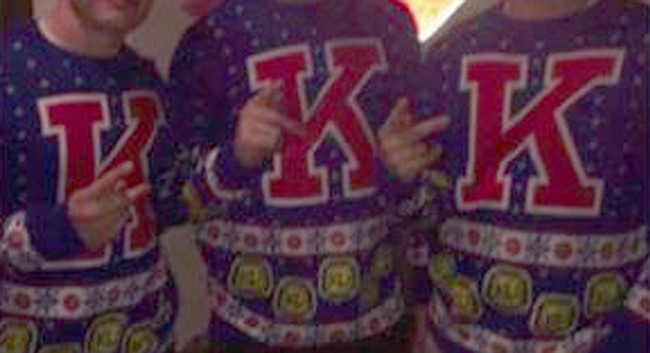 Four University of Kansas cheerleaders linked to a Snapchat post bearing the message "Kkk go trump" are no longer on the squad.
KU's semester ended Friday, and one of the three male cheerleaders in the photo graduated, said Jim Marchiony, KU associate athletic director for public affairs. The other two men and the female cheerleader on whose Snapchat account the image appeared chose to resign from the squad, Marchiony said.
The cheerleaders had been suspended from performing since a few days before Thanksgiving.
The photo shows three white men standing side-by-side in sweaters with the letter "K" for Kansas on the front; the so-called KU ugly holiday sweaters featuring Jayhawks on the arms and championship rings around the middle were sold en masse in the KU Bookstore in December 2015. The photo was posted with the text "Kkk go trump" on the Snapchat account of Lili Gagin, a white woman who was listed on the KU Spirit Squads roster as a sophomore from Grayslake, Ill.
The photo was shared widely online, where some social media users said they interpreted it as racist speech indicating support for the Ku Klux Klan, while others said it looked like a political joke against President-elect Donald Trump.
KU Athletics learned of the photo via social media during the Nov. 21 KU men's basketball game and quickly suspended Gagin (who was not cheering at that game) pending further investigation. The three men were suspended the next day.
Gagin told KU Athletics someone else took her unlocked phone at a party a few days earlier and posted the image on her Snapchat profile. Gagin also posted on her own Twitter account: "I'm appalled that a snapchat was put out on my snapchat and posted on my account. I would never of done that & I apologize that it happened."
It's unclear whether the incident led to any discipline of the students at the university level.
Marchiony did not share more details about the cheerleaders' resignations, and KU spokeswoman Erinn Barcomb-Peterson has declined to share any information on the university's investigation of the incident. Gagin has not responded to emails from the Journal-World, including one sent Thursday.
KU has not formally released any of the cheerleaders' names. Gagin's name is on the Snapchat account and was included in a Twitter post by another user that KU Athletics and KU both shared the night she was suspended.
KU Athletics tweeted, "Unacceptable. She is suspended from cheering pending formal investigation. This behavior won't be tolerated. Will be dealt w/ appropriately." KU retweeted that post, adding, "There is no place for this in our community. These types of messages are unacceptable."
KU Athletics and KU both deleted those tweets the following day.
Have a tip or story idea?
---
More stories