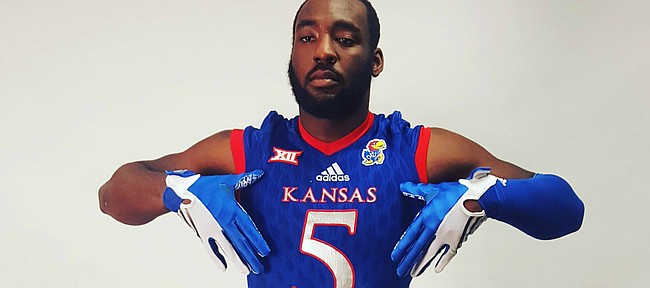 The more Kansas sophomore defensive end Dorance Armstrong Jr. displayed flashes of dominance in 2016, the more opponents reacted by game-planning to try and stop him.
With the Jayhawks losing their other experienced edge rushers before next season and anticipating even more focus from their foes geared toward eliminating Armstrong as a threat, David Beaty and his staff made sure to address a need in its 2017 recruiting class. The head coach thinks KU might have found a perfect pass-rushing partner for its star with the mid-year signing of Willie McCaleb.
"We really needed a guy to play opposite Dorance," Beaty said of McCaleb, an NJCAA first-team All-American from Northwest Mississippi Community College.
Late in the season, especially, teams such as Kansas State sent double-teams at Armstrong or chipped him at the line of scrimmage with tight ends, who gave the D-end a hit or shove at the beginning of their passing routes. Beaty doesn't blame other Big 12 teams for scheming ways to limit KU's all-conference lineman. He said he would've done the same thing, too.
"So, when you have that, you've got to have a guy on the other side that can be able to be productive," the KU coach said. "Willie gives us that juice off the edge on the other side now to do it. And I think when you see Isaiah (Bean, a true freshman this past season) grow, he's gonna be a guy that's going to be able to do that, too. But now we just add some depth and a guy that is a very sharp, very mature guy for his age."
Armstrong finished his All-Big 12 season with 10 sacks, 20 tackles for loss, five quarterback hurries and 56 total tackles — numbers the 6-foot-4 edge rusher extraordinaire from Houston aims to improve upon as a junior. McCaleb's productivity at the junior college level for NMCC, where the 6-foot-2, 235-pound lineman made 42 total tackles, 16.5 tackles for loss, 10 sacks, 12 quarterback hurries and one pass breakup as a sophomore, leads Beaty to think the former Troy commit could turn out to be far more talented than many anticipated.
The head coach credited a young staffer, graduate assistant Micah Davis, for getting KU to recognize McCaleb as a recruiting target early on. Once the coaches zeroed in on the juco star for its incoming class, they tried to keep their interest concealed from public knowledge, because, in Beaty's words, "he was a dude that was going to be able to blow up."
Once McCaleb joins the program, ahead of the spring semester, Beaty hopes defensive line coach Michael Slater can turn the junior-to-be into someone who will draw double-teams and chips away from Armstrong.
"Man, we're going to like Willie McCaleb," Beaty said. "He can run. He's big enough to play that six technique for us and hold that C-gap. But, man, the thing I really like about him is this dude can rush the passer. He can do it. There's no doubt about it."