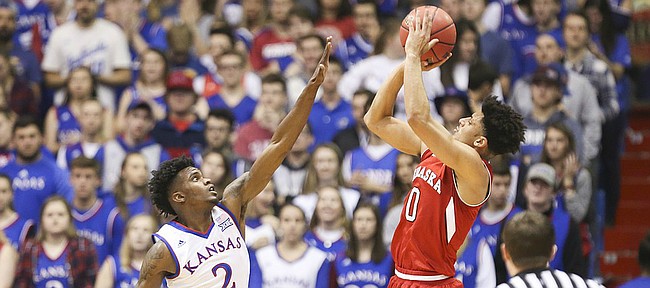 No. 3 Kansas Jayhawks (10-1) vs. UNLV Runnin' Rebels (7-5)
Time: 8 p.m. | Location: Thomas and Mack Center, Las Vegas, Nevada
TV: CBS Sports Network | Radio: IMG Jayhawk Radio Network
Log on to KUsports.com for our live game blog coverage and follow the KUsports.com staff on Twitter: @KUSports @mctait @TomKeeganLJW @bentonasmith & @nightengalejr
Keys for Kansas
1. Have energy, will travel
Both freshman Josh Jackson and head coach Bill Self said one of the keys to KU's clash with UNLV would be the Jayhawks' ability to create their own energy right out of the gate.
Playing in a true road environment for the first time this season, the Jayhawks will not be able to rely on their adoring fan base the way they do at home and have in Honolulu, New York and Kansas City.
Instead, the Jayhawks will have to lean on each other and look to their coaches and the veterans to bring emotion and fire to a game that could be played in front of a small crowd. That will make players like Jackson, Devonte' Graham and Carlton Bragg even more important in this one because all three have no problem showing fire and emotion on the floor during good times and bad.
"I think the key to this game is gonna be our defense and our energy," Jackson said. "Playing away, we don't always bring as much energy as we normally do because, playing here and in Kansas City, we can depend on the crowd to bring a lot of energy for us."
2. Get a hand up
UNLV is not a great shooting team — the Rebels are hitting just .435 from the floor so far this season — but can get hot if they find rhythm early.
Marvin Menzies' team is shooting .367 from 3-point range and has scored 89 points or higher in three games this season, two of them victories.
While Self always emphasizes man-to-man defense and routinely strives to keep opponents at or below 40 percent from the floor, that goal figures to be an even more important part of this one given UNLV's track record of getting hot and shooting out of its mind on nights when opponents have led the Rebels find comfort on the offensive end.
"The biggest thing is to not allow them to get consistent," Self said. "If they're making shots, they're capable of giving anyone problems, but they've also been very inconsistent."
3. Free throw war
Not only is UNLV shooting a better percentage than Kansas from the free throw line (.720 vs. .600) but the Rebels also do a good job of getting to the line and keeping opponents from getting there.
So far this season, the Jayhawks have committed 25 more fouls than the Rebels in one less game and have not been able to capitalize on the charity shots themselves when they do get there.
Kansas has shown slow and steady improvement from the line in recent games, mostly because the right players have started getting to the line.
The Jayhawks have topped 70 percent from the line in a single game just three times this season — the season best came in the opener when KU shot .733 from the line vs. Indiana — but even in those games the Jayhawks still missed a combined 21 free throws.
Free points are important in any game, but certainly take on greater importance in road games against upset-minded teams looking for any way they can to take down the favorite.
Mega Matchup
The Jayhawks vs. Father Christmas
Although Kansas traditionally has fared well during December, there have been a couple of occasions when the Jayhawks laid an egg in late December right before the team parted ways for a few days of holiday celebrations with friends and family back home. Self made sure to stress just how important things like preparation, scouting report and finishing the non-conference portion of their schedule on a high-note were to the rest of the Jayhawks' season. "We've had several teams that went home for Christmas emotionally before the game was actually played," Self said. "And we've had some teams that didn't do that. We'll emphasize how important it is to keep some momentum going into the Christmas break." With no-nonsense seniors Frank Mason III and Landen Lucas leading the way, this experienced and mature Kansas team should have no trouble maintaining the proper mindset through Thursday's game before heading off to sing carols and stuff stockings with family members.
Jayhawk Pulse
Coming off of what many believe was their best half of the season last Saturday night against Davidson, the Jayhawks will look to continue to pile up the points while using intense defense and extreme focus to improve their winning streak to 11 games heading into Big 12 Conference play.
Although UNLV is down this year and is in the middle of a major rebuilding project, the mere fact that it's the Runnin' Rebels and the game is being played in Las Vegas adds more than a little buzz to this one.
The Kansas offense has been on fire of late, having scored 89 points or more in six straight games, marking the first time the team has produced such a streak since topping 91 points six straight times in January of 1990.
Frank Mason III, Josh Jackson and Devonte' Graham have been the main catalysts for KU's offensive explosion, leading the team in points, assists, energy and attitude, but the Jayhawks' role players also have contributed to the scoring onslaught, both in the half-court and in transition.
With the Jayhawks' four-guard lineup looking more and more comfortable and effective each night, the Jayhawks will look to continue to fine-tune their small ball approach while also hoping that the Kansas big men build on strong showings during the past few outings.
"I think we can get better," Self said. "I think I can get better coaching, come up with some creative ways to do some things a little bit different. But the creative ways in this is changing the angle of the ball screen or getting more back-cutting in. It's actually kind of fun. I've enjoyed it."
Probable Starters
No. 3 Kansas
G – Frank Mason III, 5-11, 190, Sr.
G – Devonte' Graham, 6-2, 185, Jr.
G – Josh Jackson, 6-8, 207, Fr.
G – Sviatoslav Mykhailiuk, 6-8, 205, Jr.
F – Landen Lucas, 6-10, 240, Sr.
UNLV
G – Jalen Poyser, 6-4, 180, Soph.
G – Uche Ofoegbu, 6-4, 220, Sr.
G – Kris Clyburn, 6-6, 180, Soph.
F – Cheickna Dembele, 6-11, 235, Fr.
F – Tyrell Green, 6-7, 215, Sr.
More like this story on KUsports.com