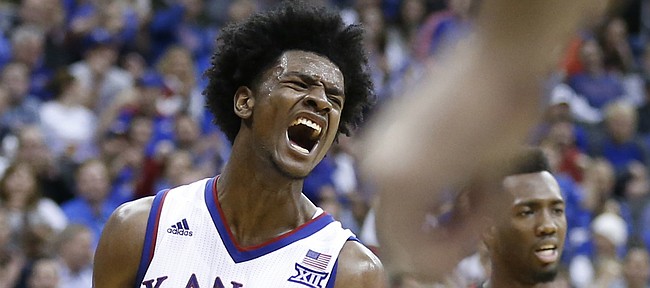 One game is all that stands between Kansas freshman Josh Jackson and a return to some of his favorite haunts in the world.
Shortly after the Jayhawks (10-1) close out the non-conference portion of their schedule Thursday at UNLV in Las Vegas — 8 p.m. tip-off on CBS Sports Network — Jackson will fly from Vegas to his hometown of Detroit and will arrive with his three-day itinerary already planned out.
A good chunk of it will involve spending time with family members, eating his grandmother's cooking and trying to thwart off requests from his mother to entertain the family on the saxophone.
But when he steps out, three Detroit restaurants will be mandatory stops — Captain Jays, Coney Island and Capers, a steakhouse in downtown Detroit.
Jackson said he already had his order prepared at each place and that he and his teammates were looking forward to the short-but-sweet upcoming holiday break.
"Oh, definitely," Jackson said. "That'll be good for a lot of the guys on the team, especially myself. Guys are getting a little weary, but I think we need to just keep going at it, because it's not gonna get any easier from here on out."
Jackson's daydreams about his favorite dishes are just that. Because when he's awake and aware, the one-and-done freshman who is averaging 15.1 points per game remains sharply focused on KU's next game and what he needs to do to make sure it goes the way the Jayhawks want it to go.
That mentality, as much as his play on the floor, is what has made Jackson's start to what is likely to be his lone college season so remarkably consistent. Ever since finding his way through the frustration of early-season foul trouble, Jackson has been one of Kansas' most active and impactful players on the floor night in and night out.
"I think it's hard (to be consistent) if your specialty is shooting the basketball, because I think that kind of comes and goes," KU coach Bill Self said Tuesday. "But I don't think it's as hard when your specialty is doing all of the other things. You can have an off day but still try hard or hustle and compete and rebound and get deflections and guard and that kind of stuff. And I think that's what makes him so effective, is that he doesn't have off days very often doing those things."
In addition to ranking second in scoring, Jackson leads the team in rebounds (69) and rebounds per game (6.3), is tied for the team lead in steals (19), second in blocks (16) and third in assists (37). All of that after a slow start in which he played 21 minutes or fewer in two of the Jayhawks' first three games.
Jackson admits that the beginning of the season caught him off guard. He knew playing college basketball would require him to play at a higher level. But he did not know it would take time to adjust.
"I've never been on a team this talented before in my life," Jackson said. "... In the beginning, it was a lot harder, but as the season went on, you know playing more and more games, having more practices and just getting more comfortable, I've been able to figure things out a little easier."
One of the biggest keys in Jackson finding his rhythm has been trust in his teammates and their trust in him.
When you consider that Jackson, Frank Mason III and Devonte' Graham all are averaging 13.4 points per game or better, it's clear that whatever they've figured out is working.
And Self said Tuesday that, even when it wasn't, he knew it was just a matter of time before the talented trio figured it out.
"I think that happens all the time," Self said. "It sounds all fine and dandy (for freshmen) to come in here (and say), 'Hey, I'm gonna be aggressive and I'm gonna be all this.' But then you've got some older fellas saying, 'Listen here, young fella. This is my show, not yours yet.' We don't have that, but there's been teams that even though those words weren't spoken, they're somehow put in kids' minds and they defer too much. And Josh has probably deferred a little bit, but not a lot."
Jackson may have deferred at times when it came to taking shots, where he ranks second to Mason (134-124) and is just 18 attempts ahead of Graham. But he rarely has taken his foot off the gas in other areas.
"I think my job for the team is pretty easy," he said. "Just being able to know what I have to do in order for my team to be successful, game in and game out, just rebounding, playing defense, bringing energy ... I feel like if I always do those things, I'll be fine."
Svi to start
Self said before Tuesday's practice that he was planning to start 6-foot-7 junior Sviatoslav Mykhailiuk on Thursday against UNLV.
Mykhailiuk, who last Saturday against Davidson made his first start since his freshman season, has been one of the Jayhawks' more consistent and impressive players during the past couple of weeks.
Averaging 13 points per game in the last five outings — and having reached double digits in scoring in all five — Mykhailiuk has shot the ball well, been more aggressive on the offensive end and also increased his presence as a rebounder and defender.
"I actually like how he's playing," Self said.
Familiar date
Although the Jayhawks have traveled to Honolulu, New York City and Kansas City three separate times, Thursday's game at UNLV's Thomas and Mack Center will be the first true road game for the Jayhawks this season.
It marks the exact same date (Dec. 22) that Kansas has played its first true road game of the season during five of the last six seasons and is 12 days later than the Jayhawks' first road game of the 2013-14 season, a 67-61 loss at Florida.
KU's results during the five other recent Dec. 22 games: 78-63 win at Cal in 2010; 63-47 win at USC in 2011; 74-66 win at Ohio State in 2012; 77-52 loss at Temple in 2014; and 70-57 win at San Diego State in 2015.