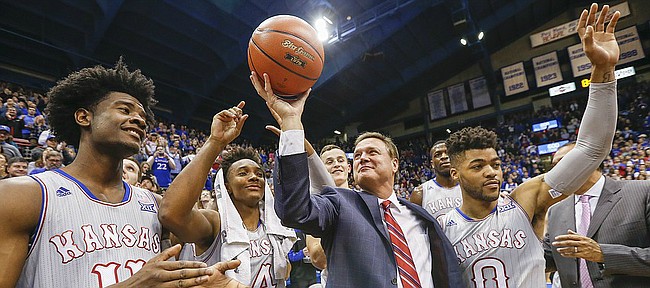 While en route to Las Vegas for tonight's first true road game of the 2016-17 season — 8 p.m. vs. UNLV at Thomas and Mack Center — Kansas men's basketball coach Bill Self on Wednesday was nominated for inclusion in the Naismith Memorial Basketball Hall of Fame.
"I consider this an honor to be nominated," said Self said via press release after hearing the news. "I certainly didn't expect this. I'm proud, mainly because of the teams' successes we've had in the various stops that put me in a position to be considered."
The nomination came on the 125th anniversary of the invention of the game by James Naismith, who brought basketball to Lawrence from Springfield, Massachusetts, site of the Naismith Hall of Fame. The game's handwritten rules, penned by Naismith, who went on to become the first coach at KU, currently reside in the DeBruce Center adjacent to Allen Fieldhouse on KU's campus.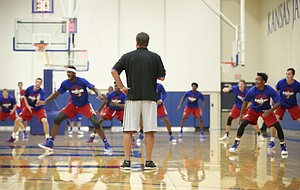 In 24 seasons as a head coach at Oral Roberts, Tulsa, Illinois and the last 14 at Kansas, Self has recorded 602 victories against just 189 losses.
That includes a 395-84 mark at Kansas, where Self famously has won more conference titles (12) than he has lost home games (9).
His .825 winning percentage ranks first all-time among the eight coaches who have led the Kansas basketball program and he has earned four national coach of the year honors and six Big 12 coach of the year honors while leading the Jayhawks to 12 consecutive Big 12 regular season titles, a streak that remains in tact and is on one away from tying UCLA's all-time record of 13 straight from 1967-79 under two different coaches.

While Self will have to wait until April 3 to find out of he will be enshrined as a part of the 2017 class — finalists will be announced Feb. 18 — many who have worked with him or marveled at his success inducted him into their own personal Hall of Fame long ago.
"Coach Self is one of the elite coaches in the nation," KU athletic director Sheahon Zenger told the Journal-World. "He has been a winner everywhere he's been and his record and conference championships while leading the tradition-rich Kansas basketball program speak for themselves. He certainly is deserving of the highest accolades and honors."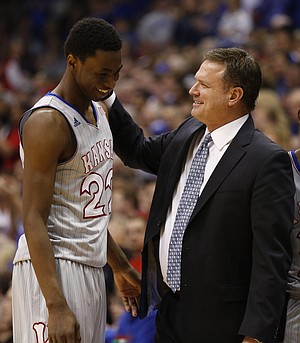 In addition to guiding his teams to 18 consecutive NCAA Tournament appearances, Self has racked up eight 30-win seasons, which ties for third in NCAA history. His four consecutive 30-win seasons at Kansas, from 2009-10 to 2012-13, mark the most consecutive 30-win seasons of all-time and his 57 Kansas all-conference performers and 31 academic all-Big 12 honorees are more than any other Big 12 program.
Self's 18 tourney appearances have produced one national title (2008), two Final Fours (2008 and 2012), eight trips to the Elite Eight and 11 Sweet 16 appearances. He also has guided his teams to eight conference tournament championships, including seven as the leader of the Jayhawks.
"We are very fortunate to have him as our coach," Zenger said of Self. "And even more fortunate to work with someone so down to earth and personable every day."