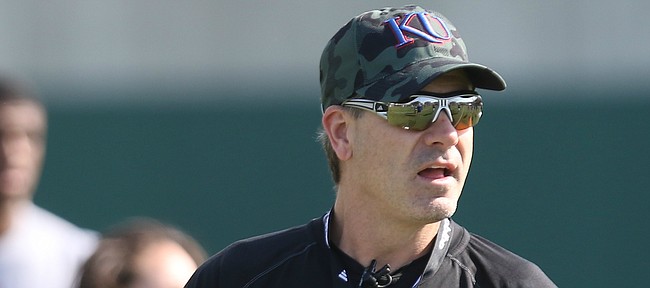 Entering his third off-season as the Kansas football coach, David Beaty restructured his staff this week, with former offensive coordinator and quarterbacks coach Rob Likens taking a job at Arizona State.
As a result, Beaty announced Tuesday the promotion of Garrett Riley, who spent the past year contributing mostly behind the scenes as an offensive analyst, to an on-field position in which he will work with KU's quarterbacks.
In title, Kansas listed Likens as offensive coordinator and quarterbacks coach prior to his departure to coach wide receivers at Arizona State. In reality, Beaty took over both those duties during spring football, following the Jayhawks' 0-12 2015 season. Beaty labeled Likens as a "walk-around guy" who would help the rest of the staff in a variety of functions.
"We appreciate Rob's many contributions as part of the Jayhawk family," Beaty stated in a release. "We wish him every success as he moves forward to this new chapter of his career."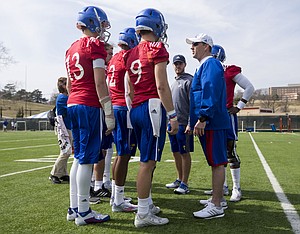 Likens' decision to take on a more definitive role at ASU, where he will also serve as passing game coordinator on Todd Graham's staff, opened an on-field role at Kansas. After working a lot with Riley over the past several months, Beaty decided to expand his duties and make him one of the staff's nine full-time assistants.
"Garrett has been a tremendous asset to our program since the day he set foot on campus," Beaty said of Riley, who joined the staff in early 2016. "Having played under Mike Leach at Texas Tech and worked closely with his brother, Lincoln Riley (now offensive coordinator at Oklahoma), during his time at East Carolina, Garrett has had his hand in some high-powered offenses. His extensive knowledge of the Air Raid offense has been invaluable as we implemented it to our team, and I am looking forward to him having an even greater impact in his new role."
This past season at KU, various players mentioned, unprompted, Riley's knowledge and ability during media sessions.

Before joining the Kansas staff, Riley coached outside receivers at East Carolina, where he worked with Zay Jones, who recently became the all-time NCAA FBS career receptions leader with 399 catches.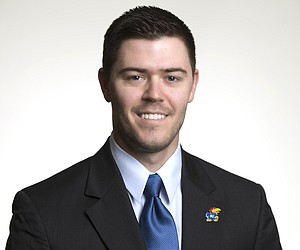 Riley spent three seasons at ECU, where he worked two years with his brother Lincoln, who went on to become the offensive coordinator at OU. While working with ECU's quarterbacks, Riley had a chance to play a part in the development of Shane Carden, who won the American Athletic Conference's Offensive Player of the Year award in 2014, and became the program's all-time leader in passing yards (11,991) and passing touchdowns (86).
In his college days, Riley began at Texas Tech, where he played quarterback in 2008 and 2009, under then-Red Raiders coach Mike Leach. Riley then transferred to Stephen F. Austin to finish his college career.
His first coaching job came at Roosevelt High, in Lubbock, Texas, in 2011, before he quickly moved on to the college ranks at Augustana (Ill.) College, in 2012, as a running backs coach.