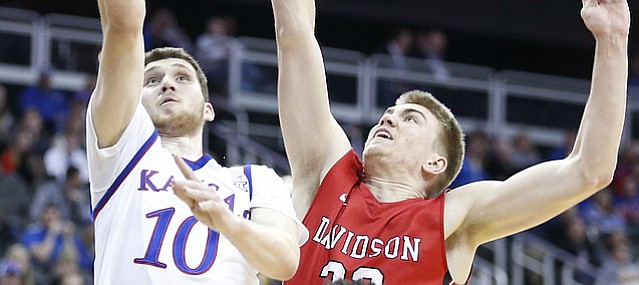 With Santa sitting courtside and holiday cheer floating throughout the arena, Kansas junior Sviatoslav Mykhailiuk received an early Christmas present from Kansas coach Bill Self on Saturday night — his seventh career start and first since his freshman season.
"I play the same way; it doesn't matter to me if I'm starting or not starting," said the Ukrainian wing following Saturday's 89-71 win over Davidson at Sprint Center. "It felt good to start."
After the game, Self explained that plugging Mykhailiuk into the starting lineup in place of sophomore Lagerald Vick had a lot more to do with their play on the floor than it did his own generosity.
Averaging 13 points in 23.5 minutes per night during the four games leading up to Saturday's victory, the 6-foot-8 wing has both looked more aggressive and found more success after a slow start to his third season at Kansas.
"I think Svi's on an uptick," Self said. "Lagerald has done nothing wrong, I just don't think he's playing as well and giving us as much energy. I didn't think Lagerald was into it at all the first half and I thought that hurt us."
Photo Gallery
Kansas basketball v. Davidson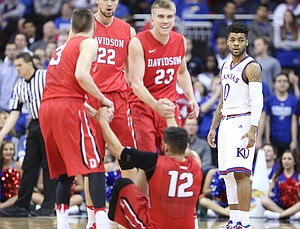 View a gallery of images from the Jayhawks' game against the Wildcats at Sprint Center.
That inspired Self to turn to Svi and the Jayhawk who has fired up the second-most 3-point attempts so far this season proved Saturday that he was much more than an outside shooter.
"He didn't shoot it well tonight," said Self of Mykhailiuk, who finished with 13 points on 4-of-8 shooting in 33 minutes. "But he was still very aggressive and I think he's driving it downhill a lot more. You know, he got fouled tonight. He's shot six free throws for the season going into tonight and he shoots six tonight."
Self's decision to play four guards more often than not so far this season has made the specifics of KU's backcourt rotation a little less significant. All five players are going to play. That was obvious when, even on a night when he did not start, Vick still managed 22 minutes of court time.
But KU freshman Josh Jackson said there was something cool about having Mykhailiuk out there for the opening tip during Saturday's win over Davidson.
"It's kind of all the same, especially when we're starting four guards," Jackson said. "But it was real good having Svi out there today. He kind of spreads the floor for us a lot, gives us space to drive the ball."
Podcast episode
Kansas guards Frank Mason III, Josh Jackson and Svi Mykhailiuk met with the media following their 89-71 win against Davidson and discussed their defensive intensity and Mykhailiuk's first start of the season.
Weather effects
A winter storm that hammered Lawrence and parts of the Kansas City metro area made an impact on Saturday's attendance as the Sprint Center was far less full than the listed crowd of 17,820.
Self estimated Saturday's crowd of mostly Kansas fans at around 11,000 and, even at nearly 7,000 fewer than expected, marveled at the devotion of those who did find their way to their seats.
"I know it wasn't a huge crowd," Self said. "But 11,000 people here in this weather, wow. I mean, I can't imagine. That's some loyal supporters there, to brave these elements to come out to watch a basketball game."
Podcast episode
After an 89-71 victory over Davidson in Kansas City, Kansas basketball coach Bill Self met with the media to discuss his team's strong offensive rebounding, production from his bigs, and his decision to start Svi Mykhailiuk in place of Lagerald Vick.
Just another night
For the ninth time in 11 games, Kansas senior Frank Mason III led the Jayhawks in scoring (his 18 points tied Jackson) and it came in somewhat unspectacular fashion.
Mason, who played a game-high 36 minutes, finished 4-of-13 from the floor, including 2-of-6 from 3-point range and also knocked down eight of nine free throws.
"Frank probably had as average a game as he's had," Self said after the win. "And he gets 18 points and seven assists and six rebounds."
Far more important to Mason was his team's response to a sluggish first half, particularly on the defensive end. Although he finished with just a single steal, his defense on Davidson guard Jack Gibbs, who entered the night as the fourth-leading scorer in the nation, spear-headed Kansas' overall defensive effort. Gibbs finished with 12 points — 11 below his average — on 3-of-14 shooting in 34 minutes.
"The game plan was just to get engaged with him early and I think my teammates did a great job with helping me," said Mason, always willing to share the credit. "He's a really good player."
Still perfect at Sprint
KU's 18-point victory over the Wildcats improved the Jayhawks' to 3-0 at Sprint Center this season.
The Jayhawks (10-1) knocked off UAB and Georgia in back-to-back nights back in November to claim the CBE Classic title and picked up win No. 3 at their home away from home with a strong second half.
Kansas has won seven consecutive games in Sprint Center.
The reason that qualifies as good news for Kansas is the fact that the Jayhawks still could play as many as five more games at the 10-year-old, downtown Kansas City-venue before season's end.
KU would max out at eight Sprint Center games this season if it were to play three games in the Big 12 tournament in March and also advance to the Midwest regional semifinal and final of the NCAA Tournament a couple of weeks later.
This and that...
Kansas now leads the all-time series with Davidson, 2-1. All three games have been played in the Bill Self era.... The Jayhawks now have scored 89 points or more in six consecutive games, marking the longest such streak since the 1989-90 team scored 91 or more in six straight in January of 1990.... KU's 71 percent showing at the free throw line (17-of-24) was its third-best effort of the season.... KU is now 219-80 all-time in Kansas City, including a 34-6 mark at Sprint Center.
— See what people were saying about the game during KUsports.com's live coverage.
---
More news and notes from Kansas vs. Davidson
---