Sophomore defensive end Dorance Armstrong Jr. and true freshman safety Mike Lee, Kansas football coach David Beaty and his staff hope, could turn out to be two Jayhawks who help lay the foundation for the program's mammoth restoration project.
Even at Beaty's mid-year signing day press conference this week, he couldn't stop himself from sending some unprompted praise in the direction of a couple of the team's most talented returning players.
Observers outside of Kansas have recognized the promise in both Armstrong and Lee, too. Campus Insiders placed KU's All-Big 12 defensive end on its Sophomore All-American Team.
"Players the caliber of Armstrong rarely matriculate in Lawrence," Rich Cirminello wrote for CampusInsiders.com. "And the Jayhawks are absolutely giddy to have landed the Houston product two years ago. Armstrong is a quick-twitch edge rusher, whose 20 additional pounds of muscle this season allowed him to hold up against more physical linemen and better defend the run. However, hunting down quarterbacks is his calling card. Armstrong, without a lot of support from his teammates, bagged a Big 12-best 20 tackles for loss and 10 sacks during the regular season."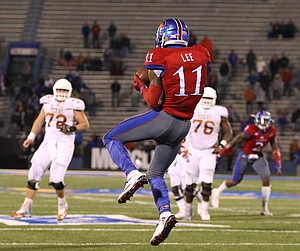 Campus Insiders gave sophomore Kansas receiver Steven Sims Jr. honorable mention.
Rivals.com, meanwhile, released a list of the top 15 true freshmen in FBS and slotted Lee at No. 9.
"Lee surprised many by signing with Kansas," Mike Farrell wrote for Rivals. "His relationship with coach Tony Hull was one of the major factors that put the Jayhawks over the top. Initially a 2017 recruit, Lee was able to graduate early and made it on campus for the 2016 season. He quietly put together one of the better true freshman seasons in the country, finishing with 77 tackles, 1.5 tackles for a loss, one interception, two forced fumbles and three pass breakups. He was most impressive at the conclusion of the season when he finished with 33 tackles, a forced fumble and an interception during the last three games."
A 5-foot-11, 176-pound safety from New Orleans, Lee already was highly regarded by Rivals' recruiting experts before he arrived at KU, earning a four-star ranking.
"We expected him to remain a 2017 recruit," Farrell added, "get better as a senior and impact early, but the fact that he has made a major impact when he should still be playing high school ball is impressive. He wasn't the biggest or the fastest corner (before converting to safety at KU) but he had great instincts, he loves to hit and he was always physical."
Between Armstrong, a 6-foot-4, 246-pound defensive lineman from Houston, turning into a unanimous all-conference force and Lee improving throughout his first college season — plus the slew of other young talented Jayhawks the coaching staff expect to contribute in 2017 — Beaty likes the direction of the program, even coming off a 2-10 season.
"Just a lot of guys that we have coming back… the future kind of looks bright for us," the coach said, "when it comes to that, because we have a lot of guys that we can talk about. It's gonna be good."
Incoming transfer McCaleb a juco All-American
When Beaty touted the talents of eight mid-year signees on Wednesday, the coach described junior college transfer Willie McCaleb, a defensive lineman, as a dynamic addition. On Thursday, the NJCAA named the 6-foot-2, 235-pound McCaleb a first-team All-American.
"He can do a lot of things for us," Beaty said of McCaleb, who played at Northwest Mississippi Community College. "But he's a guy that we tried to keep under the radar for awhile because we knew he was a dude that was going to be able to blow up."
In his sophomore year with Northwest Mississippi C.C., McCaleb made 42 total tackles, 16.5 tackles for loss, 10 sacks, 12 quarterback hurries and one pass breakup.
#TeamCole info
A service celebrating the life of KU football fan Cole Hayden, who died on Saturday, will take place 10 a.m. Friday, at Sacred Heart Church, in Ottawa. Cole was the 7-year-old son of the football team's academic and career advisor, Shanda Hayden.
Those interested in showing support for the Hayden family can make contributions to the Cole Hayden Memorial Fund or Sacred Heart School, care of Dengel & Son Mortuary, 235 S. Hickory, in Ottawa, Kansas.
Family and friends have been encouraged to post their condolences and memories on Cole's tribute wall at www.dengelmortuary.com.