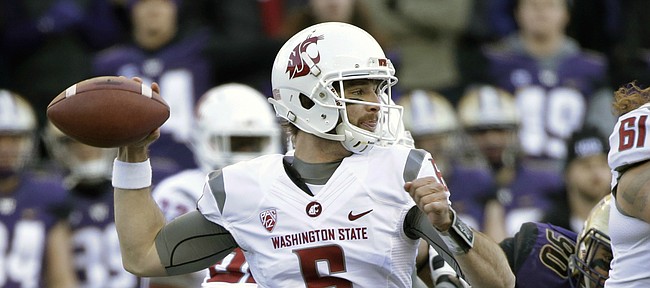 I know what you're going to do, so you might as well do it now so that you don't have to hear even a single word of what I'm about to say. So go ahead, take your left hand and press it hard against your left ear. Now take your right hand and press it hard against your right ear. Now start babbling as loudly as you possibly can to ensure that not even a hint of my voice violates your cone of silence.
I get it. Your heart was broken, not once but twice, because you believed all the hype about a transfer quarterback who was supposed to make NFL scouts sell out every hotel room in Lawrence and surrounding towns just to catch a glimpse of his greatness.
And then Dayne Crist played his way out of the Kansas starting lineup, replaced by Michael Cummings. A year later, Jake Heaps would make everyone forget the sound of Crist backfiring. Instead, more hearing damage for those close to that scene. Montell Cozart replaced Heaps midway through the season, sparing Heaps the beatings.
So the last thing anybody wants to hear is more hype about a transfer quarterback bound to pull the Kansas offense out of the dumps where it has resided since Todd Reesing entered the business world.
Never mind that Peyton Bender, the jewel of the mid-year recruiting class, has nothing in common with Crist or Heaps. Never mind that Charlie Weis' offense has nothing in common with the Air Raid that David Beaty prefers. Bender's a transfer, so you don't want to run the risk of what's left of your heart breaking yet again.
OK, but remember, many believe that the opposite of love is not hate, it's fear. So don't fear the idea of a talented transfer bringing the Kansas offense into 21st-century productivity levels. Love the idea. Drop your dukes and embrace it. You know, third time's the charm and all that.
Give Peyton a chance. And I'll do my part this time by trying to tame the hype. In fact, in case you haven't noticed, I already have shown considerable restraint. Not once have I referred to him as Peyton "Better than Manning" Bender. Not once, at least so far today, have I mentioned that Bender threw for 566 yards in a 44-42 loss to East Mississippi Community College, the school featured in amazing Netflix Documentary "Last Chance U." EMCC went on to win the national championship.
Bender grew up in Georgia but played high school football in Fort Lauderdale, Fla., after the family moved there. He spent one year as a redshirt and played one year for Mike Leach at Washington State. Then it was off to Itawamba CC in Mississippi for a season in which he threw 21 touchdown passes and four interceptions.
For the sake of comparison purposes, Beaty referenced Michael Brewer, who played for Texas Tech and Virginia Tech.
"Saw Michael Brewer play when he was at Lake Travis (High) and until I saw Peyton Bender it was the quickest, most efficient release I've ever seen," Beaty said. "Peyton reminded me, when I saw his tape and went down and watched him throw, I was like, that's Michael Brewer's release. There's not many people that have that. The thing that does is, man, it gets you out of trouble. There's so many times on his tape where he's about to get hit and boom, that ball is out so quick."
Beaty went on to praise Carter Stanley, who sparked the offense when he took over late in the season.
"The kid could barely lift his arm on Wednesday before we played K-State," said Beaty, who added that on one play in that game Stanley's arm locked up on him and he couldn't complete the throw. "That's a tough dude."
And a smart one, which means that in the likely event that Bender wins the two-man spring competition, Stanley will make the ideal backup.
Bender has two years of eligibility remaining. He stands 6-foot-1 and weighs 180 pounds. Beaty praised more than his quick release and on-field poise.
"Kid's got a freakish arm," Beaty said. "He can throw it. He can make every throw. Talented guy. I watched him make every single throw right in front of me. He can do it. He can spin it. He can make every throw: post, out, deep comeback, over route, post curl, hitches, quick screens. That ball gets out so quick on screens, man. That makes a difference on screens, the ball getting out quick. The ball doesn't get out quick, man, those screens are dead."
Beaty loves screens. Bender executes them efficiently. Match made in Air Raid heaven.
This time, Kansas football truly is in the early stages of a voyage back from oceanic depths. Why wait to hear about it from others who buy into it? Why not be on the front end of the recovery and that way you can do the talking and let others listen.
OK, I'm done now. You can put your hands back by your sides and stop screaming.