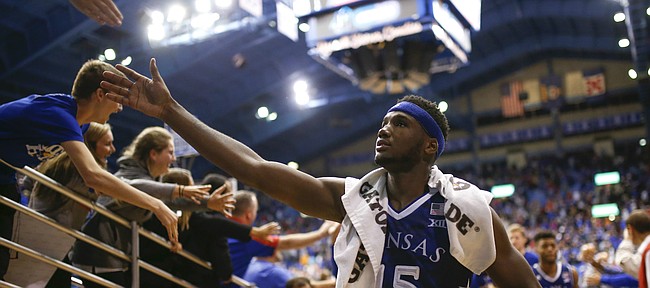 Now that the misdemeanor battery charge against him stemming from an incident that surfaced last Friday has been dropped, the focus can shift back to how Kansas sophomore Carlton Bragg Jr., can help the third-ranked Kansas basketball program the rest of the season.
According to a statement issued by KU coach Bill Self on Wednesday evening, Bragg could have an impact as soon as Saturday against Davidson in Kansas City, Missouri.
"As we have said since this incident occurred, it was important for us to take this issue seriously and to allow the process to play out," Self said. "We appreciate the authorities handling this issue in a timely manner. Now that they have made their decision, Carlton is no longer suspended from competition."
From the beginning, Self said Bragg, a 6-foot-10 forward from Cleveland who was averaging 7.8 points and 5.3 rebounds per game in 16 minutes per game at the time of the incident, would be held out until the issue was resolved.
He missed last Saturday's victory over Nebraska at Allen Fieldhouse, but attended the game in street clothes and sat at the end of the Kansas bench.
After the game, Self said he elected to have Bragg in the building because it offered a teaching moment and sent the message that Bragg was still a part of the Kansas basketball family and would continue to be throughout the investigation.
Wednesday, Self praised the way the 20-year-old, one-time KU starter who had struggled to find his rhythm on the floor during the first nine games of the 2016-17 season kept a cool head throughout the past week.
"I'm proud of the way Carlton has handled this situation, considering all the negative publicity he has received both locally and nationally," Self said. "He knew all the facts and knew that he needed to refrain from comment while the investigation took place. We're glad this situation is resolved."
Bragg, in the same news release sent out Wednesday, expressed similar emotions.
"This has been a difficult and humiliating experience for me, and I'm glad it's over," he said. "I appreciate the authorities taking the time to get this right. I also appreciate the support of my teammates and coaches, and I'm glad I can put this behind me and move forward."