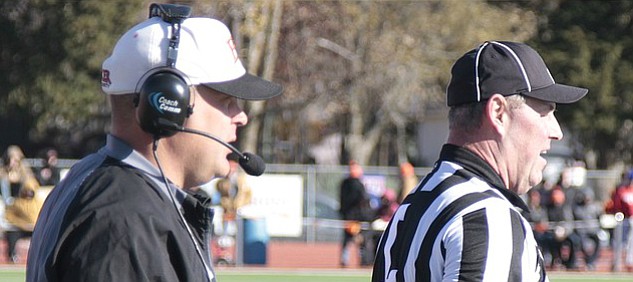 In 13 years as Baker University head football coach Mike Grossner's right-hand man, former Lawrence High and University of Kansas football standout Jason Thoren has watched a great deal of video with his players.
But Thoren, Baker's defensive coordinator, isn't always showing them football videos.
"I showed our guys last week the greatest defensive game that I've ever seen, Kansas vs. North Carolina in the Final Four," Thoren said of the 2008 game in San Antonio that Kansas won, 84-66, after taking a 40-12 lead. "In my mind that was the greatest defensive display I've ever seen."
A linebacker at Kansas who led the team in tackles as a sophomore in 1994 and but for knee injuries cheating him of some games likely would have done so two more times, still says "we" when referring to Kansas.
"You remember that game," Thoren said. "It was like we were playing with seven, eight men on the court. We're stealing it, blocking 'em, running. We about ran ourselves out of gas and they came back on us. It was really cool for these kids because those players from '08 were their childhood idols. Fast-forward eight years later. I was wondering would they get into it. Even our out-of-state kids were into it because they were saying, 'Oh, yeah, that's the first time I ever really heard of Kansas.' They were all into it."
Thoren explained why he had his players take a break from football film to watch basketball.
"To show them the effort," he said, then shared what he told his players. "This was as Final Four matchup, as big a game as these kids have ever played in their life. This is as big a game as you've ever played in your life. This is how they came out and handled the nervous energy of it. There were no thoughts of losing."
Thoren became excited all over again just thinking about that Final Four game.
"Bill Self, I've got a lot of respect for that guy," Thoren said. "I just love watching his teams. He's a great, great coach. Obviously, you talk about his recruiting and his ability to coach basketball, but to keep those kids mentally locked in like that year after year after year, he's a great one."
Baker (14-0) faces St. Francis (12-1), from Fort Wayne, Ind., in the NAIA national-title game Saturday in Daytona Beach, Fla., at 5 p.m. Nobody will ever know to what extent watching freshman Cole Aldrich outplay national player of the year Tyler Hansbrough motivated Baker, but it certainly didn't hurt. The Wildcats overcame a 17-point deficit with five minutes remaining in their national semi-final victory.
Thoren plans to mix in one more non-football film session, this time a rerun of what he showed them in mid-season. Darrick Smith, a senior for Baker in 2013, sent Thoren a 13-minute video about Secretariat. It included the horse's running of The Belmont Stakes, which it won by 31 lengths to clinch the Triple Crown. Smith remembered the impact watching that race had on him when Thoren showed it in 2010.
"I showed it to the team midway through this season because we got to a point our team was good and they knew they were good," Thoren said. "I couldn't stand up there and lie to them. They knew they were good. But you have to keep them on point and sharp.
"If you know you're good, OK, then what are you striving for? Are you striving to be the best or are you happy with being good? That's where the Secretariat thing came in. If you watch that race, that horse knew it would win the race, it was just by how much. It wanted to put on a show."
This week, Thoren said, he will talk about Sham. Who? Exactly. Nobody remembers who finished second.
"Sham was the other horse," Thoren said. "That was the rivalry. Sham beat Secretariat in a race (Wood Memorial) right before the Triple Crown started. Secretariat knew. The horse was mad about it."
Sham finished second to Secretariat in the Kentucky Derby and Preakness, battled the great Secretariat well into the Belmont, but had its spirit broken and faded all the way to last.
Thoren is open to unconventional motivational tactics to prepare his players, but to hear him tell it, evaluating recruits is a far more simple game.
A three-year starter at KU, including on the 1995 10-2 team, Thoren played his first three seasons for Glen Mason and said he draws on his teachings frequently.
"He said something that's always stuck with me: 'Who would you pick in the back yard?' And that's always stuck with me," Thoren said. "I grew up playing a lot of back-yard football. I remember picking a lot of teams in the back yard and you start evaluating at an early age if you've done a lot of that it comes naturally to you."
Thoren moved from Eudora to Lawrence early in elementary school.
"Adam Green was my next-door neighbor, first kid I met when I moved," Thoren said of Lawrence High's defensive coordinator and assistant baseball coach. "I remember thinking, 'Are all kids in Lawrence going to be this good? I thought I was good. Now I'm not.' Turns out he was just a great one. Adam Green never played (organized) football until junior high, but we all knew he was one of the best players you'll ever see. He got into high school and he was hell on wheels, two-time all-state tailback."
Thoren looked back on his days playing full-speed tackle football with no pads or helmets at various fields in the Deerfield area and rattled off the names of some of his buddies back then: "Adam Green, Shane Robinson, Brad Romme, Brad Harker, Joe Bob Clements. It was just a great crew."
Grossner and Thoren have turned down opportunities to move on from Baker during their 13 years together. Thoren explained why.
"Our closeness, No. 1," he said, pointing to Grossner. "We set out in 2004 in the spring to try to build something. It's hard to walk away from something when you're in the middle of it and you know you're in the middle of it. We've had a lot of fun. And the football's pure."
Grossner added, "Great kids. Just watching them, what happens after they leave here. I think we have (at least) seven doctors."
Thoren said he brought a little bit of every coach he played for when Grossner hired after he had spent time as a graduate assistant under Mason in Minnesota.
"All the way back to youth football, Cliff Hadl, Skip Carlson, J.D. Cleavinger," Thoren said. "Once I got to high school, Dick Purdy, Hall of Fame coach. Coach (Bob) Lisher, coach (Mike) Commons, coach (Dirk) Wedd. Then off to college, Glen Mason, Mike Hankwitz. All different styles."
Thoren's name will surface when Lawrence High starts its search for a head coach to replace Wedd, who announced recently that 2017 will be his final season.
"I'd have to listen," Thoren said. "It's my alma mater. I have a tremendous amount of pride in that school and that football program. At the same time, I have a tremendous amount of pride in Baker, the university and the football program."