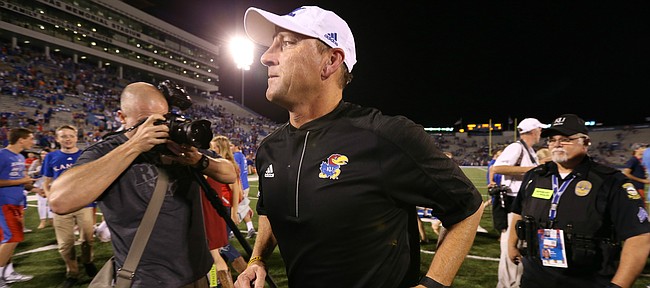 The outrage from many in Jayhawk Nation to the doubling of head football coach David Beaty's salary and the extension of his contract is understandable at an emotional level.
A 2-22 coach receives a 100 percent raise and an extension? Sign me up.
A head coach who had too much on his plate to begin with and takes on offensive coordinator duties, leads his offense to a 109th-place finish among 128 FBS schools, takes over teaching punt returners, and the unit finishes last in the nation with negative yardage, shows a penchant for the quarterback quick-punt play and he gets rewarded?
Head to the gym and flail away at the heavy bag. Your emotions deserve that type of an outlet.
But it's Kansas athletic director Sheahon Zenger's job to make decisions with his head, ones that are best for the football program, not easiest to explain to the fan base.
The issue of whether Beaty was the right hire to succeed Charlie Weis in the first place is a separate discussion. As for extending him at this moment, Zenger made the right call.
Zenger's only other option was to fire him and since Kansas has proven doing that every few years isn't the answer, extending Beaty with a $3 million buyout was the way to go.
FAQ:
1 - Why not just leave his contract as is and bring him back?
Because to do so would be to enable coaches recruiting against Kansas to continue to paint the school as one that cares only about basketball, isn't committed to football, fires its coach every few years and is on the verge of firing another one.
Podcast episode
Spodcasters Matt Tait, Benton Smith and Bobby Nightengale react to the contract extension given by KU to football coach David Beaty.
Don't misunderstand me. I'm not saying they don't still enter living rooms armed with negative fodder, the 2-22 record, for example, but this removes the accusation that KU's administration thinks football's a joke.
2 - Was this a reaction to Beaty possibly leaving for a better job?
No. Beaty had no leverage. So why give him more security and higher pay, then? Zenger had to show that Kansas takes football seriously and even though Beaty still is the lowest-paid head football coach in the Big 12, his salary is in the same ballpark as a few of them.
3 - Why not incentivize the contract based on victories, paying a certain amount per victory?
Good idea on paper. Bad idea in practice. A coach getting paid for victories will base all of his recruiting philosophy on winning today and not building in any way for the future. He would load the roster with jucos and four-year transfers, an approach that fails every time. If anything, I'm a little concerned Beaty is relying a bit too heavily on transfers, and not enough on high school recruits. Some are too good to pass up though, such as Alabama transfer receiver Daylon Charlot, and juco transfers Peyton Bender (quarterback), Hasan Defense (cornerback) and J.J. Holmes (defensive tackle), to name a few.
4 - How much wood would a woodchuck chuck if a woodchuck could chuck wood?
Woodchucks can't chuck wood, which makes that a hypothetical question. Following the lead of coaches and politicians, I don't answer hypothetical questions.