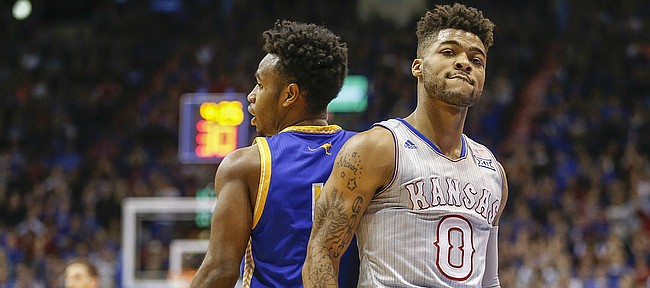 Kansas senior Frank Mason III is officially on fire.
He's led the Jayhawks (9-1) in scoring in eight of the 10 games they have played and tallied 18 points or more in nine of those contests.
That includes last week's showing in which he tied a career-high with 30 points against UMKC and added 18 in a victory over Nebraska, outings that earned Mason this week's Phillips 66 Big 12 Player of the Week distinction.
It marks the second time this season that Mason has earned the honor, adding to the award he picked up Nov. 16 after he helped Kansas knock off No. 1 Duke in New York City.
In addition to his big point totals, Mason also chipped in with 12 assists, no turnovers, shot .696 from the floor and .727 from three-point range during last week's victories.
He ranks second in the Big 12 at 20.8 points per game and also ranks among the Big 12 leaders in three-point field goal percentage (.548, 2nd), assists (5.5, 3rd), field goal percentage (.587, 4th) and three-pointers per game (2.3, 4th).
Mason and the Jayhawks are off this week and will return to the floor this weekend when they take on Davidson at 6 p.m. Saturday at Sprint Center in Kansas City, Missouri.