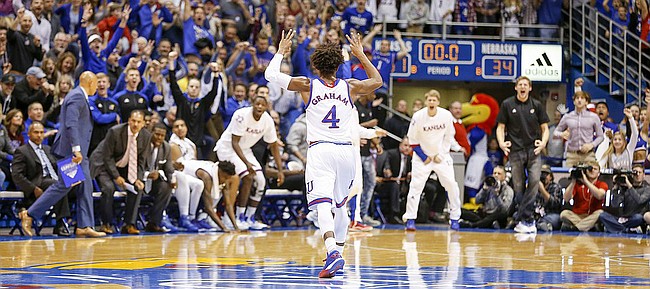 The Kansas men's basketball team maintained its position in this week's Associated Press poll, holding steady at No. 3 after home victories of UMKC and Nebraska last week.
And for the first time during the 2016-17 college basketball season, there was no change to the Top 5 of the AP poll.
Villanova (10-0) retained the top spot and received 56 of 65 first-place votes, while UCLA (10-0) stayed in the No. 2 spot and received three first-place votes. Baylor (8-0) stayed in fourth and garnered six first-place votes, while preseason No. 1 Duke (10-1) rounded out the Top 5.
In fact, the poll remained the same from Week 5 to Week 6 in the Top 11 spots, with Kentucky, North Carolina, Gonzaga, Indiana, Creighton and Louisville holding down spots 6-11 and West Virginia, at No. 12, marking the first change from last week's poll.
The Mountaineers (8-1) moved up three spots to slide into the No. 12 spot, replacing Saint Mary's which fell to No. 20.
Kansas (9-1) will play Davidson at 6 p.m. Saturday at Sprint Center in Kansas City, Missouri, before traveling to Las Vegas to take on UNLV on Dec. 22 in the Jayhawks' final non-conference game of the season.
Associated Press Poll — Dec. 12, 2016
1 Villanova (56) 10-0 1,613
2 UCLA (3) 10-0 1,505
3 Kansas 9-1 1,455
4 Baylor (6) 8-0 1,439
5 Duke 10-1 1,391
6 Kentucky 9-1 1,277
7 North Carolina 10-1 1,222
8 Gonzaga 10-0 1,195
9 Indiana 8-1 1,124
10 Creighton 10-0 1,043
11 Louisville 9-1 981
12 West Virginia 8-1 864
13 Virginia 8-1 848
14 Wisconsin 9-2 779
15 Purdue 8-2 652
16 South Carolina 8-0 598
17 Xavier 8-2 526
18 Butler 9-1 492
19 Arizona 8-2 436
20 Saint Mary's 7-1 391
21 Notre Dame 9-1 310
22 Oregon 8-2 251
23 Florida State 10-1 227
24 USC 9-0 158
25 Cincinnati 7-2 155
Others receiving votes: Florida 44, Wichita St 33, Virginia Tech 32, Maryland 31, Valparaiso 9, TCU 8, Middle Tennessee 7, Miami 6, Minnesota 6, Kansas State 4, UCF 2, Syracuse 2, Ohio State 2, Pittsburgh 2, Michigan State 2, Iowa State 1, Clemson 1, Loyola (CHI) 1
More like this story on KUsports.com