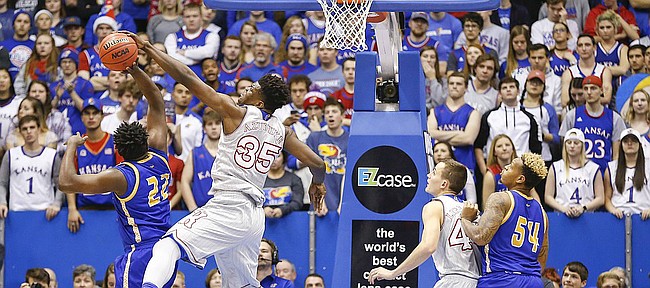 Josh Jackson treats every defensive possession as if it's a game of its own and the rules require him to figure out how to disrupt the other team's ability to score. He ranks among Big 12 leaders in blocked shots and steals.
Devonte' Graham defended last season's national player of the year, Buddy Hield, so well that he scored more points than Hield in Norman.
Frank Mason guarded Duke's Grayson Allen for 11 minutes and held him scoreless. Allen missed all five shots from the field when Mason checked him.
Landen Lucas worked his way into the starting lineup last season based on his defense and rebounding.
Freshman center Udoka Azubuike averages 13.5 minutes and leads the team with 1.8 blocked shots per game.
So the elements are there for Kansas to grow into a terrific defensive team, but when coach Bill Self looks at his squad on that end of the floor, he sees so much untapped potential.
"We've always been a lot better when guys kind of thought our identity would be a defensive presence, a toughness, making it hard for other people to score, taking pride that way," Self said recently. "I don't quite see it with this team yet. I don't."
He explained what heading into the season he wanted to see from the Jayhawks.
"So my wishful thinking was we'd be tougher, we'd be harder, we'd be able to extend defensively," Self said. "I think more of our identity is we have some athletes that can make plays off the bounce, and that's been good for us. But I'd love for us to be able to do both. We'd be able to do a lot of different things defensively which would create easy offensive opportunities, and I think we've been average in that way."
Even falling short of Self's expectations, the Jayhawks rank eighth nationally in adjusted defensive efficiency, as tracked on kenpom.com. (The first seven: Louisville, Virginia, Kentucky, Wichita State, South Carolina, West Virginia, North Carolina). The stat calculates points allowed per 100 possessions and adjusts it to reflect the opponent for every game being average among college basketball schools. (KU ranks fourth in adjusted offensive efficiency, behind Duke, Villanova and UCLA.)
Azubuike developing a better feel for how to defend aggressively will help Kansas improve from eighth in defensive efficiency.
"I think he could be an unbelievable shot blocker and he's not quite there yet," Self said of Azubuike. "I'm pleased with Dok. He's got a long ways to go, but he's gaining on it."