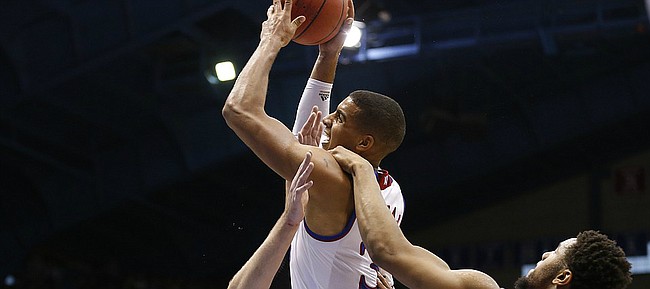 Kansas senior center Landen Lucas entered the season so badly wanting to take a big step forward from a productive junior season.
Little did he know then that taking a step back to his junior season would be greeted with such praise.
Lucas played Saturday in a way that reminded everyone of the value he brought to the team a year ago. He delivered 12 points, seven rebounds, two assists, two steals and a blocked shot in KU's 89-72 blasting of Nebraska in Allen Fieldhouse in front of 16,300 spectators, including George Brett, the greatest third baseman of all-time.
He was perfect from the field (5-of-5) and the line (2-of-2) and perfectly happy to walk into Allen Fieldhouse for the first time in a long time without a boot designed to ease the stress on his sore right foot.
"I kind of made that executive decision on my own, so we will see how that goes over with Ched," Lucas said, referencing athletic trainer Bill "Cheddar" Cowgill. "But I was feeling good and mentally, I didn't want to keep walking around in a boot and then switch to court shoes, so today I didn't do it. Maybe it's time to just throw that thing away."
Photo Gallery
Kansas basketball v. Nebraska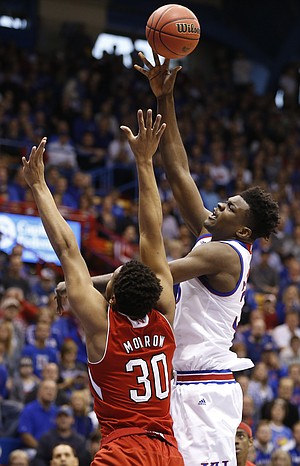 See a photo gallery from Saturday's matchup between the Jayhawks and Cornhuskers at Allen Fieldhouse.
It was the second consecutive encouraging performance for Lucas, who during that time has played 34 minutes, made 6-of-6 field goals, 4-of-4 free throws and produced 16 points and 12 rebounds.
His revival has come at a good time for the team, which, at least temporarily, is playing without one of its big men, sophomore Carlton Bragg (suspended from competition after being charged with misdemeanor battery of a female student.)
"It's a team effort," Lucas said of compensating for an unavailable player. "We all have to do it. It's not one individual. So everyone has to step their game up, including me. So I felt like I had to get out of whatever I was in early in the season. It seems like it's going in the right direction."
The word "funk" was most commonly used to described whatever it was that he was in when he was fouling too frequently and hanging his head after many of the whistles. Since the definition of the word is "state of depression," funk might be a little strong.
So we'll call it a fog. It blocked his vision to the path back to the player he had become. The fog has lifted and if his health continues to improve — he missed one game with a strained oblique muscle and foot injuries often linger — then the fog might never return.
That doesn't mean that Lucas will continue to perform as he did against UMKC and Nebraska once the competition grows much stiffer, but it certainly counts as an encouraging development.
"I thought he played really well," Self said. "I thought he was quick into his moves. He didn't catch it and hold it and hesitate. I thought he played really well."
Lucas and freshmen Udoka Azubuike and Mitch Lightfoot combined to produce 22 points, 13 rebounds and five blocked shots in 40 minutes, taking the spotlight for a couple of hours away from Bragg, who sat on the bench wearing a polo shirt and slacks and not wearing a smile that once was his trademark.
— See what people were saying about the game during KUsports.com's live coverage.
---
More news and notes from Kansas vs. Nebraska
---