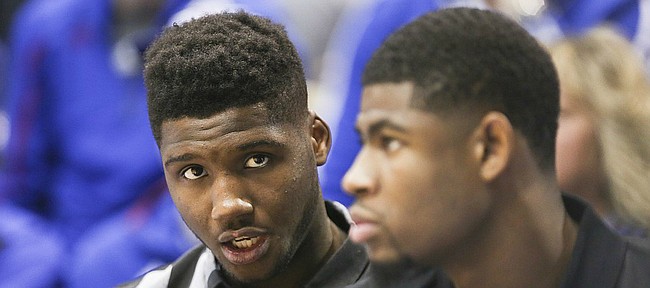 As expected, Kansas sophomore Carlton Bragg Jr., did not play during Saturday's 89-72 victory over Nebraska at Allen Fieldhouse, sitting out at the end of the KU bench in street clothes following a Friday arrest and charge of misdemeanor battery in an incident involving a female KU student.
KU coach Bill Self, who said in a statement Friday night that Bragg would be held out of all competition until the issue was resolved, offered more insight into the situation following Saturday's victory.
"It's gonna get talked about," Self acknowledged. "But it's not anything that is really worth a lot of commenting on because there's no decisions to be made until you hear what's transpired.... And that's up to the police. That's up to the people on campus. There is no way we do our own investigation so it's a matter-of-fact deal."
Podcast episode
After an 89-72 victory over Nebraska on Saturday, Kansas basketball coach Bill Self discussed Landen Lucas' strong play, Carlton Bragg sitting out after Friday's arrest and much more.
Asked if he had given any thought to keeping Bragg away from Allen Fieldhouse on Saturday, Self said to do so would have been to miss out on an opportunity to teach another lesson.
"It's a very humbling situation," Self said. "But it's not one that you run from, it's one that you address in a manner in which you should, good, bad or indifferent. To have him not be on the bench would basically be saying is he not part of your family? There was no thought of not having him be a part of this. That's also part of the educational aspect, as well."
Senior Landen Lucas said Self did a good job of not allowing the issue to become an unsettling distraction.
"Coach got us focused yesterday in practice because he knew our minds might wander and focus on outside distractions," Lucas said. "We knew we couldn't do that against a good team like Nebraska."
Self said his team is educated, before, during and after each season, on the potential pitfalls that exist in getting involved in incidents of this nature and added that Bragg's head was "about where you'd think it'd be."
"You spend the night in jail, you get up, you don't have a phone, first thing you do you look at the TV and your name's on the bottom and this, this and that. It's been very humbling for him, but I'm not saying it shouldn't be."
Self also was asked how he navigated the fine line between supporting one of his players and respecting the legal process and said that part was easy.
"To be candid with you, it really doesn't make any difference what guys say transpired or didn't transpire," he said. "There are professionals that will determine what transpired. To me, it's a bad situation for all parties involved. He is not going to play the victim role, nothing like that."
Self said Bragg would be allowed to practice with the team while the investigation into exactly what happened remained ongoing. But he added that Bragg's reps may be limited as the team moves forward with game preparation without him.
"Oh yeah. You want to get guys ready that you have feel have an opportunity to play," Self said. "So that would certainly affect that part of practice."
Alley-oops
Midway through the second half of Saturday's victory, freshman Josh Jackson failed to connect on the back end of an off-the-backboard, alley-oop pass from junior Sviatoslav Mykhailiuk.
As soon as the dunk missed, Self was visibly agitated on the bench. Asked after the game what aspect of the play bothered him most, Self said it was the message the mangled highlight sent.
"I don't think I got onto 'em for the play as much as they're probably not respecting the game the way they should in that situation," he said. "So Svi threw it off the backboard. Big deal. But if you're Josh, you don't have to catch it and try to do more with it than you probably should.... I don't think it was the right play in that particular situation."
Photo Gallery
Kansas basketball v. Nebraska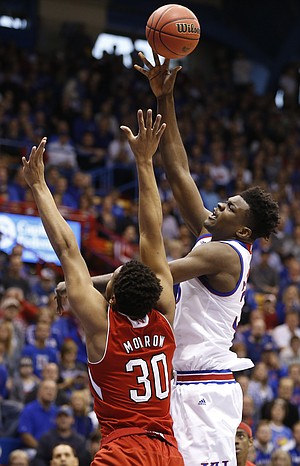 See a photo gallery from Saturday's matchup between the Jayhawks and Cornhuskers at Allen Fieldhouse.
Asked which player got the harsher end of Self's wrath after the game, Jackson said it was equal before senior forward Landen Lucas chimed in with his own interpretation.
"The whole team," Lucas said. "Everybody out on the court."
Tim Miles Tweets
As he has been known to do, Nebraska coach Tim Miles sent out a halftime Tweet on Saturday with his team trailing 54-34.
Appropriately, the Tweet focused on defense.
"Obviously team defense is critical," Miles wrote. "We have to be a physical, tough-minded defensive team this half."
In some ways, the Cornhuskers were, limiting Kansas to just 35 points and 40 percent shooting in the second half.
The halftime Tweet was hardly the only entertainment Miles provided on Saturday. During his postgame press conference, Miles tipped his cap to the whole experience of coaching in Allen Fieldhouse, something he's been looking forward to doing for a long time.
"It's a pretty cool opening," Miles said of KU's pregame introductions. "I liked the jab at Nebraska, the little cowboy movie thing. That was funny, for Kansas folks. I gotta defend us, right? I thought it was a great environment and a good experience for our guys. That's why I wanted to play here."
Teddy Owens in town
With his father and former KU coach Ted Owens sitting in the stands 20 rows behind him, Nebraska director of basketball operations Teddy Owens sat on the Nebraska bench and tried to help his team upset the No. 3 team in the country.
Another notable face on the Nebraska bench was Ali Farokhmanesh, who serves as NU's director of player development.
Farokhmanesh, you may remember, was the guard who hit the game-clinching three-pointer in Northern Iowa's NCAA Tournament victory over Kansas back in 2010.
This and that...
Saturday's victory was win No. 750 all-time in Allen Fieldhouse.... KU now leads the all-time series with Nebraska, 171-71, including 13 in a row.... KU's 12 blocks were the most in a single game in nearly two years, when KU blocked 13 shots on Jan. 5, 2014 against San Diego State.
— See what people were saying about the game during KUsports.com's live coverage.
---
More news and notes from Kansas vs. Nebraska
---