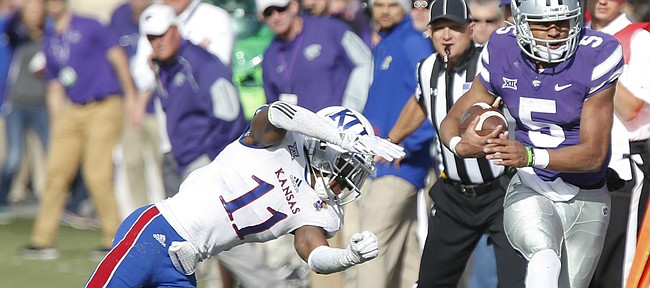 The 2-10 overall record, one Big 12 victory and average Memorial Stadium crowd of 25,828 might have made it less than obvious to perceive in 2016, but the Kansas football team gave second-year head coach David Beaty and his staff numerous reasons to feel upbeat about the program's future.
Sophomore defensive end Dorance Armstrong Jr.'s emergence as a consensus All-Big 12 performer qualified as one of the most significant developments for the Jayhawks, and Armstrong isn't the only young player on the roster with a promising future. ESPN.com reminded the rest of the college football world of that Thursday with the release of its 2016 All-Big 12 Underclassman Team.
Armstrong, of course, made that list, as well. So did two of his KU teammates. Sophomore defensive tackle Daniel Wise and true freshman safety Mike Lee qualified as two of the most talented underclassmen in the conference.
Wise ranked 15th in the league in tackles for loss, with 9.0 on the season. Lee finished 13th in the Big 12 in total tackles, averaging 6.9 a game, even though he didn't become a starter until October.
The list — which, unlike the more official All-Big 12 offerings, did not include a second team — featured no offensive players from Kansas, despite Steven Sims Jr.'s breakout season. The 5-foot-10 sophomore receiver from Houston led the Jayhawks with 72 catches, 859 receiving yards and seven touchdowns while starting all 12 games.
ESPN chose Texas Tech's Jonathan Giles (69 catches, 1,158 yards, 13 touchdowns), Baylor's Ish Zamora (58 catches, 786 yards, seven touchdowns in nine games) and Oklahoma State's Jalen McCleskey (69 catches, 762 yards and seven touchdowns) for the three wide receiver spots.
One of four Big 12 programs — along with Oklahoma, Oklahoma State and TCU — with three players on the 28-man list that included specialists and an all-purpose position, Kansas tied for the third-most underclassmen represented. Texas led the way with seven, while four play for Kansas State.
Texas Tech and Baylor each had two players on the all-underclassmen team and Iowa State had one. No West Virginia players were selected.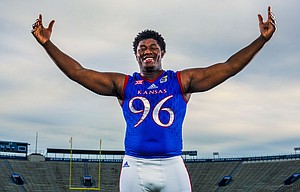 More love for Wise
A second-team All-Big 12 selection by the Associated Press, Wise only received honorable mention from the league's coaches. The opinions on the promising 6-foot-3, 285-pound defensive tackle varied even more with the release of the Pro Football Focus all-conference teams, which placed Wise on its first team.
ProFootballFocus.com incorporated more advanced statistics into its analysis than the 38 total tackles, 3.0 sacks and two blocked kicks Wise produced this season.
"Wise ranked second (to Oklahoma State's Vincent Taylor) with 29 total pressures," the PFF article stated, "and a third-best 8.0 pass rushing productivity, while also adding 23 run stops."
Interestingly, Wise was the only Kansas player on PFF's All-Big 12 first team. Armstrong was a second-team defensive end, behind K-State senior Jordan Willis and Oklahoma junior Ogbonnia Okoronkwo.
No other Jayhawks made the Pro Football Focus All-Big 12 teams.