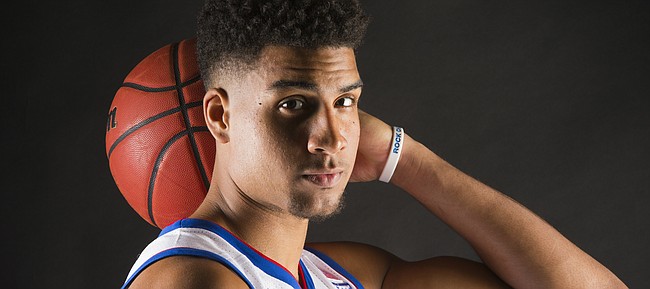 Scrutinized and studied for the better part of the 2016-17 season, Kansas senior Landen Lucas on Thursday admitted that he was a little tired of all the negativity, but did so in a manner that put the blame on his shoulders.
"It got old a long time ago," Lucas joked. "But I can understand such big expectations for this team and me being a part of that. The way it started wasn't exactly how I envisioned, but I understand, and people are gonna try to figure out what's wrong or what can be done better. But at the end of the day, I know that's just on me to focus in and make it happen."
Lucas recorded four points and five rebounds in 14 minutes during Tuesday's win over UMKC, marking the second consecutive game in which he showed signs of life since returning from an oblique injury that forced him to miss the Long Beach State victory on Nov. 29.
For the season, Lucas now is averaging 4.9 points and 4.4 rebounds in 17.4 minutes per game.
"Uhhh, yeah, small steps," said Lucas of his last outing. "But I really feel like every day needs to be a small step, and not just in games, but in practices, too. Just focus on each drill, each practice, each day and, overall, I'll slowly see progress being made."
That is exactly the hope of Kansas coach Bill Self, who, throughout Lucas' early-season struggles, has remained calm and also optimistic that the issues plaguing his veteran big man were temporary.
"I think Landen's fine," Self said. "....Things have to take place over time where we actually get a true evaluation of improvements being made, but certainly he's going to improve at an accelerated rate because we know he can do it."
While Lucas has admitted that some of his on-court issues have been mental, nagging injuries to his right foot and oblique muscle also have created a less than ideal situation for him to perform at his peak.
Neither Lucas nor Self have used the injuries as an excuse through the first nine games of the season, and Lucas on Thursday reiterated that he was in good enough shape to deliver more than he had thus far.
"It's nothing serious," he said of the oblique injury. "Just trying to work through it. Every season you go through little nicks and stuff, so it's just another one of those. I'm getting better and definitely feeling more comfortable on the court."
Added Self: "He's close enough that he doesn't want to take himself out of anything. We feel like if he can get through Saturday, (vs. Nebraska) and then rest until maybe Wednesday or something like that because we have a week off with finals, we feel like he could be close to 100 percent in the next week or so."
Improved health should go a long way toward elevating Lucas' confidence. In the meantime, freshman 7-footer Udoka Azubuike will continue to start and play a big role. But Self said getting production from his two biggest players was not an either-or proposition.
"It's vital for our team to be good," Self said of Lucas returning to full strength. "I love Udoka, but Udoka isn't going to be able to do potentially what Landen can potentially do this year. We need the combination of both."
Lucas, who takes great pride in his role as a mentor to KU's younger players, agreed with Self's assessment and said reaching the desired outcome only would take place with patience and hard work.
"There's always differences, as far as the situations you go through," Lucas said of the flow of the season. "But there's always the same overall feeling to it. There's always gonna be something that's wrong, there's always gonna be things you've gotta figure out, and it kind of feels the same as far as we're not there yet. A positive thing about that for myself is there's more control in my hands. If it was something else, I wouldn't have as much control. But because I'm a big part of that, I can play a big role in changing that for the positive.
"We take a lot of pride in the bigs as a whole. We don't want to be looked at the way we have so far this season. That's not the expectations we have for ourselves. We're really serious about it every day and making sure we turn it around."