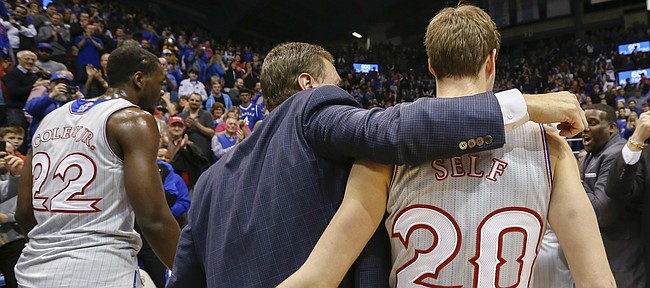 He's played just 84 career minutes in four-plus seasons with the Kansas basketball program, but KU senior Tyler Self, along with fellow fifth-year senior Landen Lucas, has been on the bench for more of Bill Self's 600 victories than any player on the current Kansas roster.
Since the start of the 2012-13 season, Tyler and Lucas have sat on the bench or checked into a Kansas victory 124 times during Self's run to 600 wins. That's 31 more than senior guard Frank Mason (93), 56 more than juniors Devonte' Graham and Sviatoslav Mykhailiuk (68), 83 more than sophomores Lagerald Vick and Carlton Bragg (41) and more than 100 more than freshmen Josh Jackson, Udoka Azubuike and Mitch Lightfoot.
While all of those Jayhawks have some claim on Self's path to 600 victories as players, none can touch Tyler's perfect record as a spectator.
Born the same month and year of his father's first Div. I head coaching victory at Oral Roberts (November of 1993), Tyler, whether he can remember or not, has been around to see all 600 of his father's wins, the most recent of which came via a 105-62 pasting of UMKC at Allen Fieldhouse on Tuesday night.
"I remember Tulsa," said Tyler of his father's second stop from 1997-2000. "I didn't really watch 'em, I was playing my Gameboy most of the time. But wherever he was while he was at Tulsa is when I really started paying attention. I remember a little bit of ORU but not the games or anything."
Just 10 years old when his father took over at Kansas, Tyler has been in Lawrence for 393 of those 600 victories. And he nearly scored in win No. 600.
Coming off of a screen with the shot clock — and game clock — winding down, Tyler rose and fired a three-pointer toward the rim that was on target but missed long. Had it gone, it would have helped Kansas (8-1) tie a school record for most three-pointers made in a single game and also been the cherry on top of a memorable evening for the Self family.
"It would've been nice," Tyler joked. "But that didn't have any affect on the night. I think the coolest part was the video (of 15 former players congratulating Self after the game). I think it speaks volumes of not only the coach he is but the person he is and the things he tries to get out of the guys he's coaching."
Although the Jayhawks — as the final score indicates — played a fairly flawless game on Tuesday night, Tyler said, as long as they won, his father likely would have been happy with any outcome.
"We played great, shot the ball great," he said. "But I think he probably would've been just as proud if it was a knock-down, drag-out, hard-fought game where we couldn't make a basket and got it done on the defensive end. That's kind of always been his M.O. Either way would've been a good memory for him, I'm sure."
As for Tyler himself, the memory of not only being there for another one of his father's milestone victories, but also actually playing in it, is something that will stick with him for the rest of his life.
"It is a little surreal," Tyler said. "It's kind of something that hasn't hit me and it probably hasn't hit him yet, hasn't really sunk in. But it's an honor having a dad and a coach that's kind of a living legend."
BILL SELF'S MILESTONE VICTORIES:
No. 1 — Oral Roberts beats Sam Houston State 88-76 on Nov. 26, 1993 in Tulsa, Oklahoma
No. 100 — Tulsa beats Arkansas-Pine Bluff 97-45 on Nov. 27, 1999 in Tulsa, Oklahoma
No. 200 — Illinois beats Northwestern 73-61 on Feb. 22, 2003 in Evanston, Illinois
No. 300 — Kansas beats Missouri 92-74 on Feb. 10, 2007 in Columbia, Missouri
No. 400 — Kansas beats Iowa State 73-69 on Feb. 13, 2010 at Allen Fieldhouse
No. 500 — Kansas beats Iowa State 108-96 on Feb. 25, 2013 in Ames, Iowa
No. 600 — Kansas beats UMKC 105-62 on Dec. 6, 2016 at Allen Fieldhouse