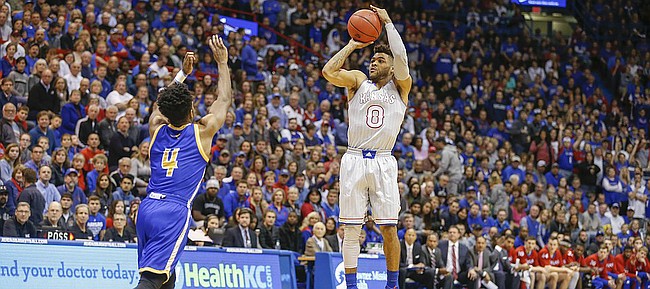 Frank Mason, Devonte' Graham and Josh Jackson went out of their way Tuesday night in Allen Fieldhouse to try to set up teammates Udoka Azubuike and Carlton Bragg with beautiful passes, but the big men had trouble finishing.
So it wasn't as if the nation's top perimeter trio went into the night looking to dominate the scoring, it's just that when they put up their shots, they went in.
Most of Jackson's came close to the rim, all of Graham's from long distance and Mason mixed in a little of both.
Regardless of where they were taken on the court, they were smart shots and most of them went in.
Mason and Graham combined to make 12-of-15 three-pointers and the three combined to go 25-of-34 from the field. They combined 67 points to lead Kansas to a 105-62 rout of UMKC.
Photo Gallery
Kansas basketball v. UMKC
View a gallery of images from Tuesday night's game between the Jayhawks and Roos at Allen Fieldhouse.
"That basket looks awfully big to Frank and Devonte' and I thought Josh had his best game since he's been here," Kansas coach Bill Self said after his 600th victory.
Kansas made 15-of-27 three-point shots and in the past four games has made 54-of-96 for a .563 percentage. In the first five games, Kansas made 30-of-100. You can do the math on that one.
Graham and Mason have combined to make 32 of 48 threes in the past four games, an outrageous .667 percentage.
In the past, Self has called the three-pointer "fool's gold," but it doesn't apply for this stretch because they haven't fallen in love with taking long shots, they're just making them at an amazing clip.
Self pointed out that UMKC played a matchup zone and Long Beach State and UNC-Asheville played a lot of zone as well, daring Kansas to shoot from the outside. Opponents might become leary about that strategy the way the Jayhawks are shooting. It's not by accident that they steadily have improved.
Mason, Graham and the rest of the returning perimeter players put in a lot of time working with assistant coach Kurtis Townsend on expanding the range on their shots.
"It helps a lot with confidence when you know you have that range," Graham said. "Then guys will respect you and then it makes the game easier. They will try to push up and guard you and then we will use our quickness to get by them."
Mason didn't let the team's slow start from beyond the arc change his perception of anything.
"I knew all along we had good shooters on the team," Mason said. "We work really hard every day throughout the summer, every day of practice, and we put a lot of reps in. I knew at some point in time we would get it going."
The veterans also know hot shooting doesn't carry every night, so they aren't fooling themselves in any way.
"There's going to be a game where we're not making these shots and we'll really find out what kind of team we are and if we can get stops and defend," Graham said, beating his coach to that quote by about 10 minutes, always a good sign. "We're just going to stay aggressive, keep passing how we've been passing it and keep shooting."
They're doing what their coach wants them to do and Self enjoyed the way they did it. Still, he didn't enjoy it as much as when the Jayhawks made 2-of-17 three-pointers and 9-of-19 free throws and still found a way to defeat then-No. 1 Duke at Madison Square Garden.
"To me that was by far the best performance we've had because we didn't play well but we made the other team not play well," Self said of the Duke game. "I think so many times when you make shots you kind of take the foot off the gas in other areas."
Tuesday wasn't one of those times.
— See what people were saying about the game during KUsports.com's live coverage.
---
More news and notes from Kansas vs. UMKC
---