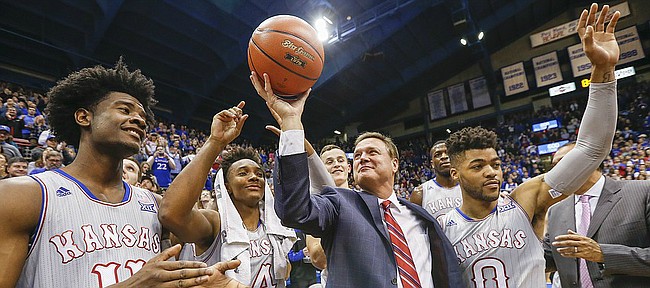 According to freshman Josh Jackson, the goal in the locker room after Tuesday's 105-62 thrashing of UMKC at Allen Fieldhouse was to make Kansas coach Bill Self misty-eyed over winning the 600th game of his 24-year coaching career.
But Self wasn't interested.
"No. They weren't gonna do that," he protested. "All I gotta do is think about how we shoot free throws. I can't cry when I'm that mad."
Photo Gallery
Kansas basketball v. UMKC
View a gallery of images from Tuesday night's game between the Jayhawks and Roos at Allen Fieldhouse.
The Jayhawks (8-1) may have finished the game 12-of-22 from the free throw line, thus continuing their rough stretch of freebies to start the season. But that was about the only area which Self could truly criticize his team following Tuesday's run-away victory.
Knocking in 15 of 27 three-pointers from about six feet farther out on the floor has a way of easing the pain of those close misses, and the perpetual smile that stuck to Self's face during a postgame video that featured players from all four of his head coaching stops congratulating him on the achievement made the stats of this specific game more than a little insignificant.
"The video was really good," Self said. "I had no idea. And seeing some of those men, you know those guys were just kids when we had 'em and some of them are over 40 years old now, that was very meaningful."
Document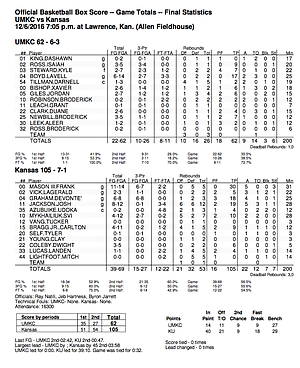 Beginning with Sherron Collins and closing with Wayne Simien, the congratulatory video featured 11 Jayhawks, two of his former Illinois players and one from both Tulsa and Oral Roberts.
In addition to the words of congratulations, the video messages, some which came from as far away as Russia and Poland, provided a little glimpse into the way Self got so many players from such diverse backgrounds to string together all of those victories, from the first on Nov. 26, 1993, to Tuesday's, which featured a career-high 30 points from senior guard Frank Mason III and the Jayhawks coming within one swish of tying the school record for three-point makes.
"Coach Self made my dreams come true," said former Illinois point guard Dee Brown of his former head coach who now is 600-189 all-time, the ninth fastest coach in the history of college basketball to reach 600 wins.
"You deserve it and hopefully we'll be doing this video again when you get 700," said Darnell Jackson, a fellow Oklahoman and member of Self's national championship team.
Six members of that 2008 national title squad were represented on the video — Collins, Jackson, Russell Robinson, Cole Aldrich, Tyrel Reed and Mario Chalmers — and the man who hit the biggest shot in Self's career, dubbed Mario's Miracle, made sure to point out that his 2008 team was still the best.
Jamari Traylor called Self "one of the most competitive men I know." Former Oral Roberts captain Earl McClellan said, "Your greatest accomplishment, in my mind, is not what you've done on the court but all the things you've done off the court. Without a shadow of a doubt, I'm a better man today because of you."
And Aaron Miles put the cherry on top by calling it like he saw it and saying what so many Kansas fans already believe.
"To the man, the myth, the legend coach Self, I'm happy for you, I'm proud of you and I'm honored to have been a part of it as a player and on staff last year," Miles said. "I love you."
Podcast episode
Kansas basketball coach Bill Self met with the media and talked about his team's 105-62 win over UMKC, earning him his 600th career victory. Plus he talked about his team's three-point shooting, Josh Jackson's double-double, and much more.
Others who made cameos on the postgame video included Jayhawks Keith Langford and Perry Ellis, Illinois forward Roger Powell and Tulsa guard Tony Heard.
There was, of course, also some time for the players who actually delivered win No. 600 with what Mason called a complete game.
Jackson said the team mobbed and hugged Self in the locker room following the victory and, with his wife, Cindy, filming the video from the stands, Self stood and watched with his team before walking off the court together with his right hand thrusting a ceremonial game ball high into the air.
"It's a great experience for me and the guys, just to be a part of that," Mason said. "Once everyone that's on the team is done here, we'll look back at that and it'll be really special for us and something we always remember."
Added Jackson: "It just felt really good. I'm really proud of him, really happy for him. I know he's gonna (have) continued success, but I'm just really glad to be a part of it."
When the smile fades and the moment fully sinks in, Self will get back to dissecting Tuesday's victory and begin preparing for Saturday's game against former Big 12 foe Nebraska.
What he'll see is a team that played a "really good" first half and delivered one heck of a haymaker to open the second.
Leading 51-35 at the break, after hitting nine of 15 first-half three-pointers, the Jayhawks opened the second with a 10-0 run in 1:50 that put the Roos (6-4) on their heels and had them staggering the rest of the night.
"I don't know if it broke their spirit a little bit," Self said. "But they didn't respond probably as well as (UMKC coach) Kareem (Richardson) would have liked."
Tuesday's largest lead of 45 points actually came with 3:58 to play. A little while later Self was able to empty his bench, which included inserting his son, Tyler, into the game on the memorable night.
Tyler's only shot missed, just long, but none of that mattered to either father or son following the game.
The Jayhawks wore gray uniforms highlighted by a light pinstripe with white letters and numbers outlined in red.
Freshman Josh Jackson made the first basket. Junior Dwight Coleby made the last. Mason (30) was the leading scorer, Jackson (12) the leading rebounder and Mason and Graham (5 each) the leading assist men.
All 13 eligible Jayhawks who played and the game tipped off at 7:05 and the final horn sounded at 8:51.
Those are the kinds of things that history tends to remember about milestone victories. But this one will be remembered for so much more.
"It was awesome," Tyler Self said after the game. "He'll probably downplay it a little bit, but it means a lot to him, it means a lot to our family, we're proud of him and hopefully he can get as many more wins as he wants."
— See what people were saying about the game during KUsports.com's live coverage.
---
More news and notes from Kansas vs. UMKC
---