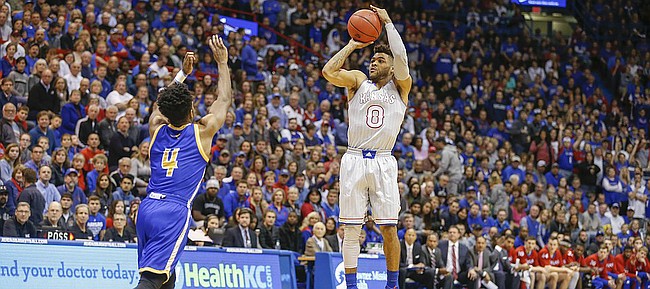 When you've been at it as long as 14th-year Kansas coach Bill Self, you get to experience victories in a variety of fashions.
Tuesday night at Allen Fieldhouse, Self's No. 3-ranked Jayhawks led him to his 600th career victory by way of the three-pointer.
KU buried 15 of 27 from downtown against UMKC, leading to a 105-62 non-conference blowout.
Senior guard Frank Mason III, a player long respected by Self for his toughness and ability to score inside, once again proved he can score from deep, too. Mason nailed six of seven from long range en route to a game-high 30 points.
Junior guard Devonté Graham nearly matched Mason's marksmanship, connecting on six of eight from three-point land, while adding 18 points.
Freshman phenom Josh Jackson, though he missed his only long-range try, put up 19 points on 8-for-12 shooting for Self, who picked up wins 300, 400 and 500 at Kansas, too, after reaching 100 at Tulsa and 200 as head coach at Illinois.
Here's a quick look back at some of the action:
• The game turned when: Kansas finished the first half on a three-point parade. Six of the Jayhawks' final nine field goals before intermission came from behind the arc. Junior Svi Mykhailiuk (10 points) helped ignite the shooting display with back-to-back bombs with just more than 10 minutes to play in the half. A few minutes later, Graham knocked down two in a span of two minutes. Not to be outdone, Mason chipped in a pair from deep in the final 4:27.
Kansas led 51-35 at halftime after burying nine of 15 from three-point range.
• Offensive highlight: When the most talented man in the building opts for a layup and still draws gasps from the highlight-hungry crowd, you know something special just occurred. Jackson had just stolen the basketball from Duane Clark and as he pushed it into the teeth of the Kangaroos' retreating transition defense, the skilled 6-foot-8 wing realized his path for a dunk might not be the wisest route to take. Jackson decided instead to go behind his back, avoiding a turnover or a charge in the process. Jackson finished off the maneuver with a smooth lay-in to the delight of the KU faithful, extending the home team's early lead to 20-11.
• Defensive highlight: The Jayhawks swatted away seven Roos shot attempts in the rout, but the best came less than a minute into the action. When Dashawn King decided to challenge freshman KU big man Udoka Azubuike off the bounce, the 7-footer defended King perfectly, using his left hand to thwart the drive and avoid picking up an early foul.
The stop reminded the Kangaroos they were going to be in for a long night if they continued to try and get inside. By the end of the night, Kansas had out-scored its overmatched opponent, 40-14, in the paint.
UMKC shot just 35 percent from the floor in the loss.
• Key stat: Points off turnovers. Though UMKC kept knocking down three-pointers to try and stay competitive with the heavily favored Jayhawks, their mistakes cost the visitors from nearby Kansas City, Mo. In the first half alone, Kansas turned nine Roos mistakes into 16 easy points — the margin at halftime. The Jayhawks finished with 21 points off turnovers.
• Up next: The Jayhawks will be back in Allen Fieldhouse Saturday for a clash with former conference foe Nebraska. The game against the Big Ten's Cornhuskers tips at 2:15 p.m. (ESPN).
— See what people were saying about the game during KUsports.com's live coverage.
---
More news and notes from Kansas vs. UMKC
---