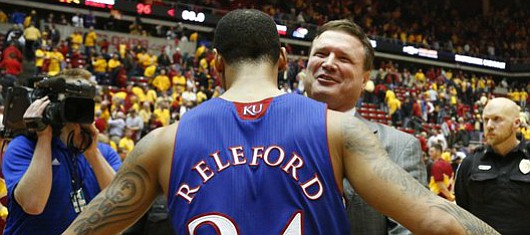 Barring an upset, Kansas basketball coach Bill Self will earn his 600th victory in his 789th game, tonight vs. UMKC at Allen Fieldhouse, and will become the ninth-fastest in college basketball history to reach the milestone, per the NCAA Records Book.
Consider the eight names who reached it more quickly and then ask yourself what they have in common with each other, but not with Self. For those who can't come up with it, I'll put the answer later in this column.
The Fastest-to-600 Club (schools, games it took to reach the milestone): 1 - Adolph Rupp (Kentucky, 704), 2 - Jerry Tarkanian (Long Beach State, UNLV, 720), 3 - Roy Williams (Kansas, North Carolina, 739), 4 - John Wooden (Indiana State, UCLA , 755), 5 - Dean Smith (North Carolina, 773), 6 - John Calipari (Massachusetts, Memphis, Kentucky, 776), 7 - Henry Iba (Northwest Missouri State, Colorado, Oklahoma State, 777), 8 - Phog Allen (Baker, Haskell, Central Missouri, Kansas) 780.
Self, 53, shows no signs of slowing down, brings the same intensity to the job as ever, and always manages to keep burnout far from invading his space.
"I don't think it's been hard yet," he said of keeping burnout at bay. "Roy did it for 15 years and then he left here and went to a place that's just as competitive as it is here, so he's been doing it for 28 years."
Not that it's an easy job without its relentless stress points.
"We have lived in the fast lane at Illinois and here, so it's been a very competitive, adventure-filled, restless run, so to speak," Self said. "But I don't think the candle's anywhere close to burning out. It may not shine quite as bright as it did 15 years ago, but certainly it still is something that burns inside for all of us, whether it be KT (assistant Kurtis Townsend) or myself or (assistant) Norm (Roberts), people who have been here a long time. We still have that burning desire to get back and make another run at it."
The answer to the question of what the Fastest-to-600 Club members have that Self does not: Each of the eight coaches has been inducted into the Naismith Memorial Basketball Hall of Fame and Self has not.
Just sayin'.