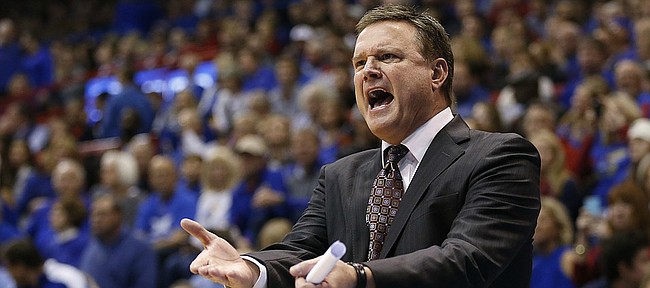 No. 3 Kansas Jayhawks (7-1) vs. UMKC Roos (6-3)
Time: 7 p.m. | Location: Allen Fieldhouse, Lawrence, Kansas
TV: Jayhawk TV/ESPN3 | Radio: IMG Jayhawk Radio Network
Log on to KUsports.com for our live game blog coverage and follow the KUsports.com staff on Twitter: @KUSports @mctait @TomKeeganLJW @bentonasmith & @nightengalejr
Keys for Kansas
1. Defend the three
KU coach Bill Self said the thing that impressed him most about UMKC's team was its offensive freedom. The Roos shot 34 three-pointers in their most recent game and are shooting .430 from three-point range for the season.
The UMKC offense features six players (minimum 10 attempts) that are shooting .423 or better from three-point range this season.
KU senior Frank Mason III said that was the thing that jumped out to him the most when doing a little scouting of his own on KU's next opponent.
"They've got a lot of guys that like to shoot the three-point shot," Mason said. "They compete a lot, they've got a good coach and we're looking forward to the game."
2. Be ready for multiple looks
Before landing at UMKC, Roos head coach Kareem Richardson spent one year (2012-13) in the Louisville program, coaching with Rick Pitino.
Richardson also has stops at Xavier, Drake, Evansville, Wright State and Indiana State on his assistant coaching resume.
Although Self made sure to point out that one year with Pitino did not mean that Richardson has tried to make UMKC a Louisville clone, it did at least force him to take a refresher course on what Pitino does to make sure his team was prepared for anything.
"Whether or not they play a match-up zone a lot (like Louisville), I don't know," Self said. "But (we need to be able to) attack that. I think, for the most part, it's can our quickness match their quickness."
3. Free throws, free throws, free throws
During last weekend's win over Stanford, KU's struggles from the free throw line (.598 as a team so far this season) continued, as the Jayhawks knocked down just 13 of 22 attempts in the 15-point win.
Self said after the game that he was not going to make a big deal about the free throw woes because he did not want the issue to become something even more mental than it already was. But on Tuesday he elaborated a little.

"We're not gonna work on it much," he admitted. "We'll shoot free throws and there's ways you can incorporate more free throws in practice.... (But) we're not a bad free throw shooting team. If you eliminate the freshmen and our walk-ons, I think we're shooting about 70 percent, which isn't bad.... The reality of it is, we're a 70 percent free throw shooting team and I'm sure stats will play out that way over time. But we're not a great free throw shooting team."
In addition to some first-year players bringing down the average, Self also said the Jayhawks were not getting the right guys to the line. While Mason (32-of-44) and Josh Jackson (23-of-41) have been their share of times, shooters Devonte' Graham (14-of-18) and Sviatoslav Mykhailiuk (1-of-2) have not been to the line nearly as much as Self would like.
Mega Matchup
UMKC's LaVell Boyd vs. KU's backcourt depth
With senior guard and Kansas City native Martez Harrison still suspended for the Kansas game, a big portion of the pressure to carry the UMKC offense will fall on guard LaVell Boyd, a 6-foot, 180-pound senior from Chicago who leads the Roos in scoring (19.1 ppg) and ranks 22nd nationally in three-pointers made (28) and 35th nationally in total points (172). The Jayhawks have the luxury of throwing multiple defenders at Boyd, from 5-foot-11 Mason and 6-2 Devonte' Graham to 6-5 wing Lagerald Vick and even 6-8 freshman Josh Jackson. The last time the Jayhawks faced a similar situation, they held Georgia leading scorer J.J. Frazier, a 5-10 senior guard, to two points on 1-of-10 shooting in an 11-point Kansas win.
Jayhawk Pulse
The Jayhawks have been in a bit of a holding pattern of late, with the guards carrying the team to seven consecutive victories and the big men still trying to find themselves.
Like it or not, that approach has worked — thanks in part to Self's coaching and also to the tremendous talent of KU's backcourt — but in order to ensure that his team is ready for the rigors of Big 12 play (which tips off 24 days from today), Self wants more.
The Jayhawks still have plenty of areas in which they can improve, with low-post play, consistent rebounding and free throw shooting being at or near the top of the list.
With just four tune-ups remaining before Big 12 play (counting tonight), the opportunity to fine tune and fix these concerns is running low.
"We're gonna get better," Self said. "I really think, starting next week and then over the course of Christmas, we've got a chance to really try to get better, doing some things that we haven't really put in the two-hour practices to date because of our schedule."
Probable Starters
No. 3 Kansas
G – Frank Mason III, 5-11, 190, Sr.
G – Devonte' Graham, 6-2, 185, Jr.
G – Josh Jackson, 6-8, 207, Fr.
F – Lagerald Vick, 6-5, 175, Soph.
F – Udoka Azubuike, 7-0, 280, Fr.
UMKC
G – LaVell Boyd, 6-0, 180, Sr.
G – Isaiah Ross, 6-4, 195, Fr.
G – Broderick Robinson, 6-1, 195, Jr.
F – Kyle Steward, 6-7, 195, Sr.
C – Darnell Tillman, 6-8, 250, Sr.