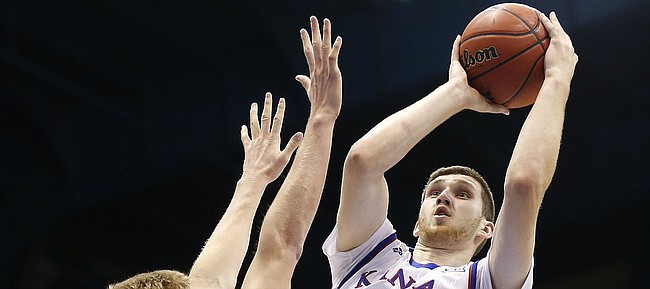 The Kansas men's basketball team is on a tear from three-point range so far this season, and few players have been as dialed in from deep as junior Sviatoslav Mykhailiuk.
In the last three games alone — including Saturday's 89-74 victory over Stanford — the Ukrainian Jayhawk has knocked in more than half of three-point attempts and is now shooting .450 from long distance through the first eight games of the 2016-17 season.
A career .361 shooter from deep, this was supposed to be the season that Mykhailiuk showed he was capable of doing more. Partly because of opportunity and partly because of his suddenly solid experience level, Mykhailiuk's summer playing back home with the Ukrainian national team both put the ball back in his hands and made him comfortable making plays again.
However, being back in the States and sharing backcourt minutes with three of the best play makers in college basketball — Frank Mason III, Devonte' Graham and Josh Jackson — has kept Mykhailiuk floating on the perimeter, firing open three after open three toward the rim.
So, even with his hot hand through eight games, do Mykhailiuk's teammates want to see more from the athletic wing?
"Nah. I think he's playing exactly how he needs to be playing," said KU junior Devonte' Graham, the only player on KU's roster with more three-point makes (19-18) than Mykhailiuk thus far. "Shoot when he's open, staying in attack mode, running the floor and running the court and defending."
So adamant was Graham about Mykhailiuk playing his role to perfection that he went on to emphasize how important it is for his running mate to shoot when the ball comes his way.
"I always stay on him about shooting the ball," Graham said.
Luckily for Graham and the rest of the Jayhawks, pulling the trigger has not been much of a problem for Mykhailiuk so far this season. Yes, his confidence has something to do with it. But there's a much bigger, much more obvious, factor in play, as well.
"Frank, Devonte' and Josh drive the ball and I'm just getting more looks," Mykhailiuk said. "It's easier to make if no one is guarding you."
And while the ability of his teammates to create shots for him off the bounce has helped Mykhailiuk find his groove early on this season, the exchange has been mutually beneficial for both parties.
See, if Mykhailiuk were gun shy out there and did not let it fly when he had open looks, opposing defenses would have more time to recover and, therefore, would stand a better chance of keeping Graham, Jackson and Mason from scoring in the paint. But Mykhailiuk's willingness to fire away — make or miss — keeps the floor spread and allows KU's three-headed monster more room to maneuver.
"It's being in attack mode all the time," Graham explained. "Coach is always on us about making plays and staying in the lane."
Speaking of coach, what has KU's top dog thought of the recent play of his 6-foot-8 wing with the name that's tough to pronounce?
"I think Svi's played very well on the offensive end," Self said. "He was good (vs. Stanford) and he moves the ball. It is an advantage to be able to have five guards out there that are all very capable of making plays and making shots."