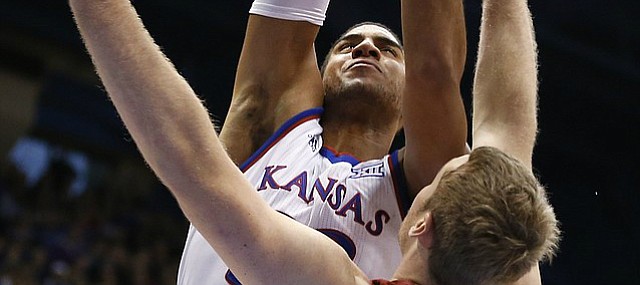 Sidelined for a game by a strained muscle in the rib-cage area, Kansas senior center Landen Lucas was back Saturday, but still not all the way back to 2015-16 form.
"I still don't think I played very well today but it was, I guess, a step in the right direction in a way," Lucas said. "There's still a lot of improvement I have to make, but I'm aware of it, so I'm not settling for anything and I'll keep trying to figure out a way to insert myself."
Lucas blocked three shots in the first half of KU's and totaled eight points and seven rebounds in 18 minutes of KU's 89-74 victory over Stanford. He also committed four fouls on an afternoon KU's four primary big men combined for 16 fouls in 52 minutes, most of them committed against Stanford center Reid Travis (29 points, 19 of 22 free throws).
Photo Gallery
Kansas basketball v. Stanford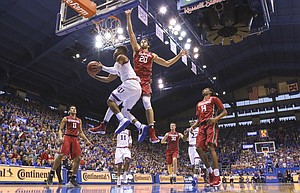 View a gallery of images from Saturday's game between the Jayhawks and Cardinal at Allen Fieldhouse.
Lucas talked about what he did defensively a year ago that he's not doing this season.
"I was taking away the post, not letting him catch it where he wants to, and that's not happening this year," Lucas said. "I think part of it is my aggressiveness isn't there in my all-around game and that's mainly due to trying to stay out of foul trouble."
Lucas' strength is his chief tool, rebounding his best skill. He never has been as quick or as explosive as most of his teammates, but did seem quicker and more explosive a year ago. The fact he walks with a boot when not playing raises suspicion that a sore foot has been a factor in his sub-par play. If so, he's keeping that to himself.
"No," he said. "None of my injuries are really affecting me. Anything on the court is all me."
Is it a case of keeping the foot from getting worse, or can it get better?
"It's been getting better, just (by) taking pressure off of it when I'm not playing and just managing how much I am using it, and it's been getting better," Lucas said. "We have a great training staff so they've definitely been helping me out."
Of his rebounding, Lucas said, "It's been terrible, I know that, and that's something that I need to change, but I also know that's it's something I've done for years, ever since I was a little kid so it hasn't gone anywhere and it will come back eventually. I think I'll make it happen."
It was pointed out to Lucas that he has let his frustration show more this year than in the past and he did not disagree.
He traced that to, "High expectations for myself going into this season. I've got to make sure I manage that because as a senior on this team I can't do that. I need to get better at that."
Lucas is in his fifth season at Kansas.
"It's a long season. I've been through these seasons many times now," Lucas said. "What happens early on in the grand scheme of things isn't that big, so (I'm) just staying calm and trying to find a way to progress in each game and each practice so that when it does matter, I have it figured out."
Lucas started the first five games and has come off the bench since. He is averaging 17.9 minutes, 5.0 points, 4.3 rebounds and 3.7 personal fouls.
— See what people were saying about the game during KUsports.com's live coverage.
---
More news and notes from Kansas vs. Stanford
---