Saturday, December 3, 2016
Newsflash: Frank Mason smiled. And it was a big one.
He might have even said, "Wow," but I'm not sure. I am sure that 16,300 witnesses gasped, then said, "Wow!" and then smiled. But they're used to that. Devonte Graham's high-speed pass fake and lob to Josh Jackson brought the wows out in full force a couple of minutes later. What they aren't used to is seeing Mason smile, especially over a moment he authored.
Turns out he has a very nice smile. It just hides behind the stoic expression befitting a prize fighter in the seconds before the bell rings for a confrontation with man armed with lethal fists. Mason brings that sort of gravity to the basketball court. It was nice to see an outward sign of him enjoying his work for a change.
If it takes another basket as remarkable as the one that made Mason smile in the second half of Saturday's 89-74 victory over Stanford in Allen Fieldhouse, I fear we might never see him smile at his own work again.
Photo Gallery
Kansas basketball v. Stanford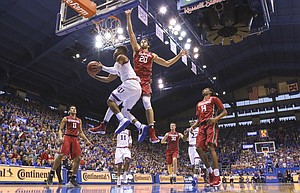 View a gallery of images from Saturday's game between the Jayhawks and Cardinal at Allen Fieldhouse.
Trying to describing the moment can't do it justice, but it went something like this: Mason drove hard to the hoop with his left hand, went airborne and Stanford's 7-foot, 220-pound Josh Sharma crashed hard into him, at which point, Mason contorted his 14-inches-shorter body, switched the ball to his right hand, threw it off the glass on the right side of the hoop and crashed to the ground.
The crowd went nuts when the ball fell through the hoop and so did Mason, at least by his standards for visible emotion. And by that, I mean he smiled and might have said, "Wow." That counts as going nuts for an athlete who by comparison made former stoic teammate Perry Ellis look as if he walked around in a permanent laughing-gas-induced state of euphoria.
"Frank's good around the basket finishing," said the other half of KU's talented backcourt, Graham said. "I think he kind of surprised himself a little bit on that one. It was a real nice play."
Kansas coach Bill Self knows better than to judge a player's happiness on whether his smile reaches the outside.
"I think he smiles some," Self said. "You can probably get about one every two or three games out of him. That was a pretty athletic play. That was great play he made."
Mason has made so many great plays and been such a consistent performer that he leads Kansas in scoring (19.6 points per game), assists (5.4), three-point shooting percentage (.484) and ranks second in field-goal percentage (.561).
Comparisons to Sherron Collins started during Mason's freshman season and have picked up steam of late.
"I don't know if I want to say Frank's a better basketball player than Sherron, but I do think Frank's a better athlete," Self said. "Frank's so quick. He's got a burst that few people have. He's under control and he's playing at a high level. He's playing at about the level Sherron played at whenever Sherron was playing really well. They're not comparable players, but they're certainly comparable talent-wise."
High and deserving praise considering how much Self thought of Collins.
https://www.youtube.com/watch?v=u-mSV2hIDl4
https://www.youtube.com/watch?v=G2coj-LWV50&t=232s
— See what people were saying about the game during KUsports.com's live coverage.
---
More news and notes from Kansas vs. Stanford
---