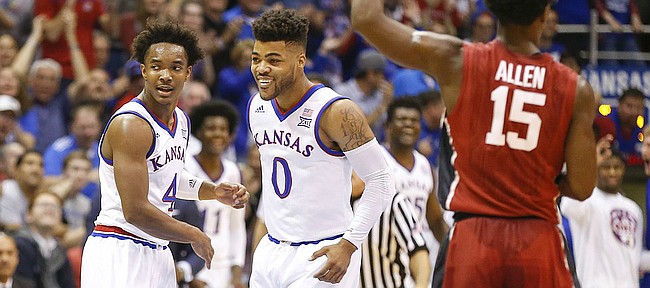 More content to set up teammates than score so far this season, Kansas junior Devonte' Graham could not help himself Saturday afternoon during No. 4 KU's 89-74 victory over Stanford at Allen Fieldhouse.
In a game his team controlled pretty much from start to finish, Graham staked the Jayhawks (7-1) to an eight-point halftime lead behind 5-of-8 shooting from three-point range while playing all 20 minutes of the first half.
All of Graham's first-half treys were well timed, either giving KU a shot of emotion or valuable separation. And all of them came in rhythm, with Graham drilling three out of transition and two more from out-of-bounds plays.
"I think (KU sophomore) Lagerald (Vick) let me borrow his basket in the first half," joked Graham, referencing his teammate's perfect shooting night last Tuesday in a win over Long Beach State.
Photo Gallery
Kansas basketball v. Stanford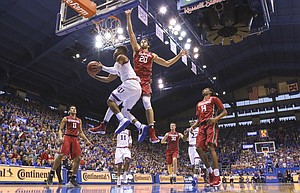 View a gallery of images from Saturday's game between the Jayhawks and Cardinal at Allen Fieldhouse.
After the game, KU coach Bill Self said Graham was "the reason we had the lead" at halftime. But it was his teammates who salted this one away.
After the red-hot first half, Graham did not score a single point in the second half, finishing with 15 points, four assists, two rebounds and two steals in 38 minutes.
"I think that's just how it flowed," a completely content Graham said after the game. "My trainer was giving me a little bit of stuff for not scoring in the second half but I told 'em I just didn't need to because everybody else was making shots."
Frank Mason III scored 12 of his team-high 20 after the break, Sviatoslav Mykhailiuk scored all 13 of his points in the final 20 minutes and Kansas, as a team, shot 54.5 percent from three-point range on the day, connecting on 12 of 22 long-range shots.
While others heated up, Graham returned to his early-season form in the second half, looking more often to pass than to score. That worked, too.
Never better than with just under 10 minutes to play when Graham broke down his man at the top of the key, got into the paint and floated a soft and sweet early Christmas present to Josh Jackson, who said thank you in the form of a rim-rattling, one-handed dunk that gave Kansas a 68-54 lead.
A little later, after grabbing an easy rebound on one end, Graham hit Mykhailiuk with a perfectly placed alley-oop from mid-court that pushed KU's lead back to a comfortable margin of 15.
Asked which assist would be more likely to wind up on his highlight reel, Graham was honest.
"The floater," he said of the pass to Jackson, who finished with 13 points, four assists and three steals in 28 minutes. "Because Josh dunked it."
Podcast episode
After an 89-74 victory against Stanford on Saturday, Kansas basketball coach Bill Self met with the media to discuss Frank Mason III's strong performance, the disappointment with his team's defense guarding Reid Travis and much more.
In the middle of it all, Graham still found time to teach. There were moments when he helped teammates find their man, other times when he directed the action on both offense and defense and even one dead ball when he stood nose-to-chest with freshman big man Udoka Azubuike and emphatically explained how to execute what the Jayhawks were running.
Younger, less polished players might have been feeling themselves a little too much after finding the hot hand the way Graham did in the first half. But the junior guard's performance against the Cardinal on a Saturday afternoon in December demonstrated perfectly where Graham's mind is at heading into the second month of the season.
"I just enjoy winning," Graham said. "Whatever it is that I've gotta do for us to win, if it's passing, if it's scoring, whatever it is, I just try to do it."
Stanford (6-3) never truly went away in this one, which made plenty of sense given the mentality of their head coach, Jerod Haase, who once made a name for himself scrapping and clawing on the Allen Fieldhouse floor as a Jayhawk.
Although he plays a different position than his head coach once did, Stanford junior Reid Travis carried several Haase traits onto the floor with him on Saturday. Toughness, no frills, lots of hustle and more than a little fight all helped Travis record a career- and game-high 29 points to go along with nine rebounds and an opponent-record 22 trips to the free throw line.
"We didn't do anything with him," Self said when asked how his team defended Travis. "That was a total beat-down by him on our big guys. Whenever one guy can set the all-time record for free throws shot and free throws made against Kansas in the history of the school means that we didn't guard."
Travis did exactly that, eclipsing marks previously held by Rayford Young (18 makes for Texas Tech in 1999) and Craig Brackins (21 attempts for Iowa State in 2009), but Stanford had just one Reid Travis. And even though the Jayhawks only had one Devonte' Graham and one Frank Mason and one Josh Jackson, each found his moment to shine and made life miserable for the visitors, an approach that already has become this team's identity one month into the 2016-17 season.
"They're a good team for a reason," Haase said of the Jayhawks. "Because they're not one dimensional. They have the ability to get to the paint, they have bigs that can score on dump-downs and post-ups and they have perimeter players who can light it up."
Presented a little differently, Graham expressed similar thoughts about the Jayhawks' balanced attack being such an advantage for this year's team.
"It's just hard to guard, you know," he said. "If they pack the lane we've got guys that can make open jumpers and if they close out we've got guys on the perimeter who can make plays for others. It's just good for us to have all those threats, and it's kind of like a nightmare for other teams."
— See what people were saying about the game during KUsports.com's live coverage.
---
More news and notes from Kansas vs. Stanford
---