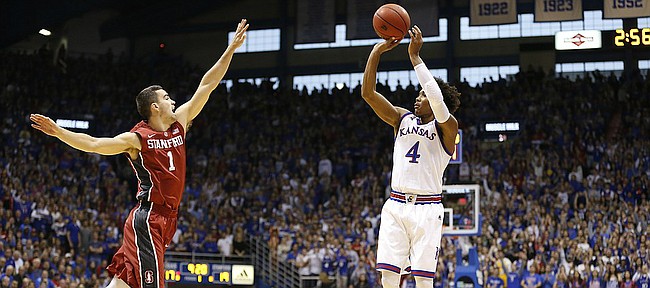 Long before he ever put on a Stanford basketball uniform, Christian Sanders was just a kid in Allen Fieldhouse trying to out-play his fellow campers.
Saturday, Sanders returned to the venue where his father, Brad, played for Kansas in the late 1970s. As the Cardinal's starting point guard, though, this trip to Lawrence had a much different feel. In Stanford's first true road game of the season, Sanders and his teammates aspired to knock off the No. 4 Jayhawks. Instead, the program he grew up studying and cheering for prevailed, 89-74.
"It was a learning experience," Sanders said. "We've now played two back-to-back top-15 teams (losing to St. Mary's on Wednesday). Both shot the ball really well against us (KU hit 52 percent from the field). And we felt like we could've done more. We could've played better."
Like his head coach, former Kansas standout Jerod Haase, Sanders' connections to the program, he said, didn't distract him too much from the task at hand. The player was more concerned about how emotional a day it would be for Haase, whom he first met at a KU basketball camp as a youngster — not that they immediately had the connection they do now.
Photo Gallery
Kansas basketball v. Stanford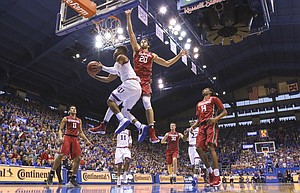 View a gallery of images from Saturday's game between the Jayhawks and Cardinal at Allen Fieldhouse.
"It was a little bit of camp interaction. It was more like he was the coach, I was trying to be the MVP of the camp kind of thing," Sanders said. "He was always involved. It was fun."
After Haase moved on to North Carolina with former Kansas coach Roy Williams, Sanders had his future college coach instructing him there, too, when he attended UNC camp.
Said Haase: "So he and I do have a relationship that goes back a ways, and it's been a neat relationship. And certainly we share the tie of having KU connections."
Both player and coach said they had limited conversations about their return to Allen Fieldhouse prior to Saturday.
"More with the team," Sanders said, "just letting them know. Addressing the environment we were about to go into, because we both understood what it was about to be like. Somewhat of how to deal with that."
Even though Sanders, a 6-foot-4 guard from Houston, felt like he knew what was coming, he ran into early foul trouble and Stanford never led by more than six points. After opening the game with a dish to Cardinal big Reid Travis (game-high 29 points) and scoring a bucket of his own, the senior picked up his second whistle 1:36 into his fieldhouse debut.
"I was a bit upset," Sanders admitted. "But I went over to the bench … and coach said, 'We're gonna play you with two fouls, so don't get down.' So I was like, 'All right. Cool. Next play.'"
Indeed, Sanders subbed back in midway through the first half, and though he drew a third whistle in the final minute before halftime, he finished the game with five points, four rebounds and five assists (which tied a season high) in 21 minutes.
"I thought he did a nice job," Haase said of the guard he has known since both loved KU more than Stanford. "He has great leadership abilities. I think the guys feed off that. I think we have room to grow in efficiency of our offense and our point guards need to continue to grow there, but I thought he really played a steady game."
Upon leaving the fieldhouse as a KU foe, Sanders said the memory he'll take with him is seeing so many family members in the crowd, from the Kansas City area, El Dorado and as far away as Independence, Kansas. His brother Bo, a KU grad, even made it up from Houston.
All of the Cardinal (6-3), Sanders added, left feeling good about the way they competed against one of the nation's best programs.
"Because that team might win the national championship — if we don't," Sanders said. "We'll take a lot of positives away from that."
— See what people were saying about the game during KUsports.com's live coverage.
---
More news and notes from Kansas vs. Stanford
---