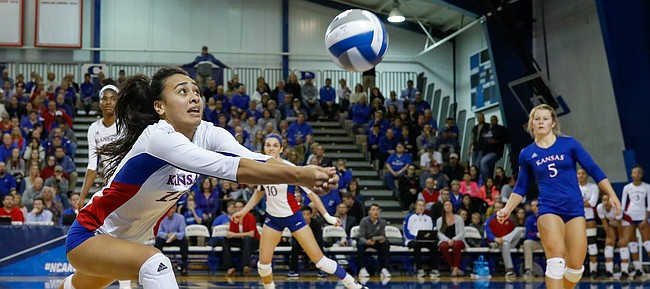 The closer a team comes to winning only to lose, the tougher it is to digest.
It's difficult to imagine a team in any sport coming much closer to victory only to fall just short than Kansas did in the second round of the NCAA volleyball tournament Friday in Horejsi Center.
Creighton survived and advanced with a 3-2 victory taken in an extremely suspenseful fifth set that required extra points to decide. The 20-18 score only hints at the competitiveness of it. The schools were tied 15 times in the fifth set alone and Creighton didn't put Kansas away until its seventh match point.
Afterward, Kansas coach Ray Bechard sat at the table for the press conference, flanked by the team's three seniors.
Cassie Wait, Big 12 libero of the year, had no voice left because she had spent it communicating on the floor. She answered the questions with a scratchy whisper.
Tayler Soucie, who had played such a huge role in willing Kansas to an 8-0 record in fifth sets heading into the night with so many blocks, tried to talk without crying, but failed, so she did both at the same time.
Maggie Anderson, who finished the tournament with four service aces without an error, kept her composure, although Bechard almost lost his talking about how much Kansas volleyball meant to Anderson and how much he'll miss all three seniors.
The loss ended KU's dream of returning to the sport's biggest stage for a second consecutive year three victories and one regional short of the 2015 postseason accomplishment. One year after reaching the Final Four for the first time in school history with an upset vs. No. 1 seed USC, the Jayhawks (27-3) grabbed another first by winning the Big 12 title, finishing a game ahead of Texas.
Creighton (28-6 and ranked 21st in the nation) won Friday's match by scores of 21-25, 25-20, 25-17,16-25, 20-18 to avenge a similarly tight five-set match it lost in Omaha in September.
"I think we were pretty pumped when we saw we were coming to Kansas," Creighton junior setter Lydia Dimke said. "I know a lot of people could be saying, 'Oh, Kansas is a hard draw,' but we were saying, 'Yeah, we want to come back and beat them and we want to do it in fashion on their home court.' We were excited and we remembered that. That game (in September) was a tough loss that we've remembered all season. We weren't going to let it happen again."
Creighton coach Kirsten Bernthal Booth called Bechard "a mentor to me."
"Hats off to them on a phenomenal season," Bernthal Booth said. "To some degree we're playing with house money and I think the pressure is tough. They obviously gave us everything we could handle. It was surreal."
Kansas junior Kelsie Payne, Big 12 player of the year, repeatedly rifled lasers in big situations and finished with a game-high 26 kills and .375 hitting percentage. Classmate Ainise Havili, Big 12 setter of the year, contributed 53 assists and 18 digs on a night she struggled serving (four service errors). Wait had 27 digs, including a couple of fifth-set beauties that thrilled the crowd.
Bernthal Booth and Bechard both felt as if the match featured teams too good to face each other in the second round.
"I think it's unfortunate we hit so early," Bernthal Booth said. "Kansas should be moving on and I feel like we're a team that deserves to move on. We've always known Kansas is a team of winners. To go 8-0 in fifth games all season tells you they know how to win. . . . I think at any level in any sport you want to win it rather than have someone lose it and I think that happened tonight."
Bernthal Booth called it, "the best match I've ever been a part of."
Bechard said it felt more like a regional final than second-round match, "with the energy and the teams playing at a high level."
Heading into the night, Kansas had a 15-match winning streak and Creighton extended its winning streak to 21 matches, not the sort of streaks that typically collide so early in a tournament.
Creighton advanced to a regional semifinal match next Friday night in Austin against Michigan.
For Anderson, Soucie and Wait, it's over.
"We gave them a few minutes, but obviously, it was pretty quiet when we got in there," Bechard said of the post-match locker room scene.
The coach then shared with shaky voice an anecdote about a conversation between Anderson and associate head coach Laura "Bird" Kuhn. Anderson, Bechard said, had just received her "K" ring and instead of engraving it with "MA19," her initials and number as many players do, she chose "MDCT."
"MDCT?" Kuhn said to Anderson.
Anderson's response: "Yeah, my dream came true."
Bechard paused after relating the story and said, "What do you tell a kid who feels that way about your program and your school after a match like that?"