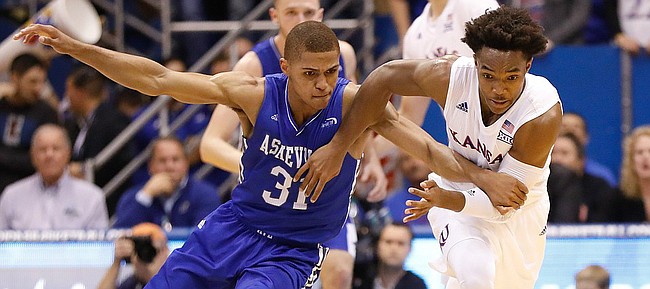 No. 4 Kansas Jayhawks (6-1) vs. Stanford (6-2)
Time: 2:30 p.m. | Location: Allen Fieldhouse, Lawrence, Kansas
TV: ESPN | Radio: IMG Jayhawk Radio Network
Log on to KUsports.com for our live game blog coverage and follow the KUsports.com staff on Twitter: @KUSports @mctait @TomKeeganLJW @bentonasmith & @nightengalejr
Keys for Kansas
1. Control Stanford's supporting cast
The name that jumps out of the Stanford box scores and stat sheet is that of junior Reid Travis, who enters this one averaging a double-double and playing as consistently well as anybody Kansas has faced.
More about Travis in the Mega Match-Up, but Kansas can win this game even if Travis goes off. In order to do that, the Jayhawks will have to limit the production from an underachieving group around him.
"We have some guys that I don't think are playing at full capacity," Stanford coach Jerod Haase said earlier this week. "And if they can have breakthrough games, that'll be extremely important. While Reid has been extremely consistent and I hope that can continue, the supporting cast has to be great, as well."
Names to watch in that group are junior guard Dorian Pickens (6-foot-5, 215 pounds), junior forward Michael Humphrey (6-9, 245) and senior center Grant Verhoeven (6-9, 250), the only other players on Stanford's roster averaging more than 5 points per game.
2. Patience on offense
Because of the style Stanford chooses to play, with long possessions, a slower tempo and a desire to dig in on both offense and defense, it can be tempting for opponents to want to jack up shots in an attempt to get the tempo going.
It's important that Kansas not fall into that trap and, instead, shows the patience required to run good half-court sets and get to the free throw line.
If there's one area where the Jayhawks can increase the pace, it's in transition, where the Jayhawks have a serious speed and quickness advantage. Even with that in place, it won't be easy, as the Cardinal are averaging 14 turnovers per game and do not often put themselves in positions to try to play out of their comfort zone.
If the Jayhawks can speed things up and force Stanford to play their style, they could win this game in fastbreak points alone. But Stanford coach Jerod Haase is well versed in making sure guys get back and giving up a little on offense to make sure they don't give up anything easy on defense.
3. Avoid silly fouls
This could be a key for every game, but it's particularly important for Kansas in this one because of Stanford's size and disciplined style.
Carlton Bragg, Udoka Azubuike and Josh Jackson are going to have to play big and in order to do that they're going to have to be on the floor. All three have been known to commit foolish fouls from time to time, but Kansas cannot afford them to do so in this one.
Beyond that, the KU guards are going to have to stay out of foul trouble as well. Even though the Cardinal lineup is full of size, Kansas can negate that size by dictating the tempo and forcing Haase and company to go small to try to contain the KU guards. That won't be nearly as effective if Frank Mason, Devonte' Graham, Lagerald Vick or Sviatoslav Mykhailiuk find foul trouble and make it more difficult for Self to unleash his four-guard looks.
Mega Matchup
Stanford's Reid Travis vs. KU's big men
At 6-foot-8, 245 pounds, Stanford junior Reid Travis is a load for most teams to handle. Through the Cardinal's first eight games of the 2016-17 season, Travis leads the team in both scoring (16.3 ppg) and rebounding (9.5 rpg) and is shooting .542 from the floor in an average of 30.8 minutes per outing. He's not a three-point threat, has not shown great feel for setting up teammates and also is shooting just .645 from the free throw line in eight trips a game.
The Jayhawks possess the necessary length to bother Travis and keep him from scoring at the rim, but no matter which player guards him, the Stanford junior should be able to create some sort of advantage, especially if KU senior Landen Lucas (6-10, 250) does not play or continues to be bothered by foul trouble if he's out there.
Udoka Azubuike has plenty of size but not necessarily the speed or savvy. Josh Jackson may get a turn on him but will be giving up nearly 40 pounds if he does. Sophomore Carlton Bragg could be the Jayhawks' best option on Reid defensively, with the necessary size and length to slow him down. But Bragg will have to play much smarter and be much more physical if he wants to keep Travis from recording another double-double.
Jayhawk Pulse
Tuesday night, in their sixth victory of the season, the Jayhawks were as good as they needed to be against Long Beach State, a team KU coach Bill Self called probably the third best team his squad had faced this season.
That was particularly true in the areas of three-point shooting (14-of-26), transition and rebounding, but the challenge goes up a level this weekend against Stanford.
Self warned after the Long Beach State game that this weekend was going to be a whole different kind of challenge for his team, which has grown a lot since splitting season-opening match-ups with Indiana and Duke.
The Jayhawks will be pushed physically and mentally against Stanford and the game figures to carry at least a little extra emotion given the fact that it's a clash between Power 5 programs and a rematch of KU's loss to Stanford in the second round of the 2014 NCAA Tournament.
Frank Mason and Landen Lucas are the only Jayhawks still on the roster who played in that game. And even though Stnaford is a different team coached by a different leader, you can bet that loss is not something either player, nor their head coach, has forgotten.
Probable Starters
No. 4 Kansas
G – Frank Mason III, 5-11, 190, Sr.
G – Devonte' Graham, 6-2, 185, Jr.
G – Josh Jackson, 6-8, 207, Fr.
G – Lagerald Vick, 6-5, 180, Soph.
C – Udoka Azubuike, 7-0, 280, Fr.
Stanford
G – Marcus Allen, 6-3, 190, Sr.
G – Christian Sanders, 6-4, 192, Sr.
G – Dorian Pickens, 6-5, 215, Jr.
F – Reid Travis, 6-8, 245, Jr.
F – Michael Humphrey, 6-9, 245, Jr.