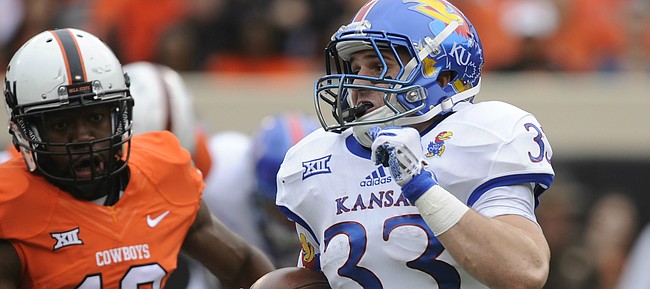 While head coach David Beaty left preseason camp thinking his Kansas roster remained in pretty good shape in terms of avoiding injuries, he announced Tuesday that two Jayhawks won't be able to play this year.
Sophomore running back Ryan Schadler, the coach revealed, had what Beaty characterized as some internal complications, while true freshman cornerback Shola Ayinde tore an ACL last week.
Schadler, a Hesston native who announced his presence in the program by returning a kickoff 91 yards for a touchdown against South Dakota State in his KU debut a season ago, stood out in strength and conditioning workouts this past offseason despite his undisclosed ailment.
Podcast episode
A few days before his second season as Kansas football coach officially kicks off, David Beaty meets with media members to talk about the Jayhawks' Saturday night home game against Rhode Island, the ongoing quarterback competition and much more.
Beaty, who traveled with other members of the Kansas staff to see Schadler in Newton a few days ago, said doctors have addressed his condition and the running back is "on the mend."
Ayinde, a corner from Houston, the coach added, will have knee surgery this week.
Schadler's illness meant the 5-foot-11, 191-pound sophomore couldn't participate in preseason camp. But Beaty predicted Schadler, whom he called an "amazing guy," will return for KU next season.
"He is still jacked up after going through a major surgery," the Kansas coach marveled, "and I don't know how he's done that."
Jayhawks dedicating opener to young fan
When the Jayhawks take the field Saturday night at Memorial Stadium to face Rhode Island, they won't just be looking to break the program's 15-game losing streak, they plan on dedicating their opener to a young fan.
Beaty said KU staff member Shanda Hayden, who helps the players with academic and career counseling, has a son named Cole who is battling a rare health issue called undifferentiated sarcoma — a form of cancer.
"It's been a very long summer for her and her family," Beaty said, "and our guys are very close to Shanda, as well as our staff. They went up and saw and spent some time with (Cole) this summer, which is very cool."
The coach said players will wear #TeamCole wristbands on Saturday, and they hope Cole will be able to attend the game.
"Hopefully we get some good news soon where maybe he's going to get to go home for a little while," Beaty said, "which would be good. But it's been a very difficult road for them. He's undergone chemo. He's undergoing chemo right now. September is Child Cancer Awareness Month, so it kind of helps us kind of really push to move towards that cause anyway, but specifically towards Cole."
More like this story on KUsports.com