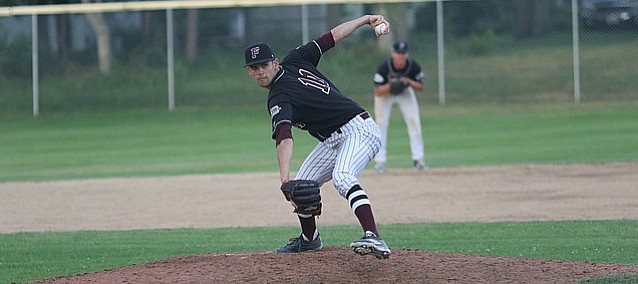 Lawrence High baseball coach Brad Stoll has watched countless baseball games and there was one earlier this month that he said he would never forget.
With more than 3,000 fans in attendance for the Cape Cod League championship — the final game of a three-game series in the prestigious collegiate summer baseball league — the energy in the stadium was electric.
One of the bonuses for Stoll, in his seventh season as an assistant coach for the Falmouth Commodores, was that his team had a local feel. The Commodores featured University of Kansas senior pitcher Stephen Villines and junior shortstop Matt McLaughlin, along with Missouri junior pitcher Bryce Montes de Oca, who graduated from Lawrence High.
The Commodores lost in the title game, but that didn't take anything away from the summer experience in Massachusetts.
"That was the talk of the town for the last two or three weeks we were out there once the playoffs rolled around," McLaughlin said. "You see all of these familiar faces coming down saying hi to you and saying, 'Good luck' before the game. You want to win it just for the town itself."
Helping the Commodores to the league's best record in the regular season, McLaughlin primarily played third base and hit .226 with one homer, 13 RBIs and seven stolen bases.
Villines made a league-best 26 appearances out of the bullpen, striking out 24 in 26 2/3 innings with a 1.01 earned-run average. He didn't allow a run in his first 10 appearances.
KU's closer, Villines, usually threw in the eighth inning for the Commodores, and he credited his defense behind him for his success, allowing him to attack hitters with his pitches.
"Steve had an unbelievable summer," Stoll said of Villines. "He had one night in Orleans where he walked a guy and gave up a home run. Other than that, he was extremely effective and he was part of the best bullpen I've ever seen in the summers that I've been going up there."
Montes de Oca, who missed the start of the summer season because he was recovering from surgery on his pitching elbow, made seven appearances for the Commodores. He struck out 10 in nine innings, giving up six earned runs and walking six.
It was McLaughlin's first time playing in the Cape Cod League and it left a strong impression because of location, fans, host families, food and competition.
"That's the thing about it, it's not even the schools that are impressive," McLaughlin said. "The three most dominant guys on our summer team were from Lipscomb. So it's like a guy comes out from Jacksonville State and he's throwing mid-to-high 90s and he's dealing, it's like, 'Holy cow.' It just goes to show you how many good players there are in college baseball."
Villines and Montes de Oca both played for the Commodores in the last two seasons. The two, along with McLaughlin, made the 24-hour drive together after the season back to the Midwest.
"Both years have been unbelievable," Villines said. "A lot of it, for me, is the guys on the team. You're around each other every day, either practicing or games, going to the bus rides, going to dinner after, all those kinds of things."
Despite a championship game loss, Stoll said it was those relationships that made the summer and final games so enjoyable.
"It was an incredible run," Stoll said. "It was a lot of fun to be a part of."